One Woman Puts Hotel's Pet Policy to the Test When She Brings Her Horse
Everyone gets sleepy on long road trips, including horses. So when one woman came across a hotel that allowed pets, she booked a room for her and her horse and fellow guests and staff got a kick out of it!
Lindsey Partridge was traveling from Pontypool, Ontario, to Lexington Kentucky with her horses in tow and when she was just about to arrive at the horse park, she passed the hotel she was going to be staying at, so she decided she might as well drop off her luggage.
When she was walking in to the Super 8 Motel in Georgetown, Kentucky, she notice another guest walking out with a dog. She asked the receptionist about the hotel's pet policy, to which the receptionist replied that animals were allowed.
"The receptionist said, 'Oh, I don't care. Sure, bring them in!'"
Partridge joked that she had a few horses outside and the receptionist chuckled and went along with it because that's just what you do when you work in customer service and someone makes an awkward joke (come on, we've all been there). So it definitely came as a surprise when Partridge left and came back in with her 5-year-old thoroughbred, Blizz and led him to their room.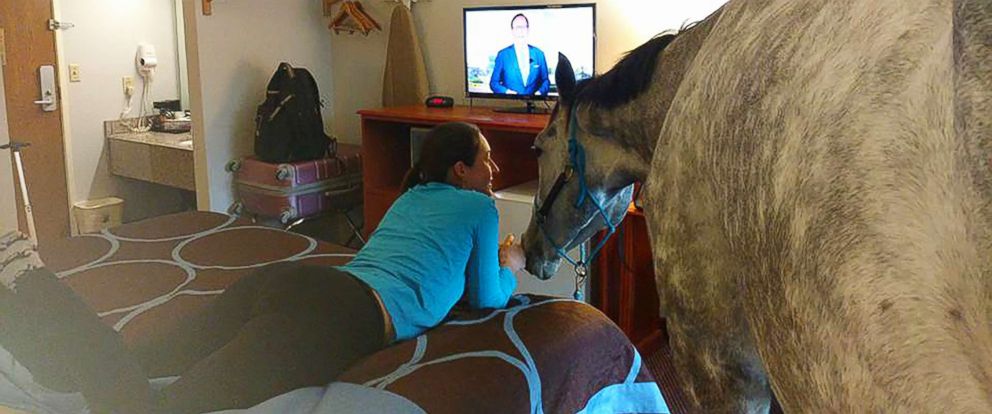 Obviously Blizz was not allowed to stay in the room, because duh, he's a horse. But the hotel staff and guests found it amusing enough that Partridge and Blizz were allowed to snap some pics before heading to the stables he'd actually be staying in.
Partridge told ABC that some hotel guests "were pretty surprised, but they all knew it was fun. I hope that this shows people that horses really can be quiet, calm and nice."
Maybe it was all the fun at the hotel that got Blizz psyched for the 'Retired Racehorse Project's Thoroughbred Makeover' Competition because he ended up coming in third place in the trail competition and sixth in the field hunter competition.
But that's not all. You know what else he won? Our hearts.
That's right, FML is cheesy and we don't care who knows it.
By Nina / Tuesday 17 October 2017 12:37 / France