Bride-To-Be Claps Back When Asshole Fitness Trainer Tries Body Shaming Her into Business
When one woman is relentlessly body-shamed after she politely turns down a fitness trainer looking for business on Twitter, she turns an FML into an FTN by saying "Fuck That Noise" and firing body-positive and health-conscious messages at her troll.
So here's a story to file under "People I want to punch in the face."
Cassandra Young is a radio personality, photographer, and all-around bad mama jama based in Atlanta who's got an important message to spread. Here she is!
After perhaps the cutest proposal imaginable*, Cassie was just preparing to marry her boyfriend of ten years, when a troll came out from under the bridge before she had hardly even had time to celebrate. Unfortunately, problems like this come with the territory when you're a public personality. Your life is constantly on display for strangers to ogle, comment on, and sometimes scrutinize.
On literally the same day of the proposal, which Cassie had chronicled on Instagram, one man reached out to her on Twitter to offer her his fitness training services to get in shape before the wedding. This man got off easy when Cassie chose to respond to his offer with a polite refusal.
"I am in shape! Thank you so much for the offer, though."
Now, before you defend him, yes, I recognize that many future brides seek personal trainers to ready themselves for their big days. But that's just the issue! The brides seek the trainers. Not the other way around. Homeboy really had no reason, then, to persist after she turned him down.
His response was only the start of what turned out to be an incredibly unnecessary and inflammatory conversation. Here is the rest of the conversation.
Right away, she stood up to him and started schooling him on positive body image.
But for some reason this thick-skulled asshole was not convinced.
Way to project your own problems onto the rest of the world, buddy…
Let it go, girl. Educate this fool.
Why does this man think he knows her so well?
Sit down, boy. That's a moot point. We all love food.
Now watch her wrap it up in an anti-bullying tirade everyone needs to hear.
Cassandra is a role model. Without ever once resorting to name calling or bad manners, she was able to flip an FML moment that men and women deal with all the time—body shaming.
Also, she can whip out moves like this to Britney.
Look at this.
You don't mess with this.
I sure hope you feel like the grade-A doofus you are, random trainer dude.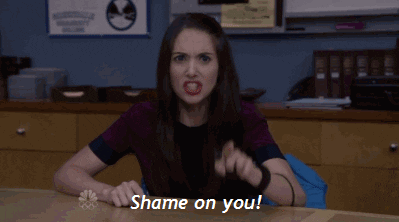 By Nina / Wednesday 30 August 2017 15:18 / France