8-Year-Old Sam Won't Brush His Teeth So His Parents Send Him This Hilarious Letter from The Tooth Fairy
For some kids, brushing your teeth is an FML that they would rather avoid. That is, until a higher authority has something to say about it. No, I'm not talking about their parents. I'm talking about Barry T. Tooth Fairy.
When I was a kid, I loved brushing my teeth. I had a bomb-ass Blue's Clues-themed toothbrush and Barbie bubblegum-flavored toothpaste that looked like it had sparkles in it. That was before I upgraded to the more mature Aquafresh Kids toothpaste that tasted so great, I used to crave it during the day. I'd look forward to the end of the day when I could get my fix. That tri-colored gel was my drug and I had the gleaming white teeth of an addict.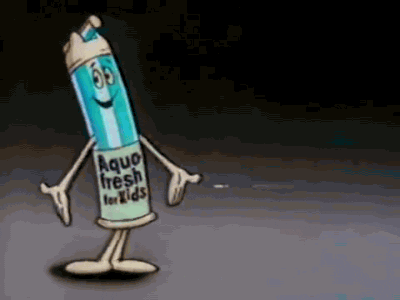 However, it happens that not all kids are as enticed by branded dental hygiene products as I was. In fact, most are not.
Such was the case for 8-year-old Sam Warren, whose dental hygiene was not quite up to snuff for the Tooth Fairy and his associates on the tooth analyzing committee.
After Sam lost a tooth, he did as all children anticipate doing. He plopped it under his pillow and waiting for the tooth fairy to come claim it in exchange for a shiny one-pound coin. He got the pound alright, but he also got something else that he wasn't expecting.
Maybe Sam wouldn't listen to his parents tell him to brush his teeth, but surely he'd listen to the tooth fairy. Even at 8 years old, the thirst for money is real. This was his only chance at making that dough, which obviously he needed to fund his Fanta habit…
Parents are all a-twitter, praising Sam's dad, Henry Warren for his A+ parenting.
Absolutely genius! My strategy was to help them look for all their chocolate that I accidentally ate last night. May add this my repertoire

— Victoria Guthrie (@Runningmummypig) September 6, 2017
think I need one of them for my soon to be 13 year old

— fullofjoy (@wilruby) September 6, 2017
Sir, you have achieved peak parenting.

— fanfic hell (@birdonabird) September 7, 2017
Genius! Preparing them for the real word early....love it!!??????

— TankGirl30?? (@tankgirl_30) September 8, 2017
And of course, dental professionals are showing their support too.
Love this ??

— Oasis Dental Care (@OasisDentalCare) September 8, 2017
A healthy smile is a happy smile! Many thanks to Barry T. Tooth Fairy for helping us keep smiles bright. ?

— Colgate Smile (@Colgate) September 6, 2017
Can you blame them, look how legit the execution is!
@MurrayReb Its all about the header and footers to make these parent letters believable

— Mel McCaughey (@MelPiero) September 7, 2017
Barry is such a stickler for process. At least he is polite.

— Dominic Atkinson (@domatkinson76) September 5, 2017
Hahaha! Eloquent fairy! Hope the target demo fully comprehended the warning ⚠️

— Lindy Andrews (@LindyAndrews1) September 11, 2017
The tooth fairy's letterhead is better than mine!

— Stephen McDermott (@RealtyInsights) September 7, 2017
I mean, tell me you wouldn't listen to the tooth fairy if he sent you a letter this well-done…
By Nina / Wednesday 13 September 2017 16:17 /