15 FMLs About Being Ugly That Will Motivate You to Embrace Your Inner Beauty on National Inner Beauty Day!
For today's special holiday, we're bringing you a selection of FMLs from other folks like us who, if nothing else, can say they're beautiful on the inside.
Take it from a girl who got fourth runner-up (i.e. 5th place) in an inner beauty pageant when she was 11 years old, outer beauty is so overrated. It's what's on the inside that counts, right? That's what my mom always told me and that's what we at FML are choosing to believe as we celebrate National Inner Beauty Day!
To honor the importance of inner beauty, we've compiled 15 FMLs from people who know first-hand what it's like to rely on their inner beauty. Why? Because what other choice do you have when your outer beauty is well...lacking?
1. At least your insides are prettier than hers.
By Ugly??? - 29/4/2017 23:00 - Ireland - Dublin

2. I guess my cheerful disposition counts for nothing.
By LoadingMeows - 23/9/2016 01:17 - United States

3. From the mouths of babes.
By abby181 - 3/9/2011 14:36 - United States

4. Take-baksies are not cool, mister!

5. When you're neither too ugly, nor too pretty.
By IcedTaco - 13/7/2016 19:40 - Ukraine

6. Dads really need to learn how to talk to their teen daughters.
By Anonymous - 27/3/2016 12:27 - United States - New York

7. What he should have said was nothing.

8. But I'm a hero, baby!
By LCDRBrownHercules - 22/9/2015 01:44 - United States - Lake Elsinore

9. He was almost a good guy.

10. Ahem, I think you mean "hot Leslie" and "Inner beauty Leslie."

11. Maybe it's because you expected her to. Perhaps you need to work on your inner beauty.
By MackeyBoy - 23/1/2010 18:15 - United Kingdom

12. Thank for the ego boost, sis.
By Anonymous - 26/12/2014 21:54 - United Kingdom - Southend

13. *was* dating.
By bambam - 12/5/2014 16:01 - United States - League City

14. So...which one?
By theuglyone - 22/8/2013 03:00 - Canada - Port Perry

15. As moms tend to say.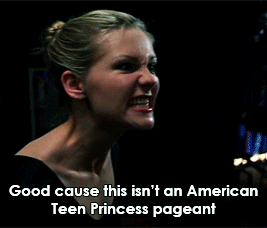 By Nina / Monday 2 October 2017 15:42 /