Marie-Lys's Illustrated FML
Most of time, we have to go out looking for the people who illustrate the FMLs, but sometimes we get offers, out of the blue. This is one such case. Not every offer is a good one. More often than not, we'll get something that looks like it was drawn by someone with… issues. But kudos to them for actually trying, to put it diplomatically. Sometimes, you just have to ask for happiness. Well, not to strangers in the street, I've tried that and it can hurt.
MARIE-LYS'S ILLUSTRATED FML
"It's not because we're artists that we should be sleeping underneath bridges and eating little tiny pebbles!"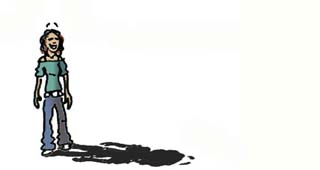 Self-portrait Marie-Lys by Marie-Lys
So, how is everyone doing? It's the weekend again, time to put some comfy clothes on and indulge in your favorite hobby. What's yours? Drinking heavily and falling over? Watching Grey's Anatomy in yellowing sweatpants? Personally, I'm getting over a work injury. Working for FML is dangerous business. To get over the pain, I'm knocked out on medication and I'm trying my hand at drawing to see if my talent is growing in stature. As you can see, it's not. I'm going to leave it to the pros, or those who know what they're doing.
This week, we're welcoming the quite charming Marie-Lys, whose good mood in quite infectious. She comes from Lyon in France. She's 25, her illustrated FML is here, and her blog is there. Her style is located somewhere amongst the translations of life: "I translate life all the time into drawings in my head, and I like to share these translations around me to make people laugh, or to touch them." Great initiative. Makes a change from people who want to spread their hate (I'm not thinking of anyone specific, except you, you know who you are).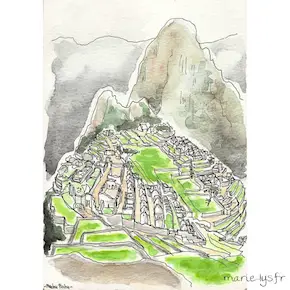 She seems to have a healthy and full life: "Music, mountain walks, rock climbing, I sleep sometimes, I eat pizza a lot, I laugh a lot and I draw sometimes." She's way too healthy, it seems odd. She must have some hidden vices. What about her projects, any plans to get away with the perfect murder? A closet Black Eyed Peas fan? "I want to live from my passion ! Get people in a good mood ! And go parasailing solo, but that's got nothing to do with anything…" OK, this girl is nuts. Or just normal. Maybe not, she says she likes "crumbled up ginger biscuits covered with home-made apple sauce". Now we're getting somewhere, that's a sign that something's not quite right inside her mind.
She claims that illustrators need to be recognized as having a real profession: "It's not because we're artists that we should be sleeping underneath bridges and eating little tiny pebbles!" I thought that that was what all illustrators did, isn't that the people I usually see under bridges? Isn't that what that shit Red Hot Chili Peppers song was about? She has training as an architect, worked for a couple of years in an agency before being downsized "which allowed me to bounce back towards doing something I like even more." Good. It's ideal for her, because it allows her to draw anywhere, "On a trip, in the middle of nowhere, especially complicated situations (standing in the rain, in an SUV on bumpy roads, in the middle of a crowd…)."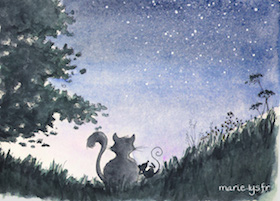 She enjoys simple things in life, "drinking a beer on a balcony, camping in the wild, hitchhiking, wild and free. I like being told stories, learning new things every day, eating a slice of bread covered in mayonnaise at 3 in the morning, picking up chestnuts in autumn, making out shapes in the clouds, and laughing for no reason !"
She must get into scrapes and pickles though? Bad things must happen to her, surely? Her own FML would be what? "Today, even though I go once every two years, I asked my hairdresser to give me some highlights. Three hours later, I exited with red hair, a Charles Ingalls mullet, my lungs swimming in ammonia and an astronomical bill. FML" Oh and she does have a phobia, the sound of a fork being dragged against a metal saucepan. I can only agree.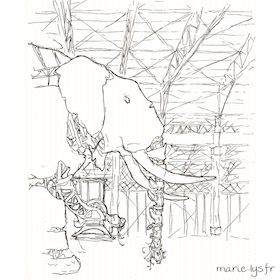 It's on that note that we'll leave Marie-Lys, and thank her for her kindness, good vibes and her illustrated FML. We wish her well on her journey through life, because it's refreshing to meet people with such a positive outlook. I'm not used to it. I need to go lie down now. Next week we'll be welcoming someone else, I'm not sure who yet, but don't hesitate, if you want to draw an FML for us, instructions at the bottom of the page. Until then, listen to this and be excellent to each other.
What about you? Think you've got talent and want to contribute to the illustrated FML? Send us an email to [email protected] but only send us your blog's address and a few samples of your work. No need to create an illustrated FML straight away.
#1448 - Illustrated FML - On 05/02/2014 at 5:17am by Alan - 5 comments