Malec's illustrated FML
Life is like a box of chocolate full of piece of rabbit droppings sometimes, isn't it? OK, I'll admit that's a weird way to start an article a few days before Christmas. Let me explain: you try and get to know people, to create bonds, to...
By Alan / Friday 12 December 2014 16:39 /
Life is like a box of chocolate full of piece of rabbit droppings sometimes, isn't it? OK, I'll admit that's a weird way to start an article a few days before Christmas. Let me explain: you try and get to know people, to create bonds, to feel some warmth, to share some common ground with your fellow man. You find a place in a network, a circle of like-minded individuals. You even mistakenly try to find some sort of compassion and humility in the eyes of some lawyer you meet in a bar, a pub singer and a marketing expert. Then you realise that these links, these people, this "humanity" are all part of some underground caste of shape shifting lizards who control the world, and are all part of the Illuminati. What a bummer. So what do you do? You stay at home, thinking you're going to feel safe in front of the TV with your cats for company. But are you really safe. One man has all the answers. Let's meet him now.
MALEC'S ILLUSTRATED FML
"As for illustrations, nothing, zilch, nobody wants to know, so I'm releasing nothing at the moment (but I've got nothing to sell, so that's probably why…)"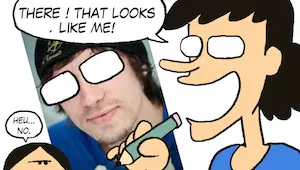 Self portrait Malec par Alexandre



This week, our feline friends are the subject of the illustrated FML. Malec, however, is the subject of this article. He is also known as Alexandre. Malec is his nickname, and that's how I'm going to keep calling him throughout the article.

His info:
Age: 30
Location: Tokyo
Blog : His YouTube page Malec ne fait pas de sextape ('Malec doesn't make a sextape')
His illustrated FML: The one with the cats. Yep, not many clues there.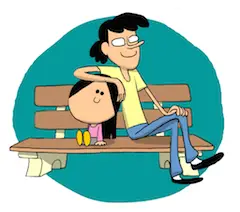 Malec, answered our questions with joy. You can tell he's the kind of guy who is enthusiastic about most things in life. He's a bit like a sort of lovable character who will talk endlessly about his illustrations, life and whatever you ask him about. He has already illustrated a VDM, AKA an FML for the French version of the Website, but this is the first time he's being featured on FML.

So, who is this wiseguy, and what's his role in the mob? "I'm a starboarder for cartoons, which means that people gives me stories (which are more or less well written) and then I make them into pictures. Afterwards, this storyboard is sent to China, after which we get pretty little cartoons (or not so pretty ones) like Totally Spies, MBC, Rekkit, Calimero, Casper, Wakfu, etc. for our kids on television in the morning. In fact, you've probably seen my name on screen while eating your breakfast cereal. In live in Tokyo at the moment because my wife (who is from South Korea) is studying to become a Japanese teacher. So we're currently living Tokyo-style, and it's cooool!" Wow, culture shock! I've always wanted to visit Japan. Can I come and crash on your futon?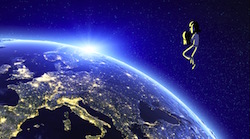 So, what are you hawking? "I'm currently working on a great project with my friend Régis Donsimoni, the guy who did the Invisible College and Angus, on a comic book project called "Space School". It's a comic book in a strip format about a kid who goes to a space school full of extraterrestrials. It's for kids and for not-so-kids and it's very pretty and very funny. We hope that people will like it and it will be released when it's all been put together!" Looks good from here, we can't wait.
What's this YouTube channel about? "I've put my world domination plans to one side to concentrate on my YouTube career. For the coming year, my goal is for our channel to become famous, for people to laugh at our stuff and that we all have fun. There's a lot of cartoons on it, and it takes a lot of time for me to make them, so next year I have only one project: my channel." OK, we'll all be checking it out. And the rest? "For those of you who want to check out my illustrations, follow my Facebook page, I publish drawings now and again. The blog is still going because I publish videos every time one comes out." This guy is determined and passionate. I like this guy. "I also do some turbomedia, animated comic books that my friend Balak invented. In the beginning, I did loads during my spare time, in fact, that's all I used to do. Then, after about 4 years, I'd had enough and thought I'd come back to my first love: comic books. And I also thought I'd mess around in front of a camera with my wife. So that's how our YouTube channel started. It's very geeky, full of WTF stuff, a mixture of cartoons and live material and we hope it'll work!" So do we.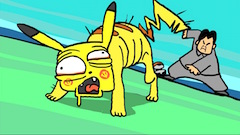 Now, we've talked about your work and projects… How are you? "Right now I'm reading the Game of Thrones books, they're really great! I'd been told about the TV show and so I'd wanted to read the books, and I must say they've done a great job adapting the TV show into books!" That's one cultural reference point I know nothing about. I've tried, I really have. It just washed over me like a tepid golden shower. Anywayyyy, do you have a hero you care to mention? "Without any hesitation Arnold Schwarzenneger. The guy is HUGE (physically it's a given) but also his life story. He started from nothing, he came from a country that was a bit naff (sorry to all the Austrians reading this) he got rich from construction work before becoming famous, was a global megastar and ended up a US governor. The guy probably could've been president if he was born in the US. It's magical. I love the guy." The wonderful Bill Burr shares this opinion, there's a short clip here, check it out, it's really funny. (Short plug for Bill, 'cos I love him, even though he doesn't need my help: his latest Netflix special "I'm sorry you feel that way" is the best stand-up show I've seen in ages). And then go watch Arnie in Last Action Hero, it's brilliant.
That's enough plugging. Do you have a personal FML to share? "During class, I went to take a dump. I created something so huge that when I flushed, it got stuck. I flushed again and the water started to rise, all tainted in brown. Then the bell rang and everyone started to leave their classrooms. I ran away, ahahaha. FML?" FML. We'll allow it.
I think we can start the weekend now. Thanks to Malec/Alexandre for taking part, it was nice having you with us. Go check out his YouTube page, I know a lot of you will stumble on the language barrier or complaining that, "Hey man, it's not in English" but I don't like websites that talk down to people and think that their readers are uneducated buffoons, so who cares if it's in French, maybe it'll give you the opportunity to see some new stuff and broaden your horizons. Next week it's the week before all hell breaks loose, so be warned. And be excellent to each other. Take care.


What about you? Think you've got talent and want to contribute to the illustrated FML? Send us an email to [email protected] but only send us your blog's address and a few samples of your work. No need to create an illustrated FML straight away