It's seems that it's a bad time to be a King. First Ben E., now B.B. We're guessing that Larry, Carole and Burger are probably a bit nervous right now. But let's not dwell on the sad events of the week, let's turn our faces to the light and the love. This week we're all about the love. Well, if you can find it out there. It's getting tough on romantics, what with everyone becoming so cynical and hardened by irony. People used to wonder, "Does he/she like me?". Now it's more a case of, "Does he/she like me or is that some sort of post-modern ironic take on liking me to satirise liking someone, I'm confused and hungry and alone and I'm not even sure who this person is anymore." This week's illustration leaves no doubt about it. We wouldn't recommend trying the technique involved, though.
CALEB'S ILLUSTRATED FML
"And if all else fails, I got to draw silly animals and I really can't ask for much more than that."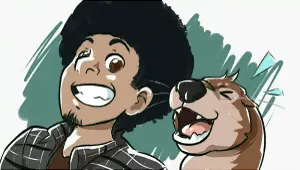 Self portrait Caleb and friend by Caleb



Caleb is an actual guy from the USA. This is quite unusual because we usually get people from Europe, so we're quite pleased about having him on this week!
His info:
Age: 24
Location: California, USA
Website: Caleb's Facebook page
His illustrated FML: The one with the kiss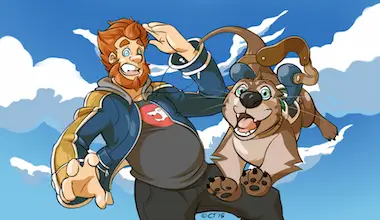 Caleb contacted us, which is always a good idea. We recommend that you do the same if you are as good an artist as he is. You just have to check out the artwork featured on this page to see that he's got quite the talent, so when he wrote to us, we said a massive yes after checking out his links.

So, what does Caleb get up to besides drawing cool animals? "I just started working at my church as maintenance/cleaning this year, and everyone there has been incredibly patient and understanding as I pretend to know how to fix doors and order toilet paper. I'm very grateful!" I think that's a first, someone who works in a church on FML. I don't think they'd let us into a church, what with our blasphemous website-slash-app. What else does he do? "I'm so close to graduating from community college that I can taste it. My college has a great art and graphic design program so that's been really helpful for the past couple of years." I'm guessing that he's always had the talent, the college just helped channel or develop it, or make it official, with a title. A talent like his will open a lot of doors, so if people out there are reading this and want to hire him, contact him via his Facebook page! Do it now!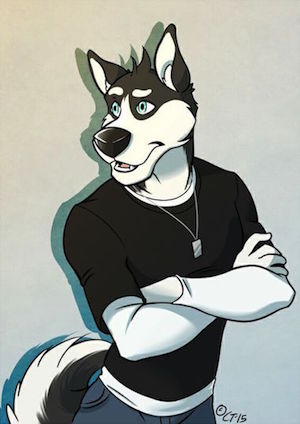 Where are you headed? What's your ambition in life with regards to projects and stuff? "Too many projects. I have several ideas for different comic series, some of which I've been working on for quite a few years now. With any luck, after I'm done with college and a little more free I'll be able to work towards making some of those a reality. Cross your fingers for me!" Will do, and will cross any body parts we can.

Who or what made you want to start drawing? "II really can't remember a time where I wasn't drawing! I was always big into cartoons and comics and I have vague memories of drawing things that resembled Donald Duck and Scooby Doo when I was little. I was basically locked into wanting a job in art even before I really knew what that meant. A lot of the things I liked as a kid are still big in my life today, the Disneys, the Digimons and what have you. Those were the things that got me fired up to draw and create my own characters and stories in the first place and they are the same things that inspire me to push myself today. How cool would it be to do the same thing, to inspire some kid to want to draw and make their own stories? Or what if one of my dumb comics helped someone through a rough time, taught them something or just gave them a bit of a chuckle? I think as an artist you have the potential to influence a lot of people, so even if I could just do that for a handful of people I think that would be pretty freaking cool. And if all else fails, I got to draw silly animals and I really can't ask for much more than that." And pretty damn good ones, too.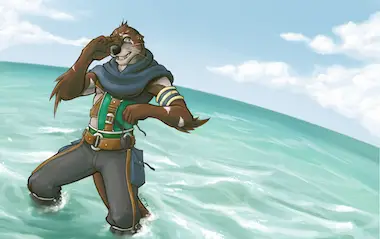 What are your day-to-day pleasures in life? What sort of stuff are you into? "If it wasn't clear already, I love kids' cartoons. Those anime where the kids battle with pet monsters? I like at least half of them. The comics with the hotheaded kid that wants to become the greatest [noun] ever? Read a lot of those too. The game where you run around in clown shoes and hit things with a key? Be still, my heart. Outside of nerd stuff, I like staying up late and taking year long naps the next day, going to the beach but not actually getting into the water, and Taco Bell. I've been going through a phase of rediscovering bands that I already knew about, so I've been looping a lot of Florence + Machine, One Ok Rock and Fall Out Boy lately. Favorite movies include Guardians of the Galaxy and Wreck-It Ralph, but special shout-out to Monsters University for being a huge hit of motivation; It's message of being happy even if life doesn't go the way you plan is one I come back to a lot. Even if I don't hit it big with my art, if I keep working at it I can get somewhere I'll be proud of." Hey, you're on FML, you can be proud of that. Or something. Maybe not.
Speaking of FML, do you have one of your own? "I had to open a gate for someone at work, but it had a lock on it and I had no idea what the combination was. When I told the guy I couldn't let him in, he looked at me and then calmly took the already opened lock off the gate. I basically get paid to not know how to open gates."
A final piece of advice for budding artists? "If I ever feel unsatisfied with my art or feel like I haven't improved as much as I want to, I find it helpful to pick out an old drawing and do a quick redraw it! You'll probably find that you've improved in some way since you drew the original, even if it's something small." Notebooks out, everyone.
That's it for this week. Time to wind down, take a breather, go off and do something less boring than school or work instead. Kick a ferret around a field. Take a dump in the middle of a restaurant. Push a whining kid into some frozen peas in a supermarket. Life's what you make it as the excellent song by Talk Talk goes. I'll be up a tree, probably. See you next week.
What about you? If you think you've got talent and want to contribute to the illustrated FML, send us an email to contact@fmylife.com but only send us your blog's address and a few samples of your work. No need to create an illustrated FML straight away!
#1518 - Illustrated FML - On 05/13/2015 at 5:59am by Alan - 8 comments