Are your abs well-toned and look like you're made of metal? Feel like a machine ready to take whatever the crossfit fad can throw at you? Do you scream, "Bro, do you Even lift?" at people during arguments? As you may have gathered, this week, we are interested in the phenomenon of unrealistic standards imposed by the patriarchy that wants to keep the masses docile by imposing cognitive dissonance, pushing everyone one the one hand to consume more, gorging ourselves to try and be happy, while on the other hand falsifying evidence via the media that happiness is accessible only to those who have achieved a normative and arbitrary "perfect" physical perfection, unattainable to most of us. Hmm, don't know what came over me there. Wrong meeting. All of that jibberjabber to say what? This week, we're talking sports! Let's go!
SCARLATINE'S ILLUSTRATED FML
"My favourite biscuits, which are so addictive, are the Baiocchi by Barilla, filled with cocoa paste. It's impossible to stop eating them."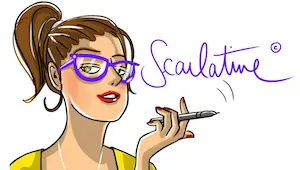 Self-portrait Géraldine by Scarlatine


This week, we're returning to France. It is under the name Scarlatine that Geraldine is known and works, and I will continue to call her Scarlatine throughout the article because it's fun and because I like infectious diseases, Scarlatine being the French name for Scarlet Fever.

Her info:
Age: "You're not supposed to ask me that"
Location: Clermont Ferrand, France
Websites: Her blog and her Facebook page
Her illustrated FML: The one with the abs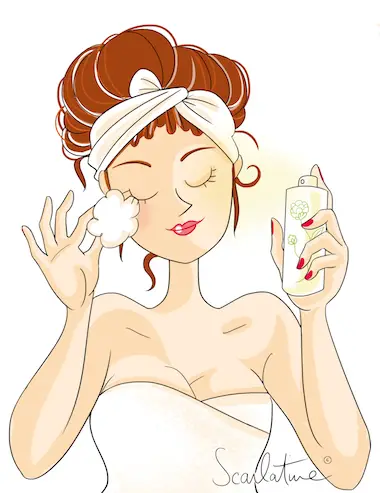 Let's go for a stroll through the scarlet and gold universe. I say that because the disease that bears the same name is caught vie the Staphylococcus aureus bacterium, the aureus part meaning golden. OK, maybe I shouldn't attempt latin-based puns, or puns at all for that matter. All that needs to be said is that Scarlatine's talent is undeniable, and her style is quite infectious ... OK, I'll stop with the jokes about her name, I'm sure she's called like that in honour of the artistic side of her feverish passion. There, we'll say that. It was me who had contacted her after finding on her blog during a drunken night on the internet, looking... oh, that was when I stalking my exes on Facebook. What I meant to say was, in the context of my job for FML, I often visit illustration blogs at random, and I offer the artists I like to take part in this blog. Scarlatine said yes to my offer, although it took several months for her contact me. I don't blame her, for the work she has done is great, looks good and will resonate with many of us. Yes, fitness is a concern for many people, because societal codes and standards, blah.
Who is Scarlatine and what does she for a living? "A lot of drawing. I teach children as a teacher of Plastic Arts (since 15 years) at high school and middle school with students of various ages. I make illustrations and paint the rest of the time. I observe my surroundings to find a lot of funny anecdotes and gags to be able to recreate the illustrations from them." A school teacher. Hmmm, it will interest our young friends who read us in their thousands, scratching their acne and who think that teachers are boring adults who have nothing to do with their lives than take the piss. Hey, yeah youths, teachers can ALSO illustrate FMLs, Booyakasha.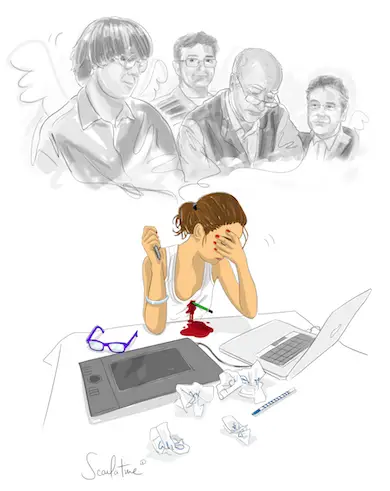 What do you enjoy in all of this? "I like the idea of ??being able to get up in the morning and tell myself that I make a living drawing when others do more "rational" jobs. What I'm missing? Bonus lives in order to have more time to get to grips with all my projects and work on other areas (graphics, sculpture, video editing, writing, etc.). I somehow put aside painting, to the detriment of illustrations, which take up 70% of my time, and I would like to get back to it. To see my paintings, which have absolutely nothing to do with my illustrations, click here. In short, to have more time, one lifetime isn't enough!"
Where do you come from, as in schooling and stuff? "I have a Masters in Plastic Arts and I'm an arts teacher as Job 1, and an illustrator as Job 2. I still prefer the illustrator job, it's a lot quieter." Arts teacher, OK, all right, they're probably less hated that history teachers or math teachers. The arts teachers, in my mind, they're the ones who had good records, had Sonic Youth t-shirts, and you felt that if you pushed it a bit, you could end up smoking a joint with them while discussing Cubist-period Picasso or Alan Vega albums. Where do you like to create your drawings? "I should answer my large Scandinavian table in my luminous livingroom that's dedicated to my work, but the reality is quite different. I'm rather sprawled on my sofa, the computer on my knees, feet on the messy table in front of the TV with some cookies. (Much less glamorous!)" No no, it's perfect as an image of pure creativity!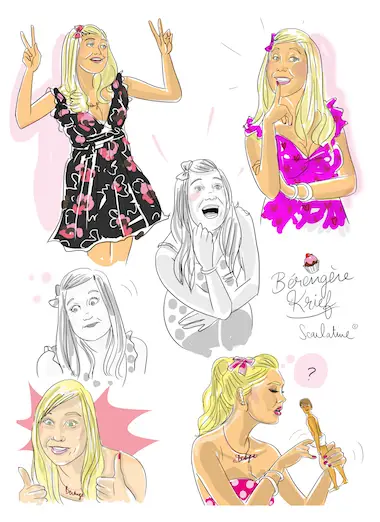 What are your plans for the future? "A book of personal illustrations. It has already been offered to me but I'm taking my time. I'm collecting stories for the moment. I thinking a lot about the content instead of rushing, even if the proposals are attractive." This is the best solution. It's not all knowing how to draw, the content must be funny, interesting, and it has to have a story. So we will wait around a bit for the collection.
What are your inspirations, is there someone, an event or something that made you want to start drawing? "My high school art teacher, Ms. Bedel! She sometimes left students alone in class, for a moment, and they remained calm, caught up in their subjects. She never raised her voice, she knew how to earn respect. I thought it was remarkable. She was the teacher who gave meaning to my life at that time. From that moment, I wanted to become a plastic arts teacher. A way to exercise my passion, having the security of a job that gives me free time and thus lets me draw." So,do you have heroes in your life like her? "My father. It was he who gave me the drawing virus. He draws very well and can do all sorts of things. I thought he had magical powers when I was little and I watched him draw. I was fascinated by his ability to tell stories and bring something out from a simple white page. I think subconsciously I wanted to have the same power too... He taught me the basics. I was fortunate to have openminded parents, who then encouraged me on this not always reassuring journey. They are my first heroes."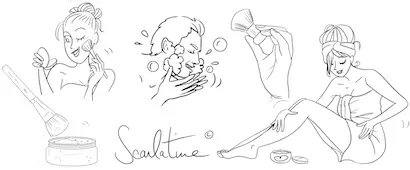 Tell us what you love in life, your passions, your hobbies, your vices, your little pleasures of everyday life? "Painting, drawing, collecting beautiful beaches with my lover, eating, sleeping, playing the drums, seeing my family, decorating my apartment, traveling, reading..." This is a good start. And your musical tastes, literary and comic-esque, what d'you recommend at the moment? "Movies: I don't go very often, but I loved Ozon's latest film," A new friend" with Romain Duris and Anaïs Demoustier. Music: ??My latest discovery, the otherworldly artist Papillon Paravel. His lyrics and melodies are just sublime. Someone that needs to believed in. Books: To be read once in your life: "If This Is a Man" by Primo Levi, a testimony recounting his experience surviving a concentration camp. A slap in the face that will not leave you indifferent. TV shows: True Detective, Dexter, Six Feet Under, Mr Robot. Comics: Manara for the drawings, and sensuality of heroines." And artists whose blogs you check out? "Voutch, Margaux Motin, Penelope Bagieux, Diglee, Hudrisier Cécile, Claire Wendling."
A personal FML perhaps? Perhaps my first day as a teacher in a new school. I arrived on a scooter in the teachers' parking lot when suddenly someone challenged me and said that students were not allowed to park there ... FML!" An FML classic, a teacher who gets mistaken for a student. It's rarely the other way round.
And finally, do you have any advice for new artists? "I think I would give the same advice I give to my students or those who want to make illustrating their profession, namely:
- Draw every day so you don't lose your touch.
- Observe and draw from reality.
- Create a blog to publicise your creations, and show your work regularly.
- Dare to go lookingfor people, without waiting for them to come knock on your door.
- Avoid working on your couch, find a dedicated place. "
I see, do what I say, not what I do!
I think that'll do for this week! We warmly thank Scarlatine for taking part, she was great. So, it's Friday and as you're reading this article, if it is indeed Friday, the day this is released, I'm now in England with my grandma, who is 97 years old. You don't give two hoots about that information, but I'm quite happy to go see her. I leave you with the most mediocre slide in the world and an old song. Kisses!
And how about you then? Think you have talent and want to participate in an upcoming illustrated FML? Send us an email on [email protected], not forgetting to give us the address of your blog, or just some of your work.
#1547 - Illustrated FML - On 10/05/2015 at 4:34pm by Alan - 5 comments