It's Friday, it's FML. It's illustrated FML time. How is everyone? We're on the last stretch to Christmas, which means a lot to some people, and absolutely nothing to others. Here at FML towers, we like the sparkly lights and shiny balls, and that's about it. Oh, and "Last Christmas" by Wham. Yep, that'll do. This weeks we're having a shorter illustrated FML than usual, it's a crossover thing due to a book being released in France. This week, we're having the illustrator who did the drawings that are in the book. Simple enough, huh?
NATHALIE JOMARD'S ILLUSTRATED FML
"My hero? I'm torn between T'Choupi the penguin and Einstein's granny."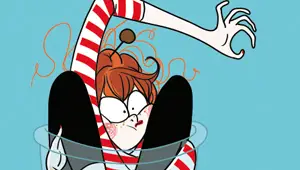 Self portrait Nathalie by Nathalie


This week is Nathalie is with us, also known as "Nathalie Jomard, Tata Nath, Official Jester of the self-proclaimed Republic of Grumeauland".

Her info:
Age: "A quarter to five before Kinder Bueno"
Location: "Grumeauland"
Website: Her blog
Her illustrated FML: The one with the paper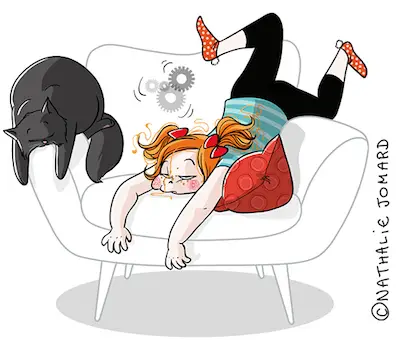 Nathalie is here to show us one of the many illustrations in our new (french) book. We will also introduce her a bit. "Basically, I am an author and illustrator. This means that, according to my Aunt Fernande's definition, I spend my days drawing and playing around with Mickey Mouses and colouring things with water soluble Crayolas, instead of having a real serious business like insurance salesman for people with flat feet or orthopaedic surgeon. So, I illustrated albums and I write, I work for the press, in publishing and advertising. Incidentally, I'm also the Jester of the self-proclaimed Republic of Grumeauland since the year 2008 of the post-Pleistocene blogo-era. And when I'm bored and I want to cause the third world war on the world wide web, I post on my Facebook page funny and quite innocent drawings about light subjects like epidurals or breastfeeding (trivial but highly controversial subjects, with a fight guaranteed to break out between the pro and anti groups - in the age of 2.0, we entertain ourselves in any way we can). " Okay. If you want to go like the page of the republic in question, it's here!

What do you like about what you do? "I like the idea of ??not having to sell insurance for people with flat feet. And if I had to complain about something, it would probably be a chronic shortage of capillary public duty amongst the Borneo urang-utans."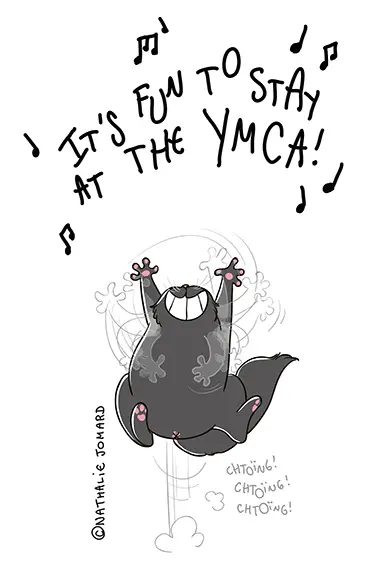 What kind of path leads someone to illustrate a book for VDM (FML's french version)? "A high school diploma obtained after 265.8 years (too long to detail, I was on the verge of completing my studies at the age of retirement). But I have a Masters in International pencil sharpening, with a nap option in lecture theatres and a BA in freestyle scrawlings on political economy papers. After that, I decided that since I can't be President of the Republic due to the fact that the function does not give any particular food benefits or holiday vouchers, I would just make drawings, so there! " So she finds herself with us today to illustrate voluntarily. When I asked her to select a picture from the ones in the book, she chose the one we published today by explaining that, "I have a crappy sense of humour :)" Luckily, so do we.

I'm not sure I dare ask what are your plans are... "Marrying Bruce Springsteen before he reaches a hundred centenary (if not, I'll just eat a custard pie in front of the weather)." I thought as much. Bruce has inspired generations of moistness.

What are your inspirations, is there someone, event or something that made you want to start drawing? "One day, I saw a painting by Caravaggio. I thought that since I'll never paint as well and with so much talent, I had to offer the world a new conception of art. And that's how I became a world reference in the field of drawing cats butts." Looking through her blog and her many works that are now available for sale, we can see that cats are indeed in the spotlight. Although cats, by nature, don't expect to be put in the spotlight. They put themselves in it. Cat bastards.
Who are the main artists that you like and whose blogs you check out frequently? "Does the Weather Channel website count?" Since their predictions sometimes give the impression that they were made by bug-eyed artists with huge imagination, I'll say yes.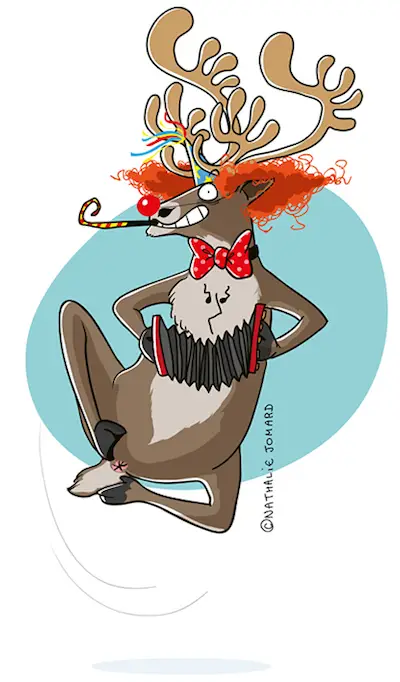 Your news, if you have any? "Due to a subtle calendar coincidence, I'm doing this interview now, just as the book I illustrated for you has come out. I'm thus patting us on the back for such perfect timing and being so topical. For the rest, amongst other things, I'm currently working on my next album due out in the spring. After which I'll probably sleep for a month to make up for all my sleepless nights I'm having at the moment. " If you want to come back in February to talk about it, and do another illustration for us while telling us all about the book, just give us a bell.
How come you ended up working on the VDM book? "One morning in June (which a 9 to 10-month margin of error, I have the memory of a goldfish), my editor wrote to tell me she had a nice project to offer." And you refused it to do the VDM book instead? That's so nice!
Your recent favorites in film, music, books, TV series and / or comics? "With the invaluable literary influence of Furax (my son), I can boast that I've read the complete works of T'Choupi (in its original version, no subtitles). Series and reading books. Making origami objects. But drawing remains my ultimate hobby!" This T'Choupi, I often hear about this guy. I don't have children, so it remains unclear to me who he is, but often I hear people whispering his name, often in a context similar to "I've had enough of T'Choupi. T'Choupi this, T'Choupi that. Can't wait for this to be over." Trotro is often mentioned in the same way, or worse. I even heard a mother say that Trotro was a "dirty junkie and I want him to die." It's a mysterious world. It's easier to manage cats.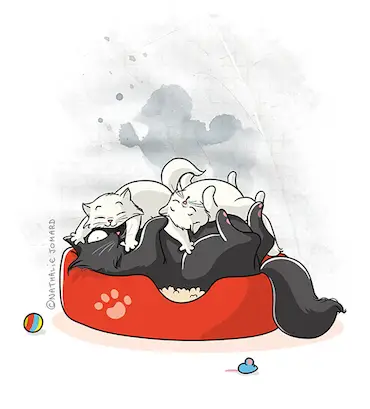 Tell us what you love in life, your passions, your hobbies, your vices, your little pleasures of everyday life. "I looove not watching any TV shows (I mean, none at all), just for the pleasure of not knowing what people are talking about when they are talking about season 528 of 'The Walking desperate game of potatoes'." That sounds like a fun game. I want to do that, the next time I find myself in the company of Game of Thrones fans.

If you had to tell us your own VDM, the most VDM-esque thing that has happened to you, what would it be? "One day I was born ... and that's where the trouble started." I knew that joke, but it involved a priest, a rabbi and an Irishman.
And finally, do you have any advice for new artists? "It's better than selling insurance to people with flat feet." That's certainly true. Although, insurers are ... though no, nothing, it's true, there's no comeback to that.
There, that's it for this week. Nathalie, thank you for your excellent illustrations for our new book. Next week we should be back to normal. Or will we? You never know. Until then, be excellent to each, have fun, and get me a new jacket for Christmas. Thanks!

How about you then? Think you have talent and want to participate in an upcoming illustrated VDM? Send us an email on [email protected], not forgetting to give us the address of your blog, or just some of your works.
#1561 - Illustrated FML - On 12/04/2015 at 8:24am by Alan - 3 comments