Zoé's Illustrated FML
Hey there, young whippersnappers. Yes, you, the youth. I'm talking to you, sitting at home, scratching your asses. Why aren't you doing something more constructive with your lives? Stop watching that shit show about the guys who are supposed to be scientists and one of them has OCD and the audience is laughing way too much. Make something out of your own hands. Why am I saying this? Meet this week's artist.
ZOÉ'S ILLUSTRATED FML
"He was waiting for the bus, a finger up his nose, all the while repeating, "I'm not here, I'm not here…""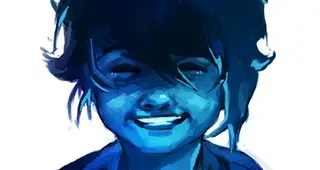 Self-portrait Zoé by ZLGM
So, who is it this week? Well, this week, boys and girls, we have Zoé, AKA ZLGM, who is not yet 16 ("I will be in just over a month"). She lives in Quimper which is on the west coast of France. It's quite refreshing change to be welcoming someone so young. The usual cast of illustrators are older characters, and are a bit more jaded and miserable. The eternal optimism of youth is nice to hear for once, even though Zoé isn't very talkative, she's straight to the point.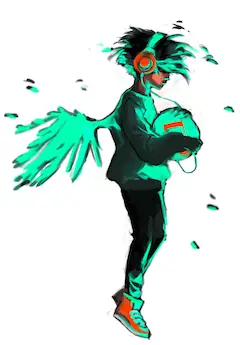 So, what does she do? "Not a lot". See, what did I tell you? That's the thing with the youth of today… No, I'm not going down that road. As a matter of fact, can we all agree to never utter the word "the youth of today" or "this generation" again? It's really annoying, especially when it's really young people saying it. As if past generations didn't have their fare share of idiots and bad seeds. Anyway, Zoé is in high school and is doing quite well, and she intends to pursue her career in illustration and all things drawing afterwards. We can only encourage her to do so, because the most important thing when creating this is having a bunch of ideas, and looking at her illustrated FML, her blog or her Facebook page, she certainly seems to already have a lot of those bashing around inside her head. She also says that she's currently learning to paint and to use Photoshop, which will obviously come in handy. I'm also learning to use Photoshop, but for the moment I'm just swearing at a computer screen with it, it won't do what I want it to do, so kudos to Zoé. Unlike the other illustrators I've had on here, she doesn't seem to have a job to get in her way, just school, but just the same as the others, she lacks time to get her drawings done. They all seem to want to have longer days.

Where does all this come from? "I've always drawn. A lot, or not much depending on my mood, but it's a friend who draws very very very well who made me want to get better at it." She draws anywhere, as long as there's a window to sit by. And who inspires her? "Adolie Days, I really like her work and it's her blog that made me want to share my drawings on the internet. And Boris Vian as well. I should illustrate one of his songs."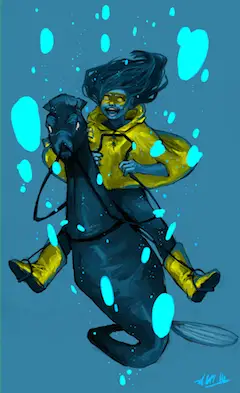 She also appreciates fellow artists such as : "Samkat, Aquasixio, Joysuke, Mahaut Lemoine, Madmonkey, Lou Lubie and many many more." She seems like quite a normal girl, our Zoé: "What I like in life… Loads of things. Coming home from school, seeing that the weather is nice, drawing for hours and hours, listening to music and not doing anything. Eating sweets too. But not too many." Very reasonable. Oh, and she says she's afraid of pollen. I can recommend a good anti-allergy pill if she's afraid of sneezing, but I'm not really sure…
When I asked her if she had her own FML to tell us, she told me this: "I see funny things sometimes, today I was in the street, the city was quiet, but one individual stood out from the norm. He was waiting for the bus, a finger up his nose, all the while repeating, "I'm not here, I'm not here…" FML Hmmmm. Seems like she met me in the street without realizing it.
It certainly seems that Zoé has a great career ahead of her, if she sticks with it, her ideas and illustrations are certainly great so far. Here at FML we'll keep in touch, and maybe in a few years she'll return and make another illustrated FML so we can see how her style has evolved. Until then, and until next week, we'll leave you with a song, a dance and a painting dog. Have a nice week, and be excellent to each other.
What about you? Think you've got talent and want to contribute to the illustrated FML? Send us an email to [email protected] but only send us your blog's address and a few samples of your work. No need to create an illustrated FML straight away.
#1446 - Illustrated FML - On 04/18/2014 at 11:21am by Alan - 12 comments