Nino's Illustrated FML
Hey hey we're the Monkees… No we're not, we're FML. And it's the weekend, so it means it's time to strap on a crash-helmet and step outside into the big bad world. Nah, just kidding. Stay inside, in your pyjamas, eat some delicious cereal 24/7 and check out this week's illustrated FML.
NINO'S ILLUSTRATED FML
"The guy is just awesome. He eats roadkill, sleeps in camel carcasses and drinks his piss… Actually, it's weird to admire someone like that."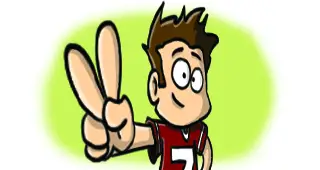 Autoportrait Nino by Nino
It's 2014, it's April, and this week we're receiving Nino. No first name, no surname, just Nino. He's a mystery man, not willing to reveal his true identity. In order to further my career as a budding illustrator, I tried putting my imagination to the test, and drew who I thought he might actually be.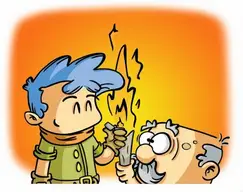 So, who is he really? He's done a very nice illustrated FML for us, so check it out now. He has a blog, which can tell you a lot about his work and talent, but what about the rest? He says that he'll be 30 years old on the 7th of April, "BUT FOR NOW I'M 29, GOT IT?" OK OK, no need to shout! He lives in France.
He's between jobs at the moment, and is more of an amateur cartoonist, which I suppose means that Nino can compete in next the Olympics. However, he says that "I should be starting a new job in charge of development in two weeks," which is good news, because he reckons his bank account is in need of some assistance.
He publishes his artwork on the French website 30joursdebd, "and that's a start… and I've also been asked to illustrate an FML. What d'you mean you already knew?" He's also on his way to starting a comic book called "Fairyland". It's the story of Elliott, a boy who lives in the world of fairy tales, but who is the only character who hasn't had his own tale yet. It'll be a comic book in the 'a gag per page' format." Two pages are already available on his blog.
Other than the usual heroes such as Batman, his other hero is Bear Grylls from Man Vs. Wild. "The guy is just awesome. He eats roadkill, sleeps in camel carcasses and drinks his piss… Actually, it's weird to admire someone like that."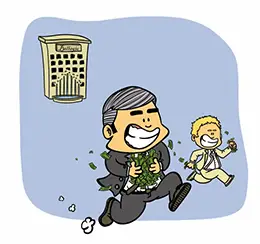 He rates Back to the Future and Star Wars, and raves about "Caro Emerald, a dutch jazz singer. Heavy stuff." He likes TV shows such as Game of Thrones and Walking Dead, but seems to really like The X-Files, and even has an FML about it: "I have all 9 seasons on DVD, well, I did until my girlfriend threw out an old DVD player with one of the DVDs in it. It hurts just talking about it."
He also recommended a few artists for us to check out: Ztnark, Piratesourcil, Stivo, Day le Dessineux, Piet Bulle Gorobei and Debyloo.
Nino and I have something in common: music. He plays the guitar and bass, as I do. But also, unlike me, "piano, drums, percussion and not at all the violin." I'm wondering if he's not actually some sort of one man band.
To finish the interview, he has his own FML (well, second) story: "Between the ages of 12 and 22, I would roller skate. When I started to get good and was able to do some stunts, my mom bought me a helmet and told me each time to put it on. One day, at the skate park, a guy turns up and starts taking pictures. The next day, my mom asks me if I still put my helmet on each time. "Of course, mom." She then pulls out the local paper containing a great picture of me in the middle of a jump… not wearing my helmet."
The camera never lies. So, what have I learned this week? You can be talented in several areas, drawing and music. Then again, I've never heard Nino play. Oh, and I have to put my helmet on before going skating. Anyway, don't forget to check out Nino's illustrated FML. Next week we'll be receiving a new artist, who might be George W. Bush, who knows? Until then, be excellent to each other... That is it for us today, I can't do it, dammit, the thing sucks, we'll do it live: To play us out, here's Dave Lee Roth with a cut off his album.
What about you? Think you've got talent and want to contribute to the illustrated FML? Send us an email to [email protected] but only send us your blog's address and a few samples of your work. No need to create an illustrated FML straight away.
#1443 - Illustrated FML - On 04/04/2014 at 10:24am by Alan - 6 comments