FML's Horoscope
OK, we lied. We're not lauching a new feature. There will be no pseudosciences on FML. Astrology will not be taking up any room around here, we just wanted to mark the occasion for April Fool's Day, and have some fun. Although, some of you seemed to enjoy this addition, the predictions were as believable as most, if not all astrology babblings out there. Maybe we should make this a permanent fixture, who knows what might happen in future. No one. No one knows. Take care now!
Since its creation, FML has never ceased to innovate. We've gone from strength to strength, launching innovative services like the online egg-whisk and publishing great stories from all over the world. You're probably wondering what our secret is. Well... it's pretty straightforward. We get all our information from looking to the stars. As the great man once said, "If you shoot for the moon, even if you miss, you end up in space with no oxygen."
That's what we do at FML, suffocate you in outer space with love.

As of today, we're launching this new feature, based on outer space and an ancient science that was born in the desert thousands of years ago: The FML horoscope. If you know your birthday, you know your star sign. Easy. Based on that, each month, we'll be telling you what's up with the planets and stars and shit.

Aries
March 21 - April 19
Watch your step around small children and satanists, you could be eating through a straw for weeks if you don't. Beware of anything blue. Eat more broccoli. Your love life is on the rise, maybe it's time for a new haircut and tire change on the truck. Favorite color: beige. Lucky number: 6.

Taurus
April 20 - May 20
The moon is on the rise over your pay-check, which sadly means that no more money for you. Then again, Mars is on the warpath, so avoid contact with linen and any Celtic tattoos. Drink more water. Leave a book on a park bench, it'll bring you luck with the ladies/gents. Favorite color: beige. Lucky number: 6.

Gemini
May 21 - June 20
Stop smoking those cigarettes! And if you're not a smoker, don't even think about starting! Venus is in Mercury this month, buy some crystals to help fight plaque. Never jaywalk. Read a book about General Patton. Look at the moon and pray. A coworker is plotting something, investigate. Favorite color: beige. Lucky number: 6.

Cancer
June 21 - July 22
Get up early this month, because the early bird catches the plane. The Bible can teach us a lot of things, but it doesn't have a good recipe for banana bread. Meditate on this thought. Help an old man to buy a car, Mars is in your quadrant. The moon is dissing yo momma, don't give up hope. Favorite color: beige. Lucky number: 6.
Leo
July 23 - August 22
Jeff Bridges day is almost upon us, please remember to floss. All Leos are reminded that their star sign is one of the worst at organizing birthday parties, so stay quiet. Drink less alcohol. At work, your boss is having a hard time understanding you. Eat more meat, especially if you are a vegan. Favorite color: beige. Lucky number: 6.

Virgo
August 23 - September 22
The moon is influencing your decision-making this month, so fight the urge to buy a satellite dish. Be more friendly with your neighbors, they think you are a sociopath. Get a fedora. Stop talking to your car. Saturn and Venus are conspiring, so your love life should improve. Favorite color: beige. Lucky number: 6.

Libra
September 23 - October 22
Poor little Libra, lost in your own little world. You need a map and a compass to find your own butt. Don't worry, Jupiter is coming to save you. Get some yoga in your life to help channel your anger and frustration. Eat more beets. The goal of life is not money, it's more money. Favorite color: beige. Lucky number: 6.

Scorpio
October 23 - November 21
It's time to fix the aches and pains that your body has been trying to tell your body about. Go to the doctor, you need help. Then, buy a plane ticket to an exotic place. Your future has beaches and cocktails all over it. Mercury is influencing your need to stay put. Don't listen. Move it. Favorite color: beige. Lucky number: 6.

Sagittarius
November 22 - December 21
You listen and you listen good: stop it with the waffles already. You need some exercise. The moon is in Venus, and your crystal energy is depleted, so realign your chakras, and get on the bandwagon. Listen to some late '90s funk. Learn to drive a stick transmission. Be nicer. Favorite color: beige. Lucky number: 6.

Capricorn
December 22 - January 19
The name of the game is LOVE this month. That guy/girl you like so much? Forget them. You've got what you need right in front of your nostrils, but you don't know it. Read more books about the Nazis. Switch the TV off. Eat some fruit. The sun king is rooting for you. Devil-may-car attitude, baby! Favorite color: beige. Lucky number: 6.

Aquarius
January 20 - February 18
Channel the spirit of Bob Marley this month, minus the toe cancer. Be at peace with the world. Good things are coming to you, and you deserve them. Drink more water, with a bit of lemon. Stop interrupting. Think about having children. A change of scenery is on the cards. Buy a map. Favorite color: beige. Lucky number: 6.

Pisces
February 19 - March 20
Fish are notoriously bad at driving cars. This month, you can try your hand at flying light aircraft, because Venus is influencing your ability to steer problems away. Eat some cashew nuts. Try the Atkins diet. Go for a run. Get a dog, and call it Lenny Bruce. Dance more. Favorite color: red. Lucky number: 78.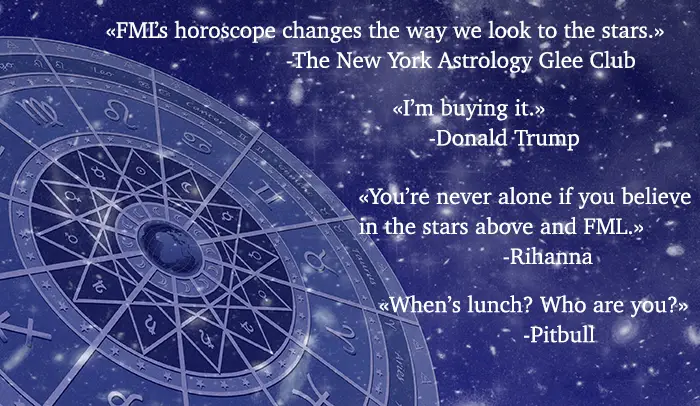 #1442 - About FMyLife - On 04/02/2014 at 6:14am by Alan - 81 comments