Grib's Illustrated FML
It's the end of the week, which of course means it's time for another illustrated FML (and just about time for some beer of course). This week we're travelling to Switzerland to talk to Thomas, AKA Grib.
GRIB'S ILLUSTRATED FML
"The best thing is when you've got a huge pack of nice candy while you're watching a great cartoon."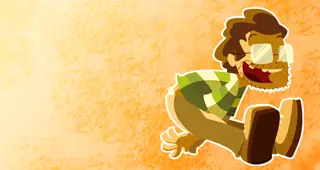 Grib's selfportrait by Thomas
Why Grib? It comes from the French slang for doodling ("gribouillage"). I don't know a lot about art (but I'm going to talk about it anyway) and some of it looks like doodles to me (and some of it doesn't even make it past the doodle stage, yes Jackson Pollock, I'm looking at your stuff), but then again, as I said, I'm not really an art collector. I'm just trying to understand how an idea becomes a piece of art. And I doubt an FML could really become a piece of abstract expressionist art. Or could it? Maybe someone will prove me wrong one day.
Thomas/Grib has created a fine illustrated FML for us, and it's also once again a crossover with our sister website in France. He's also answered a few questions, so we can get to know the person behind the art.
As I said, he's from Switzerland, and most of the time he's an independant illustrator. He also gives drawing classes for adults and children, but as in Matteo's case last week, Thomas seems to also struggle to earn a living from his passion for drawing. He's also taken a second job on as a messenger to be able to get by, "because despite the hours I put in drawing, it earns a lot less money than a steady job!"
You can check out his blog to see what his work is like, and to see where he's going to, work-wise. Speaking of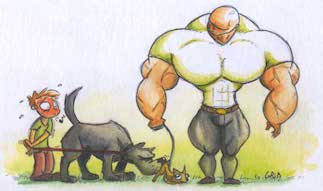 which, where does he come from? The most surprising thing is that he was once almost a car mechanic, something his parents pushed him into so that he would have something to fall back onto if the whole drawing thing didn't pan out. Parents, eh, always the pragmatists. Mine still wonder when I'm going to get a real job... After studying in a Swiss art school, he reckons he's now "trying to survive in the domain". And what about cars? "I never touched a car again!" That's a shame, I know a lot of old wreck owners that would've been interested.
He says that he would quite like a "nice Cintiq". I went on to Google and found out that this is some sort of electronic drawing pad that a lot of illustrators use. His blog and the examples I've used in this article make me think that he doesn't really need it. But then again, maybe if we organized some sort of charity event... I can't chip in, I have no money and I have cats to feed and I want to spend the summer in a caravan by the beach. Sorry Thomas. Speaking of cats, he also has time for them: "You can play with them, cuddle them or mess with them when you want. If you don't have time to take care of them, they can take care of themselves." A bit like babies in that respect. What? Yes, I know, I should never have children.
And what about the blogs, music, movies, books and other stuff he likes? "I like Boulet and Cyril Pedrosa. I prefer to see the Art Books of movies and cartoons, to see the research behind them, etc. The last film that stood out and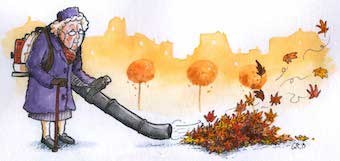 that I'd go see again is "The Secret Life of Walter Mitty". Great music, great images..." As for books, he's into Science Fiction, so not much in common with myself. He doesn't read many comic books either. What sort of cartoonist are you, Thomas?! "I'm very whimsical in my choices, and quite old-school." Oh, that's OK then, so am I!
So, what does a Swiss illustrator do to entertain himself? "Most of my spare time is spent going to the movies, drawing some more, playing video games, some sport (a little bit) and having drinks with friends. Nothing much different than everybody else! The best thing is when you've got a huge pack of nice candy while you're watching a great cartoon." I can understand that, if you replace "candy" with "bourbon" and "cartoon" by "depressing indie movie". And loads of cream and onion Pringles (yes, I'm hoping that by mentioning them, a truck-load will be sent to FML).
Anyway, don't forget to check out the FML Thomas has illustrated for us! As for now we'll leave you on that note, with the image of a weekend whiled away on candy and cartoons (and bourbon), and maybe next week we'll finally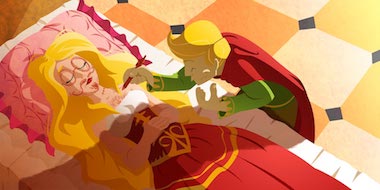 get round to the cats that paint. But probably not. We'd like to thank Thomas/Grib for his patience and for taking the time to create the illustration and answer all my questions. If you want to find out more about his work, please check out his blog, it's pretty neat (and he's a very nice person too).
Until next week, do be excellent to each other, remember to brush your teeth, floss if you can and may the strengh of a thousand Lemmys be with you. I'll be back with some more illustrated FMLs as soon as I can find my trousers.
What about you? Think you've got talent and want to contribute to the illustrated FML? Send us an email to [email protected] but only send us your blog's address and a few samples of your work. No need to create an illustrated FML straight away.
#1438 - Illustrated FML - On 03/07/2014 at 8:21am by Alan - 4 comments