Roxane's illustrated FML
It's Friday, bitches. OK, strange start to an article but it got your attention. This week we've gone all emo on your asses because it's still that strange time of the year between spring and summer when the weather is a bit shit and can...
It's Friday, bitches. OK, strange start to an article but it got your attention. This week we've gone all emo on your asses because it's still that strange time of the year between spring and summer when the weather is a bit shit and can't decide if we should be wearing short sleeves or puffy jackets. When's this madness going to end? When am I going to get my bland, bandy legs a proper tan? We're all about uncertainty this week, the not knowing and the overreacting. Have you ever overreacted to something and then later thought you could've handled the situation a bit better? This illustration is for you. Intrigued? You should be.
ROXANE'S ILLUSTRATED FML
"I like to draw sitting in an airplane hanger, in the cold air, smelling of kerosene."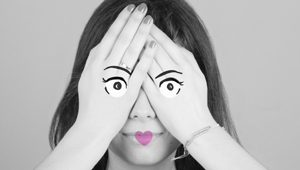 Self portrait Roxane by Roxy



Roxane is a surprise guest. The surprise is also know as Roxy, La Rox, Ronron… Hmmm. She's beginning to remind me of someone I know.
Her info:
Age: 23.
Location: Paris, "but above all from Tours, Charente et Alsace"
Website: Roxane's zapblog
Her illustrated FML: The one with the lateness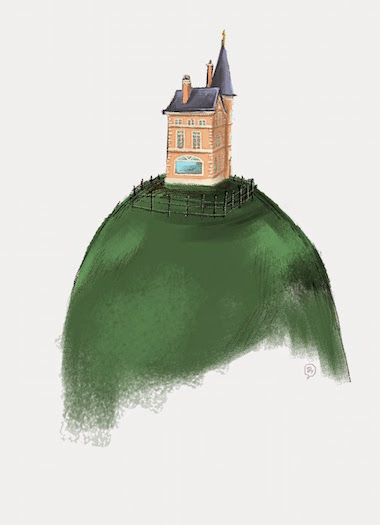 I mentioned that Roxane is a surprise guest for a particular reason. We were supposed to be welcoming someone else, but for timing reasons, I wasn't sure everything would be in place on time. So, just to be sure we'd have something to publish, I contacted Roxane after K'Naye recommended her, and offered her the gig. Despite the rushed nature of the offer, she stood up in her living room, did that scoot salute thing and said, "YES, I'LL DO IT!" SO, she's here with us today, and she's done well.

So what does Roxane do? "I'm a graphics designer and an illustrator. I love my job because it's first and foremost a passion of mine, and that means a lot!" A dream job, then. I guess everyone would like to make a living doing what they love. My for instance, I'd love to be paid to cuddle my cats, but the local job centre told me that there was nothing on their job description list that came anywhere near that sort of thing. Weird. So instead, I cuddle FMLs. So it worked out OK.

We always seem to want more from life, so Roxane, what do you need? "Tony Stark's workshop, the drawing/illustration version, with all my beautiful cars displayed (displayed in my dreams more like)." OK, erm, can't you request something more along the lines of some nice crayons? My gift budget is quite crap at the moment.

What's your latest news? "I'm like her Royal Highness of Cambridge, I'm expecting a wonderful event in May; le birth of my website (www.graphiste-roxane.fr)! Speaking of which, I'm launching a range of birth announcement cards, so Kate and William, if you haven't picked any yet, don't hesitate to get in touch!" I know them personally because I'm part of the British Mafia and I've got some clout, so I'll give them a bell.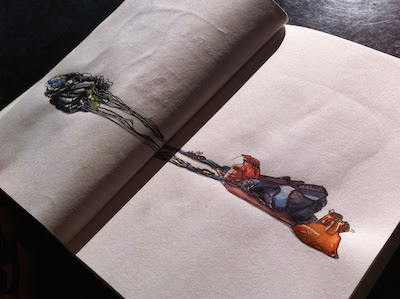 As for her projects, she remains quite straightforward: "Open my website, live in luxury from my art. Draw, over and over and get to see my friends who live way too far away from me!" Let's hope that her plan comes together. If any prospective clients are out there, she was really on the ball when I asked her to do an illustrated FML, she was up like a shot. So if you need an illustrator to work on various projects, don't hesitate to get in touch, she's really efficient. vivre comme un pacha de mon art.
Who, what or who did you start drawing or made you want to draw? "It's one of the mysteries of my life, I don't know why all my life, since I was a little girl, I've drawn, drawn, eaten drawing, slept drawing. Meeting passionate people helped me throw myself headlong into drawings. There's also the people I met through their art, like Van Gogh, Hayao Miyazaki, Camille Claudel, Manu Larcenet..."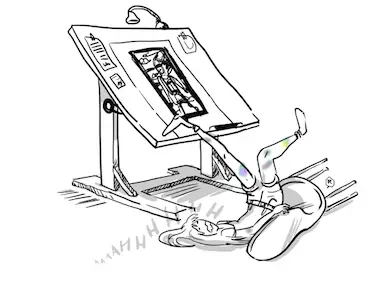 What are your day-to-day pleasures in life? "Dreaming about the next drawing I'm going to create, fully stretching my legs before getting out of bed, making some hot chocolate on a Sunday afternoon with a packet of chocolate biscuits. Besides that, in more extreme pleasures, jumping out of a plane with a parachute." And what about the artists you like? "There's K'Naye my old boss from when I was a trainee who taught me how to skateboard! There's also the wonderful cut-ups by Brittney Lee. The beautiful pin-ups by Maly Siri. There's so many..." It's K'Naye who put me in contact with Roxane, so I must thank her again for that!

A final piece of advice for budding artists? "You have to believe in yourself. Very often, no one will do it for you, unless you have parents like mine, who support you (love mum and dad) as well as a great bunch of friends (hey guys). You have to fight to reach your dreams, even if it means leaving the beaten path, and going down the thorn-infested, snake-filled path."
As they say, TFIF. Or, as polite people say, TGIF. It's a special Friday for many, seeing as it's VE Day, so France is taking a day off, England is nursing a sore hangover from an election, and most countries around Europe are remembering. So, for some, it's a long weekend. We'll get to sit around in our chic living rooms, play some groovy electro lounge music, and read magazines about architecture and technology. I'm getting my playlists ready. It's important to have playlists for a party. Serious playlists that no one will listen to because after about 10 minutes, a drunk dude will bounce up to the computer and say, "Hey, is it OK if I stick a YouTube clip on? OK cool!" (that guy will probably be me). Right, time to go outside! Be excellent to each other, and have a great weekend.
What about you? If you think you've got talent and want to contribute to the illustrated FML, send us an email to [email protected] but only send us your blog's address and a few samples of your work. No need to create an illustrated FML straight away!
By Alan / Friday 8 May 2015 05:14 /