Ronald Grandpey's illustrated FML
Hello everyone, how's it going? You doing OK? Friday is the right time to get your glad rags on, go out, meet your friends, have a drink, get your freak on, shoot the breeze, shoot some hoops, don't shoot the deputy and then go home and fall...
Hello everyone, how's it going? You doing OK? Friday is the right time to get your glad rags on, go out, meet your friends, have a drink, get your freak on, shoot the breeze, shoot some hoops, don't shoot the deputy and then go home and fall asleep in the closet. But before all that, have a go at this week's illustrated FML. You've got time to fit an illustration into your busy schedule, come on dude, we know you're sitting at home with curlers in your hair, we can see you through the window. Look, we're waving at you! For those of you reading this on a Wednesday morning in 2047, I do apologise, I'm not taking into account the space-time continuum while typing out of this article. (By the way, how's President Macaulay Culkin doing in 2047?) That's enough of that, let's move into this week's inner sanctum.
RONALD GRANDPEY'S ILLUSTRATED FML
"A beef rib (2 kg for 6 people), brochettes, some melon, a raspberry tart, and Mary Jane's fudge.
Which isn't very FML."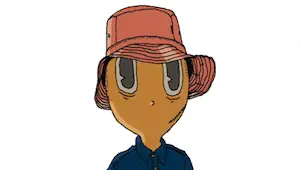 Self portrait Ronald by Ronald.



This week we're welcoming a friend of mine. "My name is Ronald. P.E.E.P.S isn't really a pseudonym, it's more of a signature amongst many others, in many different ranges. In my mind, P.E.E.P.S is an imaginary author. You can call me Ronald. Or Wonawld." And I hope no one will accuse me of nepotism, he's got a lot of talent. Just check out his stuff, make up your own mind.

His info:
Age: 40
Location: Rennes, France
Website: His eponymous website
His illustrated FML: The one with the hotel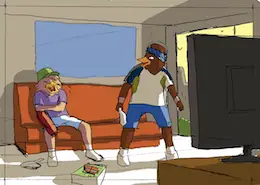 I've been asking Ronald for an illustration for a while. He's finally come round to reason and accepted. Up until now he'd been claiming that he hadn't got time to do one. We had to negotiate sort of deal, too. Two roast chickens and three bottles of Cinzano Bianco. OK, that part is a lie. He's finally found the time to give illustrating an FML, and it's a real treat because what he's done for us all is pretty epic. And I hate using the term epic these days, because everything seems to be epic with some people. So, OK, Ronald, you're epic. There.

So, who is this Ronald dude? What's his beef with life? Tell us what you do to stave off the boredom? "Comic books, animation films and illustrations." OK, that's a bit of a short summary. I know him in real life, and he's one of the most talkative people I've ever met. I'm not exaggerating. He's being modest about his talents because if you check out his website, especially his personal animations, you'll quickly realise that he's not some bum that we dragged off the street. Even though he may look the part sometimes.

I asked him how he got to where he is today: "A gallop under the trees in the morning, tight bends over the ridge that looks out onto the bay in the evening, scuba diving and speedboat races at night."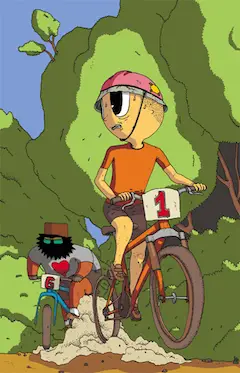 What is it that you like about the strange world of comic books? "I like drawing outside in the hills in the countryside, working on animation movies at night, improvising stories and lighting moods, going in different directions, not necessarily taking the beaten track, flitting between comic books and animation movies, personal jobs and orders, working a lot and living from it. What do I need right now? Palm trees, and a large balcony so that I can draw by the ocean side. Can you do something about that for me?" Unfortunately, I can't. The last time I tried to sponsor someone, they turned into a monster. I found this kid, a singer, nice guy. Bunged him a load of cash, he got all big-headed, changed his name to Kanye West, never returned the favour. So I'm afraid that I can't help you out, because if I did give you any money, you'd turn into another monster and turn your back on me. I'd rather you be poor and nice to me.

We're also here to talk about your projects, so come on, what's going on? "Several book projects are under way, under different guises (P.E.E.P.S, Franky Bartol, Ronald), to be released by Misma an other publishing houses. Some illustrations for a childrens' story by Chloé Alibert. A comic book with Stefen 'Yea Big' Robinson, for whom I made an animated clip a few years ago. I'd really like to make an animated series too." We hope that you make one too, Ronnie. Do you mind if I call you Ronnie? No? OK, I'll stop right now, put the stick down.
Ronald has things going on! Fact me till I fart:
"Right now, quite a few things:
- The Angoulême comic book festival in France, where I will be signing copies of ILS ONT DES NOUVEAUX POUVOIRS ("They have new powers"), volumes 1 and 2, on the Misma editions stand.
- An animated loop for a collective exhibition by l'Employé du Moi, an independent editor from Brussels and fried who will be celebrating their 15th anniversary this weekend at Angoulême.
- FRONTIÈRE, a self-edited comic (with 7 editions having been published already), with a unique hand-drawn cover for each copy.
- Some personal illustrations.
- Some animation films and illustrations that people have ordered here and there."
I like people who make lists.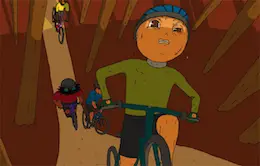 What have you enjoyed in life recently? "I saw Pasolini's "Salo" recently, which is amazing. Musically, Run The Jewels and all of El-P's projects, the recently rereleased "#3" album by Diabologum, Psykick Lyrikah, and a bunch of stuff. In books, "Terminus Radieux by Antoine Volodine. The last comic book to really knock my socks off was "The Double Happiness Book" by Joe Daly. And "Lune L'Envers" by Blutch. And all the works by Goossens, Pierre La Police, John Porcellino, Killoffer, Jim Woodring, Ruppert & Mulot, Luke Pearson, Glen Baxter, Mattotti, Gary Larson, etc etc, the list goes on. And Yuchi Yokoyama : genius." I think I've mentioned Diabologum a few times in this column, and I've tried to get Pierre la Police to take part, but to no avail. As a superfan, I was just happy he replied!

Who are the artists you check out on the Internet? "El-P's Twitter account, but that's not comics though. Not many comics blogs actually, I read books or fanzines. Oh yeah, Thunderpaw by Jen Lee, but that's not really a blog. A few illustrator friends: Nylso , Gilles Rochier, Seb Lumineau, Jonathan Larabie… And Grandpapier, a comics portal run by L'Employé du Moi." And if one of these illustrator friends wants to come on here, it's with great pleasure. Tell them from me, OK Ronni… Wonawld.

Tell us about your everyday pleasures. "On top of all that? Leaving on a whim to meet up with friends on the other side of the country to drink Nikka whisky while listening to great records. Eating profiteroles. Driving. Walking. Imagining the future. All that at the same time." I think I've been a part of some of those things, haven't I? Hmmm, I'll quit with the nostalgia, it's boring people. Anyway, it's time to go down the pub and annoy Dagmar.

We're going to let Ronald go back to his drawing board. We can now sit around and work out how to draw as well as he can. A year ago, when I took over this column, I had the ambition to learn how to draw, and that ambition has fallen by the wayside. A year has gone by, and I'm still shit. I think it's time to give it another shot, with the help of the illustrators I talk to on this blog. I'll keep you up to speed. I'll leave with with a band that Ronald and I know very well because we met through Michel, one of the founders. Ronald designed the sleeve for their album, part of which you can see here. Here's the Binary Audio Misfits. As ever, be excellent to each other, and see you next week!

What about you? Think you've got talent and want to contribute to the illustrated FML? Send us an email to [email protected] but only send us your blog's address and a few samples of your work. No need to create an illustrated FML straight away.
By Alan / Friday 30 January 2015 11:23 /