Krumla's Illustrated FML
It's Friday, so a bold font is required. I was sitting in my caravan by the side of busy road cooking cocktail sausages over a gas stove when I realised it was time to start writing something about this week's artist. This week we're tr...
It's Friday, so a bold font is required. I was sitting in my caravan by the side of busy road cooking cocktail sausages over a gas stove when I realised it was time to start writing something about this week's artist. This week we're travelling, we're going international once again. This time it's a bit more exotic than Canada or Belgium. We're going to Iceland, with a slight detour through California. What's the caravan for? It's very useful when your main accommodation-slash-hovel has been invaded by thousands of kittens or damaged by children. All this is the theme of this week's illustrated FML. Let's check out what it's all about.
KRUMLA'S ILLUSTRATED FML
"My desk is 10cm from my bed and I mostly work at night so the sound of my partner's snoring has become standard part of my work process."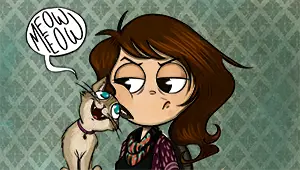 Self-portrait Sandra by Krumla



Krumla is Sandra. Sandra is Krumla. Sandra is from Iceland, she lives in California at the moment, but is moving back to Iceland in December. Got all of that?

Her info:
Age: 27
Ville: San Francisco, USA, but soon in Reykjavik, Iceland.
Blog: Krumla.com
Her illustrated FML: The one with the towels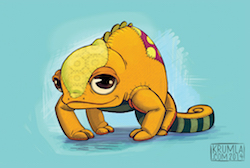 This is all very international. I like it. A British guy who lives in Paris, France interviewing someone from Iceland who lives San Francisco. So, what does she do? "Pfff, who knows? Right now I'm transitioning from trying to work as a visual development in the animation industry to being a comic artist. It was getting tiring to wait for studios to realize how awesome I am, so being able to work independently on my own projects is very nice. It allows me to finally tell my own stories and I really enjoy it. Right now I'm creating a weekly webcomic called Brainiacs (or Ofvitar in Icelandic). It's about two nerds, Erna and Arnar who live in Reykjavik and their daily adventures. They are mostly inspired by myself, my boyfriend and our friends. I started making them for an Icelandic website called Nerd of the North and people seem to really like it. It is available to read in English here.

What sort of projects does she have? "I have two ideas floating around in my head, I can't really talk about them at this stage. One is going to be a graphic novel that I want to pitch to publishers soon. I want to test my skills as a writer with it because I love stories that marry humor and tough subjects and this is definitely that sort of story.
The other idea is going to become a fantasy webcomic that might take years to complete. It's going to be epic! Spanning years and continents, lives ruined, blood shed, epic."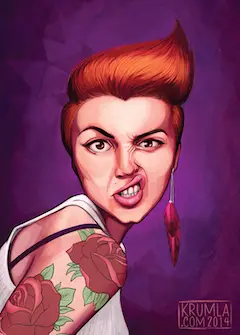 How does one end up in San Francisco when you come from Reykjavik? "I studied Multimedia design in a Icelandic college called Borgarholtsskoli. Then I moved to San Francisco and graduated with a B.F.A in Animation: Visual Development from the Academy of Art University about a year ago." It was that simple. The first time I went to California, I was pulled out of the line at passport control and I really thought I was in for a rectal exam. I wasn't, they just wanted to look at my bag for some reason, but I didn't feel really welcome. I didn't leave with a diploma or anything.
What is the inspired by? "Everyday life, books, movies, random trivia… It is hard to pinpoint how where the ideas come from. Sometimes it takes me a few days to figure out what I want to say, other times it flashes before my eyes instantly and I have to draw quickly before it goes away." Was there an event or a person that made her want to pick up a pencil and start doodling? "I've always drawn. Nothing really exciting to say about that. I tried to study something normal at a regular college and thought about becoming a lawyer or economist but that was ridiculous. I would have just been doodling in the courtroom." I can understand that. I've got a degree in psychology. I almost was a work psychologist. I swear this is true, with a specialisation in ergonomy. It just goes to show that you start your adult life thinking you're going to become something, and then a few years later you realise you were right to take a left at one point in your life instead of going the opposite direction. It's the same in love, you think you'll never change your mind about something, that it's impossible. That it'll never happen. Then a few years later, you wake up to realise that you should've tried, and things have passed you by. You have to pay attention. Hashtag YOLO.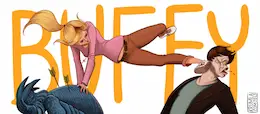 What about her influences? What does she enjoy in life? It seems that her hero is Faith Erin Hicks. "About 15 years ago she taught herself how to draw by making a giant webcomic called Demonology 101. This year she just won an Eisner award for another comic she wrote and drew by herself. She's also made a few collaboration comics like the Last Of Us: American Dreams. She just really seems like someone who has worked her ass off, was able to do her own thing, and seems like she really deserves tons of success." How about the little things in life? "My friends and I started to play Pathfinder recently. It is like a beginners version of Dungeons and Dragons and we are all total n00bs. I don't have much pastime lately. I've mostly been working and stuff but I have been replaying Dragon Age. It is a RPG fantasy video game that I love more than any other game. The 3rd part Dragon Age: Inquisition is coming out in November and I'm really excited about it (and worried about how much time I'm going to waste playing it). If I could have any job in the world, it would be to be a character designer for that game."

To finish off, how about the usual personal FML? "Maybe that one time when I managed to lock myself in my own apartment. I was going to class and already running a bit late. My front door has one of those surface mount deadlocks where you have to turn the knob to unlock it from the inside. When I try to open my front door the lock had jammed and wouldn't budge. I was starting to panic because this was the last class of the semester and my grade depended on my turning in my assignment. After about 10 minutes of texting people in my class that I might be late, texting my building director to see if he was in the building, and trying to loosen the knob on my own I grabbed a hammer and banged on the knob until it loosened. It finally got me free and I was able to make it to class. Of course, the teacher didn't show up that day. FML" Classic case of wanting so much protection from the outside world that you get locked inside from it. Great story nevertheless, have a golf clap.
It's Friday and I'm love. That's The Cure again, not me. I'm not in love, as 10CC said. Thanks Sandra for patience and your great illustration. It's now the weekend, so it's time to go out to get some JD's, some coke and some Pringles. Or just stay inside and meditate while listening to whale music. That's what I'll be doing all weekend, because I'm poor. Next week is Halloween, so who knows what could happen. It'll be a surprise. Be excellent to each other until then.

What about you? Think you've got talent and want to contribute to the illustrated FML? Send us an email to [email protected] but only send us your blog's address and a few samples of your work. No need to create an illustrated FML straight away.
By Alan / Friday 24 October 2014 13:41 /