K'Naye's illustrated FML
Woohoo it's the weekend! Winter is all around some of us, but not in our hearts. To help fight off the cold and seasonal depression, this week we're taking a look at love and tenderness. It's what keeps us going here at FML. No, we don...
Woohoo it's the weekend! Winter is all around some of us, but not in our hearts. To help fight off the cold and seasonal depression, this week we're taking a look at love and tenderness. It's what keeps us going here at FML. No, we don't live off mockery and schadenfreude, there's a beating heart underneath the cold glare and the steel-like muscles. We all like surprises, especially ones like clowns appearing in dark alleys in the middle of the night, or laying down into a puddle of cat piss on your bed after a night out partying. So this week, we're celebrating life, love and flowery gifts that don't smack of desperation.
K'NAYE'S ILLUSTRATED FML
"For my
30th birthday, I finally made my dream come true and learned to play the trumpet. I'd like to say hello to my friendly and understanding neighbours!"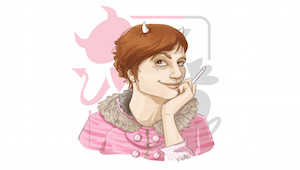 Self-portrait Karine by K'Naye



K'Naye, is Karine. She has a weird nickname, but it's just a mixture of her name and surname, so it's nothing weird. Nothing to do with the KKK or Special K. Good.

Her info:
Age: 30
Location : Vanves, France
Blog: K'Naye Blog
Her illustrated FML: The one with the surprise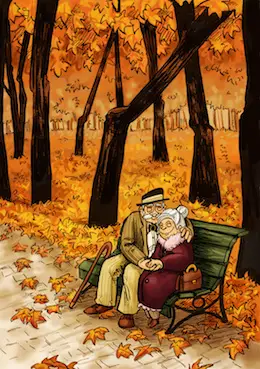 As you can see, she's quite good at drawing things. I hope her style will be OK with everyone. It's getting hard to reach a general consensus, but then again art is subjective. However, it's difficult to explain to some people who get all agitated as soon as they don't like something, not to mention the humour police come out in force. So this week, you could say we're in presence of high-level talent. In everyday life she's "a graphic designer by trade, I recently set up my own business. The big freelance adventure! Which means that I'm working in several complementary sectors at the moment like webdesign, video editing (I'm trying it out), illustrating and blogging of course!" Go and check out her blog, it's worth a look.
She started drawing for quite an amusing reason: "The legend goes that one day I asked my dad to draw me a man. He didn't really know how to draw, so he traced out onto a piece of paper a man - 4 sticks and a circle. I was so disappointed, really really disappointed. And as you know, if you want something done properly, you're better off doing it yourself, that day I decided to learn how to draw. I was 4 years old." So, since then she's undergone an Applied Art program at high school, "and then a diploma after high school. But despite all that, I've never considered myself as a "real artist" (other than the neurotic side to my personality maybe). I started my professional career as an employee in small media agencies, then larger ones. Today, I'm trying the freelance adventure which allows me to vary my everyday life, organise my calendar and my work as I want, even though I'm the worst boss I've ever had." Freelancing seems terrifying to me, I don't think I could do it. You need to have a lot of talent to be self-reliant, I lost my talent down the back of sofa once, and I never managed to get it back.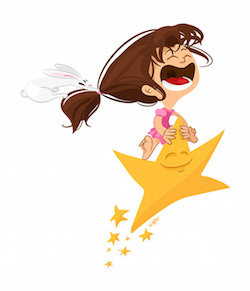 Has she got any project or activities to tell us about? "Very few as an illustrator. You can find a few of my drawings in some cookery boxes called Oobon, but they're in French and they're for children. With the launch of my company, I don't have much time for my blog, telling stories about my travels or trying new drawing techniques… But I still get ideas for stories and projects. On the other hand, all this is a sign that I've got a job, so I'm not going to complain, am I?" Nope, you should never complain about work, never. Especially not on the Internet. It's a theme that is often talked about on FML. If someone complains about something relating to their job, someone will ALWAYS comment something ridiculous, such as, "At least you've got a job, stop whining". It's really annoying and missing the point. It's like saying, "Oh, you fell off your bicycle? At least you've got a bicycle when people are starving in the streets." The starving people in Africa argument is a favourite as well. People who comment this sort of dross should just stop.

What does she enjoy doing? "I'm a hopelessly passionate person, which means I'm not going to be able to make a complete list. I can't stop moving, so I can't live without sport. It's my drug of choice. After basketball and volleyball, which were a bit too bland, I took up roller-hockey, which I do a lot. There's also cycling (my fast transportation), longskate (my not-so-fast transportation), surfing, snowboarding and this year's new thing, Tai-Chi." Just reading all of that has worn me out.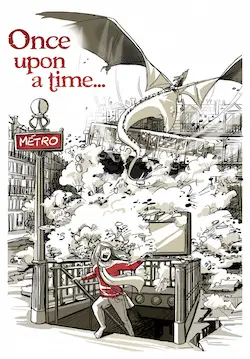 What about artists and cultural stuff? "My favourites are Joe Madureira, David Gilson, Orpheelin, Silver, Katikut, Goni Montes… Poulet aux prunes (a french movie) and Her are the latest movies that moved me deeply. As for music, I recently discovered Mnozil Brass, a virtuoso Austrian band, they're mad. Check out their videos on YouTube. In comics, I dribble with admiration when looking at drawings by La Licorne and the Baker Street Four. The last book I really enjoyed was 'The Guernsey Literary and Potato Peel Pie Society'.
How about a personal FML to end the interview? "It just so happens that I'd started telling the story of my biggest embarrassment in a little comic book called 'Once upon a time…'. The day I was supposed to start an internship, I lost a shoe… In the subway. As I haven't finished the comic, but I intend to one day, I'm not going to spoil the ending!" The shoe in the subway, a familiar site to anyone who users public transportation every day. I've never lost anything in the subway, except maybe my composure and dignity.

OK, I think that'll do for now. Thank you K'Naye for taking part, and for being so cool. Because she is super cool. Now we can go back to normal, everyday things, like going outside, falling in love, listing to french love songs, be disappointed by people who take advantage whenever they can, eat some carrots, look out of the window while cuddling a cat, whatever makes you happy. Be excellent to each other, take care.

What about you? Think you've got talent and want to contribute to the illustrated FML? Send us an email to [email protected] but only send us your blog's address and a few samples of your work. No need to create an illustrated FML straight away
By Alan / Friday 21 November 2014 10:22 /