Idan Schneider's illustrated FML
Oi! Stop "playing" that digeridoo and get out! There, now that I've tidied up my apartment, we can begin. How are you all doing? Have you got your leather jacket out of storage to go hang out down at the youth club? It's Friday, and whether ...
Oi! Stop "playing" that digeridoo and get out! There, now that I've tidied up my apartment, we can begin. How are you all doing? Have you got your leather jacket out of storage to go hang out down at the youth club? It's Friday, and whether you're feeling high on Jesus or depressed on Prozac, be thankful you're not a squid. It must be a sad life, being a squid. Little or no access to a television, they can't use smartphones and you never see them in the queues at Disneyland, only on plates. I apologise in advance if there's a super-evolved squid out there reading this and fuming, "what an arsehole, I've got an iPhone 4S and I was on Space Mountain just last week!" That's enough about sea creatures, let's meet this week's artist.
IDAN SCHNEIDER'S ILLUSTRATED FML
"I enjoy sleep. You learn to appreciate sleep when you have two small kids."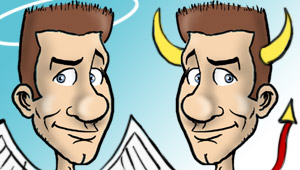 Idan by C-Section.



This week we're going international, with an old friend. Idan has already been on FML, and his illustrated FML was a huge success so I asked him if he'd like to do another one. He came up with a brilliantly simple illustration, so I guess I was right to ask him. See mum and dad, sometimes, my ideas are worthwhile. All of Idan's illustrations in this articles can be clicked on to be displayed in BIG.

His info:
Age: 37
Location: Tel Aviv, Israel
Website: C-Section Comics, Facebook, Twitter
His illustrated FML: The one with the drink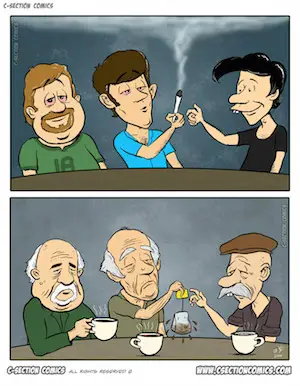 OK, we'll admit it: this week we're in Pun City. We're OK with that, but a lot of people hate puns. John Cleese of Monty Python fame is rumoured to have said that his three rules of comedy are "No puns. No puns. No puns." But enough with the haterz, let's get to know Idan.

So, who is he? "Well, I'm mostly known for drawing a webcomic, called C-Section Comics, but I'm also a software engineer. The last time FML interviewed me, I had just quit my job as a software engineer and took some time off to focus on doing artsy stuff. During that time I made a living by drawing personal caricatures (I had clients from all over the world, it was fun), illustrated a children's book, and of course created lots of new cartoons for C-Section Comics. Recently I went back to programming, but I continue drawing comics whenever I can find the time, mostly on nights and weekends." Time, time, time, precious time to do stuff. "Time" by Pink Floyd. Something we all seem to lack, now and again. That, and some sort of contraption that could detect and retrieve all the stuff that cats knock behind heavy furniture. The amount of stuff that has gone missing since I've been invaded by cats is a mystery.

So, how does a software engineer get to be so funny? Or am I being unfairly mean? How does Idan deal with being both an engineer and an illustrator? "Drawing comics is very fulfilling - it's a way to express myself, that's obvious. But it also enables me to communicate with people around the world. I can grab the attention of my readers, even if it's for a few seconds at a time, and have them think about something I put in the spotlight, or even just share with them a silly thought that I had. Being a web cartoonist, I have the privilege to have my cartoons read by millions around the world. I guess younger cartoonists take this for granted , but I'm old enough to appreciate this fact, because 20 years ago, you couldn't do that unless you worked as a syndicated cartoonist, a privilege that was reserved for few. Last but not least, cartooning gives me the opportunity to rant about stuff that grinds my gears. It's the best therapy I can get, and a lot cheaper than going to an actual therapist." Hmmm. Maybe I should breathe new life into my aborted career as a cartoonist then, even though in the words of Morrissey, "I can smile about it now, at the time it was terrible". I often use these articles to let loose some neurotic shards of bile, on the hush-hush, but I'm supposed to be discussing the artists, not me, my life, and the horrible people that come across now and again. No, that would be taking advantage of my position. I'm going to remain faithful to my style.

Idan, any news you'd like to share with our readers?
"C-Section Comics is celebrating its 5th birthday soon. When I started the series it was mostly about silly jokes and puns, observations about life and rants about annoying things in life, like how. As I "grow up", the series grows up with me, so now you can find occasional cartoons about more serious stuff like politics, religion, media bias or parenting. But the bulk of my cartoons are still about silly things such as the different type of people you find in urinals, or what it would be like if meme stars were cast for Game of Thrones. When I started cartooning I didn't believe it would last this long, but now it's hard for me to imagine life without drawing comics."

Idan had this to say about our friends at Charlie Hebdo: "In light of recent events I can't stop thinking about the heroism of the cartoonists of Charlie Hebdo. They were threatened for a long time, they knew they were risking their lives by drawing and publishing their cartoons, there was precedence (the attack on Danish cartoonist Kurt Westergaard, the murder of Dutch director Theo van Gogh) - and yet they continued publishing their truth in a bold stand for freedom of speech. On this opportunity I'd like to express my deepest condolences to the families of the victims of the attacks on Charlie Hebdo offices and the Jewish supermarket in Paris."
Idan started drawing thanks to some Frenchies! "I have been drawing ever since I remember myself. My love of comics started when I first laid my eyes on an Asterix book - it was "Asterix and Cleopatra", and I was four or five at the time. I was immediately drawn to the beautiful drawings of Albert Uderzo. Asterix is still one of my favourite series to date, and as an adult I can fully enjoy the brilliant comedic scripts of René? Goscinny, some of which I couldn't understand as a kid, like his brilliant satire on capitalism and consumerism on Obelix and co." If you're unfamiliar with Asterix, you should this seminal work ASAP. In France and much of Europe, it's a well-loved comic.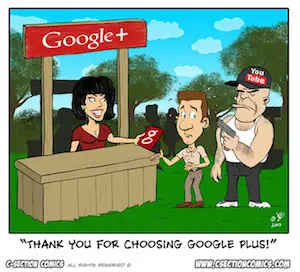 Besides comics, what are you into? "I have so many webcomics I enjoy reading. I like the silly and vulgar humour of ToonHole and Cyanide & Happiness (and I know artists of both series have made illustrated FMLs). Lunar Baboon has excellent comics on parenting, and of course I like the workplace humour of Dilbert. I also read SMBC, The Oatmeal, and I enjoy Jim K Benton's cartoons on Reddit. There are at least a dozen more which I read occasionally. My current favourite comedy is The Big Bang Theory. In the drama section my top choices are Game of Thrones and Breaking Bad. And when I work I enjoy listening to political talk shows and satirical programs such as Bill Maher, John Stewart, John Oliver and The Colbert Report. With regards to movies, being a dad, I have a formal excuse to watch Disney classics with my kids, such as Aladdin, Beauty & The Beast and Fantasia. I don't get to watch a lot of movies for grown-ups these days." Kids make you do all sorts of things. That's why I've chosen to have cats instead. Scientifically, cats are identical to kids, give or take a whisker. And they don't live as long, they don't ask for money once they turn 14 to buy a moped, they don't get into arguments about who gets the biggest room when you move house and you don't have to explain to them one day that mummy and daddy are breaking up because mummy did some sex with strangers she met on Facebook and that she thought she would get away with duping everyone, the hussy. Oh, I made all of that up, BTW. Don't go thinking that I hang out with people like that. But cats will sleep around with anyone, so they're no better.

How about Idan's own personal FML? "Today I was sitting in the living room with my two kids. Suddenly I heard the clear sound of someone letting one go. From the smell alone I could tell that the perpetrator was my older son, and that he had fish sticks for lunch today. Five years of being a dad has made me an expert flatulence analyzer, CSI level. FML." That's probably the funniest personal FML I've had the pleasure of publishing in this column. Well done, Idan!

That's it for this week. I'm still on vacation, sort of. There's no real vacations when you work for FML, because it's a calling, a vocation, a passion. We're always here, on call 24/7, to bring you joy and giggles. I've been on vacation since last Friday, but I'm around. I'm watching you. Here's some music, to celebrate the fact that the French band Diabologum's legendary 1996 album, simply called #3, is being rereleased in a few days, at last. So go get it. See you next week, when I'll be joined by a friend of mine. Until then, be excellent to each other and try to have some fun. Ciao!

What about you? Think you've got talent and want to contribute to the illustrated FML? Send us an email to [email protected] but only send us your blog's address and a few samples of your work. No need to create an illustrated FML straight away.
By Alan / Thursday 22 January 2015 06:37 /