FML's Weekly Horoscope - 16th of June 2019
Find out what bullshit the asshole stars and planets have in store for you this week!
The week in bullshit
Hello and welcome to our regular feature in which we delve into the totally scientific world of the stars and planets, to turn our gaze to the future while gasping in shock. As this is FML, if you're expecting to be told that all is going to be fine, you're in for a shock. Have you seen the state of your life? Anyway, lets get on with it.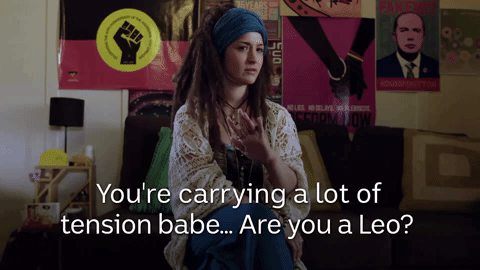 Aries
Find a way to help a stranger on Wednesday, then you'll understand who you really are. You may also find some out-of-date candy later in the week. Eat them anyway, because life is just a ride. This week is the right time to stop giving your stupid advice to others. Drill down into the details of your latest problem or issue, you're sure to find things that aren't so bad about your personality.
Taurus
Are you wondering about going back to school? Before next Tuesday or Wednesday, you will come a turning point in your life and you will make a decision about a mistake that you can't forgot. Eat more leafy greens. Never forget that we all came out of a hole in our dad's cock. Go to an amusement arcade at the weekend and enjoy yourself with some friends, if you have any.
Gemini
Why not help a stranger? Answering questions for others will not answer questions for yourself, and your purpose will become even more shrouded in mystery. Try not to worry too much about what people are saying about you, but sometimes that laughter in the distance is directed at you, especially on Thursday. You need to make plans on Friday, so see if you can grab a colleague or your partner, and figure out how the next few months or years are going to look.
Cancer
Do something meaningless today. Go nuts. It starts with considering what's best for everyone, not just you, and accepting it for what it is. You've tried before, and you'll try again. Wednesday is just another day, but let it be a day to remember by not fucking up for once. Mars is willing you on .Nobody is better equipped to deal with issues that affect you than you. Well, you and maybe a team of shrinks.
Leo
Be aware that your Uranus is capitulating, which means that you should learn a fact from your history, and it will make you think about how you treat your children or family members. You'll get up on Saturday knowing you have to do something meaningful. The way to start is by spending a little less time doing bullshit you know nothing about and recognizing that this really is a better way to live. You have all the power you need right within you, like a 9-volt battery.
Virgo
You should know that your Pluto is waxing, which means that you should look out for people who are Aquarius, they may be people to avoid due to the fact that they want your money this week.Have a beer after work. Try cycling to work or helping someone on Tuesday, you will feel something warm glowing in your nipples. Drink more water. Plan a trip to Wal-Mart to buy some more catfood for the neighborhood strays. Favorite number: 69, dude.
Libra
The stars say that you will find a photograph in black and white this week. It's a picture of a person who is no longer with us, someone like Charlton Heston or the guy who invented strawberries, and it will make you think twice before taking a risk this week. So just consider this as you go into work or school. You are not cut out for risk-taking, so play it safe and boring. It suits you best.
Scorpio
The stars and planets are aligned to say that you will come to terms with a fact from your history, and it will take on a new meaning in your life. Maybe in reference to a past love, or a car you once drove to a grocery store, it's not very clear. This is just a word of wisdom. Honest. Why not think about someone you look up to to steer you in the wrong direction. For once, things going wrong won't be your fault.
Sagittarius
Know that this week your Mercury is diminishing, which means that you should stop obsessing over spilt milk to avoid breaking your heart, whether or not that seems to make sense. It's probably not actual milk. If it is about actual milk, you should be concerned that you have a broken heart about milk. There's no reason for you not to be happy, so just find that thing that gives you that joy. Pull some Marie Kondo shit on your life.
Capricorn
Look to someone you trust to just tell you what you want to hear, even if it's obviously bullshit. Try out that new Taco place you've been considering. Your Mars is waxing, which means that you should avoid swimming pools and concerts played by bands that sing about the Devil. Stay in a warm place where you'll find the most comfort. Monday will suck ass, but then again, you chose this life, it's up to you to change it so that Monday becomes just a day, and no longer a cliché.
Aquarius
Soon you will uncover an item that was lost, that once had significance to you, and it will take on a new meaning. This could be a set of car mats or some Dungeons and Dragons die. Remember where you came from, and why you have opened the refrigerator. Consider what you will do about this. Friday you should reach out to those close to you who may need you. Then, the good in the world will become more obvious. Worry about what people are saying about you.
Pisces
It is true that your Neptune is rising, which means that you should be investigating what is up with you, for what it's worth. If you still haven't found clarity, perhaps now is the right time to find someone to talk to about that growth on your genitals. It's been two years, so it's not going to just disappear. Consider gardening. You may be in tune with vegetables, and not even realise it. Have a break, have a KitKat.
That's it for now.
Tune in next week, same time, same place, for another horoscope. It's about as accurate as all the others.
See you next week!
By Mystic Alan / Thursday 13 June 2019 13:13 /