FML's Survival Kit #11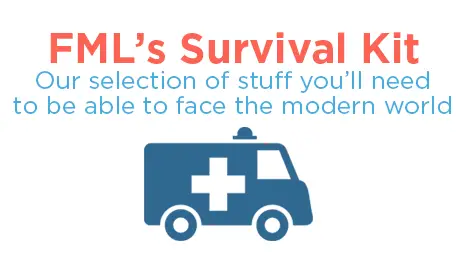 Here's the sort of geeky stuff we liked this week.
Our team, as most of you are, is really into gadgets, games and weird stuff to play with. This column will allow you to find out what sort of things we like, what makes us giggle enough to buy, but will also give you some ideas for upcoming events like housewarmings, birthdays and other fun things. Check 'em out.


What? Me? Angry?

"I may look laid back in my profile pic and maybe come across as all cool and suave, but sometimes I let work get the better of me and I freak out at the sound of a baby laughing five miles away. This mug was given to me for Valentine's Day. It says a lot about who I am, but people still "get" me. Hey, I can chill too, just put a Bob Marley and the Wailers record on and I'm fine."

From one bowl to another

"Who doesn't like doing shots? Exactly. Unfortunately, whatever fun you have in life always ends up costing you the next day, so here's a collection of toilet shot glasses. Because whenever I do shots, I can be found the next day with my head over the bowl, regretting that one friend who stood up in the bar and shouted, 'Hey, let's do Jäger bombs!' and it seemed like a good idea at the time."

ALIENS!

"I love aliens. Look at this fella. Really brightens up my hovel. Peace, bros."

Kick it in the goal, our goal!

"I've been into soccer for as long as I can remember. Which is approximately last night. Anyway, I'm not terribly good at it, so I was given this practive set. I haven't really been able to make my game that much better yet, but that's probably because I'm shit. I'm still going to keep trying though, because that's what Rocky Balboa would do, if he played soccer instead of beating the shit out of Apollo Creed."

I'll sit in that. And that.

"If you know cats, you'll know that they like boxes. If I fits, I sits. My human will leave a cardboard box out now and again so that I can climb in and out of it, or just sit and contemplate life. This collection of cardboard cutouts is amazing, it's basically the same principal, but with shapes and stuff. Of course, I can't have all 20 out at the same time. That would be madness. Tempting, but madness."

CHEESE!

"Cheese!Cheese! Cheese! Cheese! Cheese! Cheese! Cheese! Cheese! Cheese! Cheese! Cheese!"


Chuck

"Chuck Klosterman has released yet another mind-melting book. It's not fiction, just a look at life and truth. I'm halfway through it and I don't even know who I am or what anything is anymore. Seriously: get it. And then get his other books. Oh and the cover isn't upside down, it's supposed to be like that."

A comic with a heart

"Sarah Andersen is one of those people who has been bouncing around the internet for a while now. She's one of those people whose comics are instantly relatable and thus sharable. If that's a word. Is it? This collection will melt even the most jaded of minds and hearts. Get it for anyone, more than one person, everyone. We need more Sarah Andersen in the world."

That's it for this week. Hope you enjoyed our selection, and maybe even bought a few things! See you soon.
By Alan / Wednesday 15 February 2017 13:39 / France