Céline's illustrated FML
Hi gang! It's a day of national pride over near the FML offices. There's a time for everything, and even if the desire to piss about to release the tension is huge, we mustn't forget that we can "laugh about anything, but not with everyone?...
Hi gang! It's a day of national pride over near the FML offices. There's a time for everything, and even if the desire to piss about to release the tension is huge, we mustn't forget that we can "laugh about anything, but not with everyone" (thanks Pierre Desproges). Then again, for other people, it's Black Friday. People are having fistfights over TVs and BetaMax video recorders. In this sort of situation, the race is on to get the first joke in, much like when a celebrity passes away. Not so for the illustrated FML section. We have more class than that, although I'm always complaining that the girl who works in my local bakery still seems insensitive to my thinly-veiled unrequited love. So what does all this mean? "Rip it up and start again" said the Orange Juice song. So let's try doing so with an untypically saucy illustration, because pleasure is the key.
CÉLINE'S ILLUSTRATED FML
"Is this a real question? Well… Mikado then. Those are really addictive. The big challenge? Getting all the chocolate off without breaking the biscuit stick."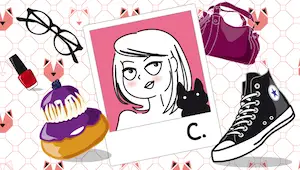 Selfportrait C comme line by Céline


This week it's C comme Line who's along for the ride. This lady is rather mysterious because I do not know her age either. I say "either" with regards to our friend Mselle Risa from last week. So, we will imagine that she's an old lady of 86 years young who loves pottery and bowling.

Her info:
Age: "Nice try!"
Location : Lyon, France
Site : Her blog
Her illustrated FML: The one that whacks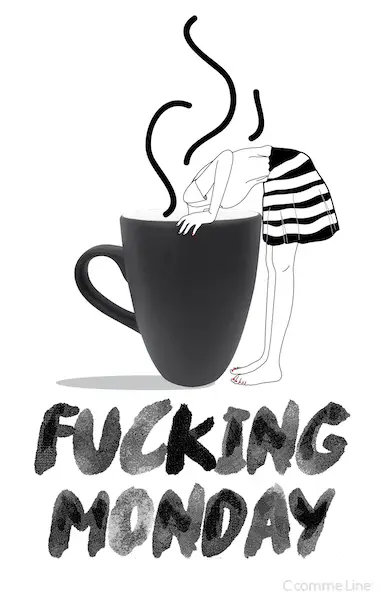 C comme Line is obviously a pseudonym. Her name is actually Céline. So I'll mix the two and call her C. for the remainder of the article. Just because it reminds me of my favourite drug (Coca Cola, of course).

Who is C., what does she do? "I'm A / A lion-tamer in a circus B / Art director - graphic designer / illustrator C / Oceanographer." Something tells me that the first one isn't entirely true, unless like me she considers cats to be wild animals, and that changing their litter tray is a way to subjugate them by confiscating their droppings. Maybe not.

What do you like about what you do? "The ability to reinvent everything with a pencil. Welcome to my life! What do I miss? Let's see? A new drawing tablet, I'm thinking about starting a financing project on kisskissbanbang!" It's Christmas soon, don't forget. Just ask nicely. No me though.

What's your current news and stuff? "I have a lot of projects on the go, so I must answer your questionnaire in timely fashion." OK OK! Let's make it snappy! Your plans then? "There are so many... Start a stationery line, update my website, learn to play the guitar, find a publisher, clone myself in order to actually do all these projects..." I can give you guitar lessons if you like, especially if your goal is to learn the guitar solo from "Boredom" by the Buzzcocks (you must listen to the song to understand the pseudo-joke) but otherwise it's better to ask someone a little more serious.

Your career so far? "After kindergarten, armed with a thinnish pencil... Oh, is that too far back? I had a fairly simple education path, applied arts and graphic communication school, entering the working world via communication agencies, and I founded a company, I had an agency for 12 wonderful years (hinting at my age there…) and we sold up. New professional life, 2.0." We're beginning to have the idea of her age. When I asked her who her heroes were, C. said first that was "Carrie Bradshaw for her shoes!" This suggests that we must've watched the same TV shows. "No, there were so many wonderful encounters, I would not know who to start with." It's often said that we should never meet our heroes, it's always a bit risky.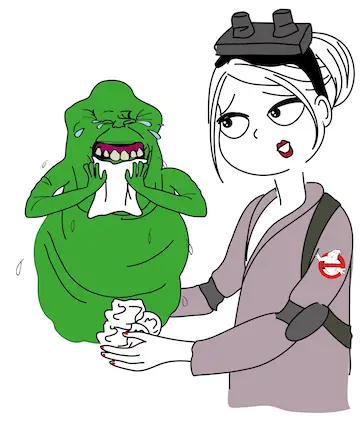 And what made you want to draw, if there was someone or something? "I've always drawn, so I will say that my story is less original than "I hit my head sliding off the toilet, I had this vision and the idea came to me... ". My first inspiration was from books I think, they made my imagination wander, an imagination that is just waiting to be translated into images." So I understand a little more about the initiative to illustrated one of our little stories. Are there illustrators that you like in particular? "There are so many! You must see the list of links on my site, it'll be quicker. I love the critters by the late HR Giger (I'm a huge fan of Alien)."

Tell us what you love in life, your passions, your hobbies, your vices, your little pleasures of everyday life. "I'm once again addicted to coffee, that's a vice but also my pleasure in the morning. I hate TV but am a knowledgeable film buff. I love traveling to scribble and take pictures. I collect Converse sneakers and I gladly travel to London when the opportunity arises." Hmmm, Carrie Bradshaw, but hates TV? I feel the debate "TV sucks but I love shows like Breaking Bad" around the corner. I will serve myself a Diet Coke and stroke my cat to calm down. Not that I'm judging anyone, I'm probably imagining all this. Which is what happens most of the time.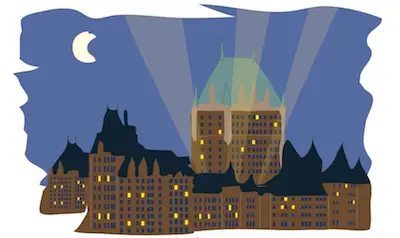 If you had to tell your own FML, the most FML-esque thing that has happened to you, what would it be? "I'm thinking, I'm thinking... No, nothing comes to mind right away. Oh yes! I found myself in the underground parking lot of my building without my keys, that I'd left in the elevator, itself unattainable without keys. Unable to call anyone whatsoever because I didn't have my phone. I was forced to stick a shoe in a door, anyway, long story short... Well written, it could have been a damn good FML." Okay, told like this, it's fine. A similar thing happened to me when staying with friends in London, the day I was leaving on the Eurostar, I said to myself, "Here, I'll take out their trash, it's a nice thing to do on my way out." The building's garbage cans were in the basement parking lot, which could only be unlocked with a magnetic key, so the door through which I passed was locked, I thought I was going miss the train. Fortunately, there was construction on the other side of the building, and I was able to escape through a hole. In January I'm going back there, I will pay attention to the doors this time. So, I validate your FML for having lived it too!
And finally, do you have any advice for new artists? ""Hang in there, you're gonna need it!" Noooooo... You need to find your style, your world or blossom, be hard-working, observe the world as it's very important, and you to have to accept that things change and evolve all the time." Illustration is like life. I evolve all the time too. For example, I've stopped cutting my toenails in the living room. Now I do it out of the window. Social progress, it's beautiful.
There, that's it for this week, and for November. Céline, thank you for coming to spew your hatred of migrants... sorry, to have done such a sensual illustration for us (the hyper racist illustration is for next week). I leave you with another song by the Buzzcocks that summarises too my love life in general, and a cat playing the Theremin. Until December, be cute, be grandiose, and dance as if all was well. And be excellent to each other, everything will be alright. I'm about 73% sure.

How about you then? Think you have talent and want to participate in an upcoming illustrated FML? Send us an email on [email protected], not forgetting to give us the address of your blog, or just some of your works.
By Alan / Friday 27 November 2015 15:30 /