Angie's illustrated FML
Here we go again. This week I'm talking to you live from the Paris Japan Expo. I'm dressed up as Bernard from the Sailor Moon series, and I almost got kicked out because my katana wasn't the standard sharpness. So, as you've guessed...
Here we go again. This week I'm talking to you live from the Paris Japan Expo. I'm dressed up as Bernard from the Sailor Moon series, and I almost got kicked out because my katana wasn't the standard sharpness. So, as you've guessed, we're all about mangas this week. We're striking a pose, we're all anime and we're forgetting all about the heat wave by going on a cosplay spree, which doesn't make you feel the heat AT ALL. I'm guessing that a few people are going to get heat stroke during the exhibition, so friends, remember to rehydrate as much as possible. Let's start this week's interview!
ANGIE'S ILLUSTRATED FML
"Watashi wa Ange Desu. Hajimemashite! For those of you who don't speak the language of the land of the rising sun, I'm Ange, enchanted!"
Self portrait Ange par Angie



We've got a case of split personalities this week. "I'm known on the internet as Ange de Cristal (Crystal Angel) or Ange Krystaleen (your guess is as good as mine), but my friends call me Angie. It's shorter, you see. Why this nickname? Simply because I believe in Guardian Angels. Yep, I like that sort of thing, and it's working out alright for me. As for the Cristal bit, it's because I like precious stones, and my aim at the time was to have a drawing style with colours that looked like shiny crystals, etc. Today, 10 years later, I'm told that it's pretty successful, and that my nickname suits my illustrations! So I'm happy. "Ange Krystaleen" has become the name of a character I've created to represent me on the internet, and that I like to play on role-playing games forums." OK, I get it. I'm going to stick to Angie for the rest of the article.
Her info:
Age: "52, but you have to invert the numbers otherwise it doesn't correspond to my date of birth."
Location: "Château d'Olonne, France. A short walk from the beach. I can feel your jealousy!"
Website: Her Facebook page and her DeviantArt page
Her illustrated FML: The one with the kimono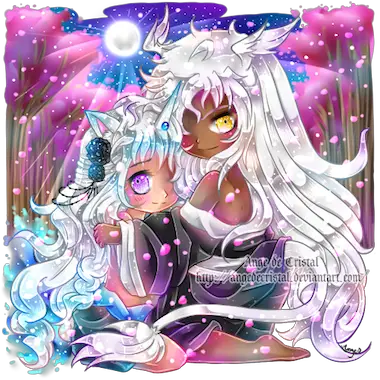 Angie is as you can tell, quite manga. Her illustration style is quite obviously influenced by the whole genre. She IS the whole genre, and since in Paris we've got the Japan Expo going on at the moment, it's perfect timing. It's almost like it was planned. Anyway, Angie doesn't seem to want to live the way the rest of us do: "No, I don't want to find a real "job" (like some people like to say to artists, the same people who don't know that an illustration isn't something you throw together in a couple of minutes, computer or not) if it's to scowl when I get up in the morning." I think we all dream of this sort of utopia, but... you need to money to live and buy useless crap and deodorant. I didn't ask where she got her money from. "I don't have any wild ambitions, I like drawing for people, there's a lot less pressure, and being in contact with them is a lot more cordial. So my income is quite variable and quite low, but... at least I put all my heart into it, my job is stress free, people like the results and my clients call back!" That's cool, it's a bit like us here at FML!
What is it that you enjoy about what you do? What do you need ? "I like everything. When I draw, I get to escape. Some people need drugs to do so, I just need my drawing tablet, or a pencil and paper. It clears my mind. And it allows me to organise myself the way I want to. If I want to get out of bed at 10 am, I can. If I want to draw until 2 am, I can. If I want to watch Hentai, I... Erm, no, forget about that one. What I need? Not much really. As long as I can draw and that I've got my PC, internet access and my tablet, no need for anything else! (And thanks to my parents for supporting me, for understanding my passion and encouraging me)." I think that my parents would have booted me around the garden if I'd asked them to support my drawing career, but then again, I'm shit at drawing.
No news for Angie, nothing seems to be going on. Oh, maybe one thing. "I ate an apple at lunchtime." But as for projects, things have been stirring, sort of. "If you'd have asked me two months, I would've answered that with a friend we tried to propose a text-based role playing website for high schools to use to help kids to learn french all while having fun. It was tested successfully in my old high school, teachers and students liked it. But once presented on the internet, it wasn't so popular. So now the idea is on stand bye, but we'll try it again in few years. So my current projects are just to make a living from my drawings." So, there you have it, if you need some special manga drawings done, contact Angie.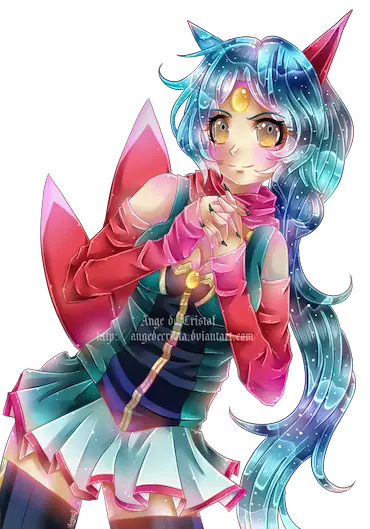 What's your story schoolwise? "I did training over several diplomas to set up canine and feline kennels, because I wanted to start breeding huskies. These days I've got a husky, but breeding them is a long forgotten dream, thrown into a dumpster. Big problems, unexpected problems, so goodbye project." Raising huskies? Sounds like the start of a movie where a demented cousin starts a weird business and ruins the family reputation.
What made you want to draw, who inspired you? "I've been drawing since I was a child, with a great attraction for it, so nothing special really drew me towards it, it comes naturally. The manga style imposed itself when I was 10. I discovered Pokemon, and Japanese culture. I was off! I immediately caught on to the expressive faces of the characters, and the originality of the stories. And I grew up with it, with Cat's Eyes (I watched that when I was 6 or 7 but I didn't know it was Japanese at the time, it was my favourite cartoon), Pokemon, Sakura, Yu-Gi-Oh and others that were on TV at the time when I was a kid. Then when the internet arrived in my house when I was 15 made me want to share my drawings and thus progress by being inspired by other amateur artists, especially on Zelda fan art, and these artists are now friends. Then, during a difficult time of my life, that there was a way to make money out of it and nice people to meet via the web. So I began buckling down. Ten years later, I have no regrets."

Speaking of other artists, whose work do you check out? "I follow people's work on Deviant Art. My favourites are Emperpep, an Indonesian artist who creates crazy watercolours, Bombay Piko, who is also Indonesian, qui makes beautiful drawings with crayons. In France there's Krystal, now known under the name Nacrym, who is the artist who REALLY inspired me in the beginning ! And to finish off, a real good friend of mine who has a manga style that I really love.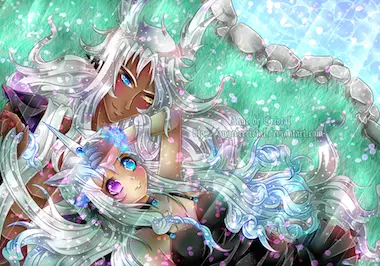 What are your pleasures or vices in life? "Besides drawing, talking with my friends, I take part in a lot of role playing games that take place on a forum via text and I really want to be able to expose my work in a convention, like Japan Expo and others because I really have fun doing so, I've already tested it by encroaching on the Fanzine Némesis stall (of which Alyciane and Nacrym are members). My little pleasures: candy and melted cheese. My vices: I don't have any, of course, I'm too perf... What? Oh, I shouldn't mention that?"


Have you got a personal FML to share? "Today, I was sat on the toilet and I was thinking about the photo of a spider in the middle of a toilet roll that I saw on the internet. What are the odds that a nice specimen would also be inside my toilet roll and would fall onto my leg as I was trying to wipe? 0%? I thought so too. FML" Spiders are a classic source of FMLs.

To finish off, do you have any advice for budding artists? "Above all else, draw FOR YOURSELF. What you like, that inspires you. The best results are there. Practise as much as possible, there's no secret. Never give up, despite your level or bad criticism. Always try out new things and observe the drawings of the people you admire. Believe in yourself and your capabilities, stay motivated. Accept also that it's going to be tough if you want to do it full time. It'll work out, over time! And if you don't believe me, check out this video of my progress." Impressive stuff.
That's it for this week! Thanks Angie for your drawings and your talent, it's a good to have different styles on FML. It's now time to put on our bathing suits and to go and take a cold shower to get through the heat wave that is knocking our brains into submission. If it's cold where you are, well, use your imagination. This weekend I'm going to site in caves and listen to SunnO))) records, it's the only way to avoid the heat. See you next week !
What about you? If you think you've got talent and want to contribute to the illustrated FML, send us an email to [email protected] but only send us your blog's address and a few samples of your work. No need to create an illustrated FML straight away.
By Alan / Friday 3 July 2015 09:57 /