16 Hilarious Emoji Fails from Tinder Users Whose Emojis Totally Backfired on Them
On Tinder, there's a lot of pressure to be clever, but not everyone is good with words. That's why some people have decided to let the emojis do the talking. Sometimes it works, but these 16 people probably should've stuck to words, because their emojis completely backfired and the results are truly FML-icious.
In celebration of 'The Emoji Movie' coming out today, we're taking a look at one of the ways emojis have introduced a new level of FML into our daily lives.
Don't get me wrong, emojis are awesome. They spice up conversations and help ensure that the person you're messaging senses the tone of your words. In fact, a recent study shows that using emojis leads to a better chance of maintaining long-term relationships. Couples who use emojis even have more sex that people who don't. Really! This is a true fact! Google it.
However, and this is a BIG "however," using emojis does not guarantee success in romantic endeavors. To demonstrate this, we turn to Tinder, where an average of 10 million people a day use the app to search for *cough* love. Every day, Tinder users use emojis to aid them in their e-courtship and very often it works! But when it fails, it fails in the most hilarious ways possible.
See for yourself.
1. This dude who could've spent his time thinking of something clever and heartfelt to say but instead did this: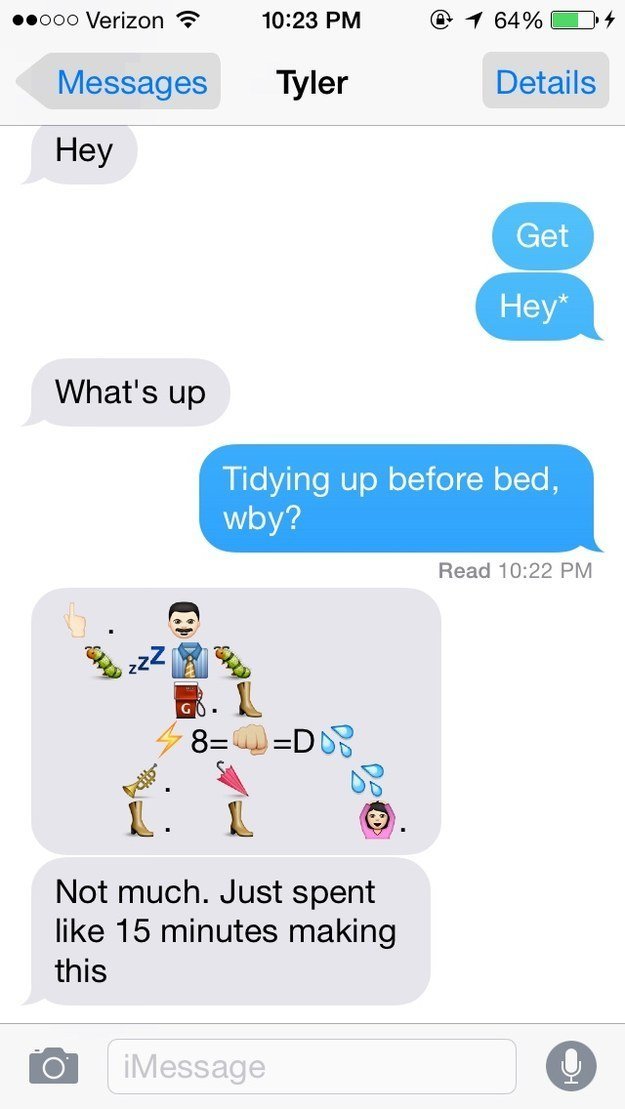 2. She's not shy about her needs.
3. Guess she's not a cuddling kind of girl...
4. Well I liked it, Nathan.
5. I'd stay away from her if I were you.
6. "I'm trumpet."
7. I think it's trying to communicate with us.
8. Who's doesn't like sushi?!
9. I thought she looked like a millenial. I guess I was wrong.
10. Shut down.
11. B-b-b-burnt.
12. Well that's not nice.
13. He's not messing around.
14. An emoji masterpiece.
By Nina / Thursday 27 July 2017 18:35 /