If you've been on FML for a while, you'll probably know what it's like when life gets in the way of being a normal human being. Some people use booze and pills to calm down. Others have developed an addiction to colouring books. But this being FML, how can we help our lovely members to chill out for a while? No booze or drugs on offer here, unfortunately, but we do have something quite special for you to win.

James Alexander, the creator/author contacted us here at FML, and we loved the books so much that we've decided to team up and let some of you lucky people have the chance to get one for free!

What are these books?
Do you ever have to restrain yourself from shouting at someone at work? Or, maybe like Andy Murray you feel the need to scream obscenities with frustration at yourself or just in general at the current political situation? Restrain yourself no more! Instead, colour the words you want to say but cannot with James Alexander's brilliant new books Memos to Shitty People and Release Your Anger.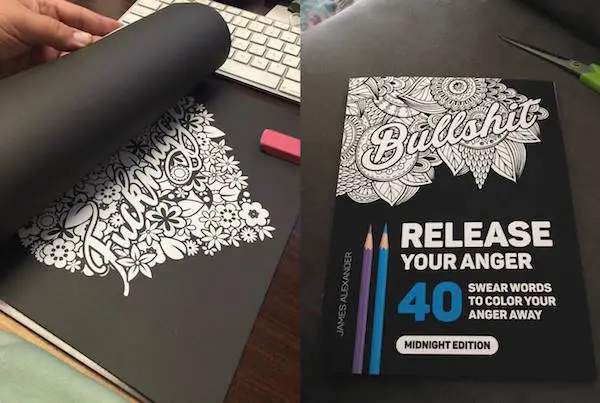 Hilarious, stress-relieving and delightfully deviant, these books are deceptively simple and a genuinely therapeutic use of colourful language. Each single-sided page includes such tension-busting phrases as, 'Seriously, Bitch?' and 'Oh look... the fuck-up fairy has visited' or 'Fuck you, you fucking fuck'. Cute, innocent animals, beautiful flowers or intricate mandalas are hidden in the backgrounds to help let the steam out. To find out more about them, visit James and his books at swearybook.com.

So, how can you win one?
It's pretty easy. You can either comment underneath this article the reasons why you deserve to win one. And throw in your favourite swear words for good measure. On Monday the 26th of September, we will declare 5, that's FIVE winners, using our totally arbitrary selection process. Or you can take part in the Facebook competition!
For the rest of you, you can also buy a copy by clicking on the book !?
Good luck!
#1609 - Pictures - On 09/13/2016 at 4:47am by Alan - 435 comments