FML has no age restrictions when it comes to illustrations. Last week we welcomed a lovely young lady; this week is all about crafty old ladies. What do you mean, "all old people are miserable"? Who would say something so idiotic? It's not true, my dad still sends me texts every time he has a Twix, he's still full of life my dad, despite his wonky hip and his methadone addiction. This week, let's hop aboard the speeding train and check out what's happening with the prankster grannies.
SACHIMIR'S ILLUSTRATED FML
"My phobia ? I'm afraid of the amount of dirty dishes in the sink. It grows from day to day."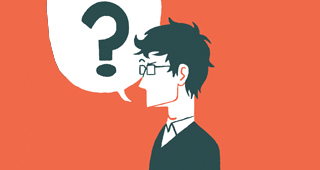 Self-portrait Sacha by Sachimir
This week's artist is called Sachimir, he's from Belgium, he's 20 years old, and Sachimir is of course a pseudonym, his parents weren't sadists. His actual name is Sacha. He has a blog, and has created quite a wonderful illustrated FML, that you can check out here. I get the impression that a lot of illustrators come from Belgium, I don't know why. Peyo, who created the Smurfs was from there. Hergé, Tintin's dad was from Belgium. So is Jean-Claude Van Damme, but he's not an illustrator as far as I'm aware, he's just a bit of a caricature of himself these days. Why does Belgium have so much talent? Must be a wonderful country, I must check it out one day.
Until then, who is this Sacha guy and what does he want? "I eat and I sleep." OK, not a good start. "And sometimes when I've got the time in between these two activities, I draw (well, I try to) comic books, and gawd it's easier to read them than to draw them." Oh yes, I know. My own drawing career is stone cold dead I think. Here's proof.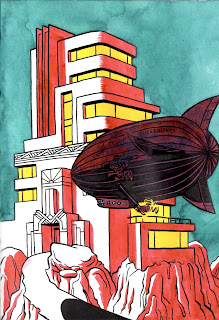 He's quite a funny guy, he likes to "giggle alone in the street when I've thought of a funny story to tell in a cartoon format." I'd like to be able to do that instead of being limited to rubbish Facebook statuses. He's currently working on projects that he intends on showing to publishers, and has been featured on the website 30joursdebd. He also claims to want to conquer the world, "but it costs a lot of money to set up an army, so until then I'll keep on making comic books and saving up my money." He'll soon be investing in a tank, I'll bet. He says his main inspiration is his philosophy classes, in which he'll whip out a pencil and draw while listening to the teacher. He first started wanted to learn to draw when he was 11: "I wound up next to a guy in class who would spend all of his time drawing comics. I was so impressed by his drawings that the very same evening I started doodling."
His main passions and likes are chocolate, chess, philosophy, wearing slippers in the winter, scratching mosquito bites in the summer, jazz and having a guest over who helps him with the washing up. All of which is very healthy, except for the mosquitoes. Can't stand them. They come over here, they can't speak the language, they don't have jobs, they bleed us dry, I say build a wall, build a fence, get bigger defence systems against these invaders!
He mentions a few artists he admires, like Skottie Young, Boulet, Bruce Timm, Julien Loïs and Lewis Trondheim. Oh, and he's catching up on The Wire, which I can only recommend you do also, if you haven't seen it.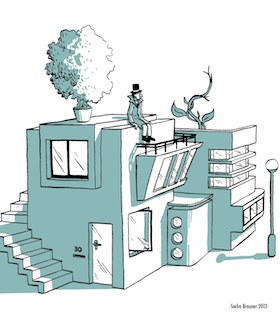 As for his own personal FML: "Something that happens to me a lot is that I'll start looking for something for hours, and the further I get, the more I'll forget what I'm actually looking for. It's very frustrating." His phobia? "I'm afraid of the amount of dirty dishes in the sink. It grows from day to day."
Ah, I now understand why he likes having guests over to help with the washing up. He should get someone in to do the cleaning. I'll ask my butler if he knows anyone. Thank you Sachimir for your illustrated FML and for taking part and for talking to me despite my lack of social skills. I'll leave you with a song of love, a song of hate and I'll see you all next week I hope. Take care.
What about you? Think you've got talent and want to contribute to the illustrated FML? Send us an email to [email protected] but only send us your blog's address and a few samples of your work. No need to create an illustrated FML straight away.
#1447 - Illustrated FML - On 04/25/2014 at 11:22am by Alan - 6 comments