Hi gang ! It's Friday once more and time for us to go on a magical mystery tour around the brain of yet another illustrator. This week, things have happened around the world that were so depressing, I don't even want to think about them. Denial is the key to a happy life. However, sometimes, life hands you things that you just can't brush under the carpet. That's sort of the theme of this week's illustrated FML, so let's get straight down to the nitty-gritty and take a look.
AD_e'S ILLUSTRATED FML
"The nickname AD_e needs to be with the capital letters like that and the underscore, otherwise it hurts my eyes."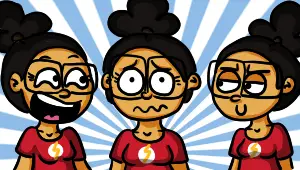 Self-portrait AD_e by Adeline



AD_e is short for Adeline. That's her nickname, her persona and it appears that you shouldn't write it any other way. She comes all the way from Belgium, like so many other talented artists.

Her info:
Age: 22
Location: Charleroi, Belgium
Blog: AD_e's blog
Her illustrated FML: The one about the raffle and the duck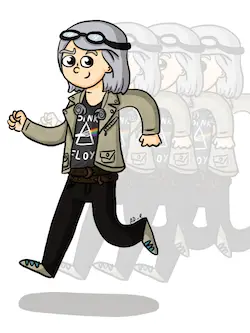 She's a student. She's even a graphics design student, and a "full time amateur sketch artist". She lives in Charleroi, "you know, the city that's known as the Brooklyn of Belgium, haha. My city is cool, my city is pretty despite what the rumors say." I hadn't heard any rumors about Charleroi, but now I'm going to be careful if ever I go there because it seems like you could easily get knifed there. She says she loves doing what she does, that drawing is "a passion that helps me escape this crazy world, to lose myself in my thoughts, to... to... I digress." She doesn't want for much in life: "I've got a cat, a great apartment, my XBox360 and Sting, the sword from the Lord of the Rings... so I don't think I need much else. Come to think of it... if I could have a light saber, that would be fantastic!" I meant realistic things, but people say that you have to demand the impossible.

So, how about projects? Anything current going on? "It's still top secret so it shouldn't be spread around too much but I'll let you in on it anyway: I'm working on my second home-made comic book (drawn, printed and sold by me)." As for projects, she's got loads bouncing around her head. Her dream is to publish a real comic book, "properly made and everything, in bookshops. Making illustrations for a children's book would be really cool. As would making a colouring book be. They're on my list of things to do in my life. As well as being published on FML and touching an iceberg, dressed as a Jedi, while riding a shark who is wearing a sombrero..." OK, well, I can just do the "being published on FML" part, I'm not qualified to supply the rest.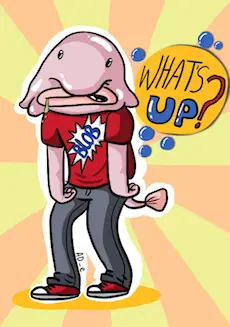 She has studied. A lot. "After finishing secondary education, I did media and communication studies, and got a journalism degree. Now, I've thrown myself into graphic design studies. According to my family, I'm addicted to education. Sometimes, I can hear them say, "40 years old and still a student" ha ha." So, scared of facing the real world, huh? I can understand that. It's an awful world out there.

She was inspired by school. "During my adolescence… Drawing in the margins of my notebooks and on the school benches (yes, I know, bad girl) helped a lot. And then the Internet turned up along with comic book blogs. Every day, I would take a look at my favourite blogs (including Paka, Sanaa K, Diglee, Yap and many more). And then one day, I said to myself, "Why not me?"
Her tastes, are they more sort of doom metal, or disco-punk? "I like anything which is science-fiction, from superheroes to movies where there's great big action scenes and bad jokes. One of the last movies I saw in an actual movie theatre was "X-Men : Days of Future Past" and I really loved it. The Quicksilver character is one of my favourite comic book characters (along with Flash). As for TV shows, there's the amazing Game of Thrones, Sherlock and Doctor Who which are my favourites. I never get bored of them. I'm currently re-watching all the Doctor Who episodes before the new season begins. I'm a fan of the "geek" world, even if I don't like the way the word is used generally. I collect loads of goodies. Anything like figurines, comic books, furry toys, mouse mats, clothes, swords, jewelry, etc. from movies and TV shows. I think my apartment could become a museum. Oh and let me reveal my secret. I'm a fan and I'm totally addicted to the songs that you hear in advertisements on TV. I know practically all of them, from car advertisements to shower gel advertisements, all the way to the ones hawking cat food. I don't stop at singing them when they come on, I look up who wrote them, if they've made other music, etc. And to tell you the truth, it's allowed me to discover really good new artists!" I feel the opposite sometimes, when I hear a song I used to love being used to sell something. It sort of ruins the song for me.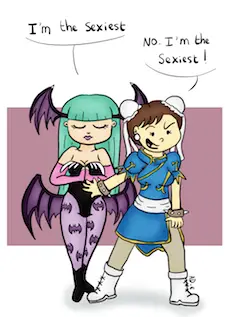 How about one of your own personal FMLs? "Today, I'm on holiday at my dad's place, and there's no washing machine. I set off for the local laundromat, dirty washing under my arm. I miss my step on the road and all my clothes end up on the ground. The traffic was held up because of me stuck in the middle trying to pick everything up, and some pervert was staring at my panties. FML"
That's it for this week. Thanks AD_e for taking part, it was cool having you on board. If everything has gone to plan, while you're reading this, I'm on holiday down by the ocean in the south of France. That's if everything went smoothly, but being FML staff, it probably didn't. So it's fitting that I should leave you with a typically oceanic-orientated song, because I'm in the mood for surfing. Not that I can surf though, I have no sense of balance whatsoever. Next week we'll be welcoming a Peruvian artist who only eats green beans, or a she-devil illustrator who paints dead singers using her hair and menstrual blood. It'll be a surprise then, because for now I have no idea who's doing what. I'm already on holiday in my mind, because I haven't had any days off since 1987. You have to work hard in life, if you want to end up falling into the trajectory of an oncoming bus and splat, game over. Until next time, be excellent to each other and may the ghost of Ian Curtis bring you luck. All summer long.

What about you? Think you've got talent and want to contribute to the illustrated FML? Send us an email to [email protected] but only send us your blog's address and a few samples of your work. No need to create an illustrated FML straight away.
#1466 - Illustrated FML - On 08/18/2014 at 8:25am by Alan - 12 comments