We have a winner ! The votes are in, and the book goes to littlekellilee and her comment telling the story of how she's going to get her gamer tit of a boyfriend to notice her. Seriously, kick him in the chair from us!
Enjoy the holidays everyone, if you're getting any time off or spending time far away from family drama! We know we are.
------------
It's nearly Christmas, and everyone is pretending to be working hard. Yes, even us here at FML. It's time once again to have a crack at answering a question that seems to be on everyone's lips at the moment. One which is a never ending source of stress for a large part of the population. "What are we going to do?" they cry. We know. We're all in the same boat. So what's the question ? Here we go.

The idea behind this part of FML: we ask you a question, and all you'll have to do is give your opinion, back it up with stories or something you overheard while having your teeth cleaned by a lady in dirty smock. What we are looking for are debates, exchanges and comments. There are no limits, feel free to express yourselves and get stuck in.

This time around:

Are New Year's Eve's parties always cringefests ?
Or are they a fantastic way to kick off the New Year?


What we want to know is what you have planned for New Year's Eve. And what you'd like to be doing instead. Tell us about the best ones, but mainly the worst ones you've been to. Are parties that rely on dates, and calendar changes always less fun than parties that are thrown together at the last-minute? Have you spent ages planning a NYE party, only for it to be totally anticlimactic? Or have you had the opposite happen to you? So, there you go, what do you think we can expect at the end of the month?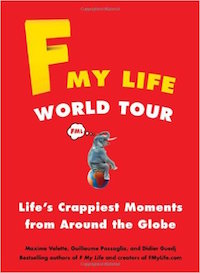 This month, as last month, and as it's Christmas, to make things interesting, we're adding a prize for the best story told!
The best story wins an FML book (the winner will be evaluated on the amount of thumbs up + our totally arbitrary judgement). Tell us the story of your New Year's Eve party that went wrong. Or went wrong, but then went right. But it has to be true. The best story will be sent a book, to help you enjoy the New Year with us in mind. Keep in mind that it'll be based on all sorts of arbitrary factors like spelling, votes from the other users, length, girth, sturdiness. You know the sort of thing we like.
Like before, to start you off, we've asked a few people what they thought about the whole thing.
"In space, NYE is too much of an abstract concept. It depends what planet I'm on. And I smoke so much Mary Jane, I hardly know which planet I come from, dude." - Darth Vador
"New Year's Eve is just another example of the way the patriarchy is trying to impose onto women a way to dress, I mean, come on, I'm not putting on a dress that sparkles just to impress people or because I need to buy a new calendar for my kitchen." - My next-door neighbour, the sociology student
"I love New Year's Eve, but I've been told that this year it's on Friday the 13th so I'm a bit worried." - Nicki Minaj

There, you get the idea.

Tell us anything, but tell it from your heart. OK, that sounded crap. Just tell us what you think and what New Year's Eve means to you. Get on with it! Work can wait 'til Monday, procrastinate a little.
#1562 - About FMyLife - On 12/17/2015 at 3:46am by Alan - 102 comments