Hi everyone ! It's Thursday so it's time again to show you stuff that we've liked over the past week. If you're into all the Black Friday/Cyber Monday rigmarole about fighting over a crap TV, that's your business. We're just suggesting that you stay at home and buy the stuff we've selected this week from the comfort of your own home. Here we go!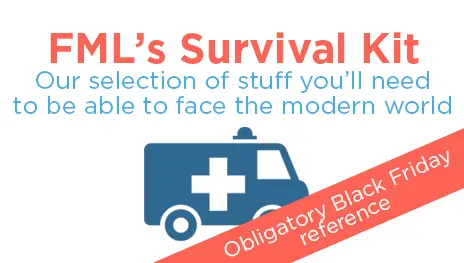 Our team is really into gadgets, games and weird objects. This column will allow you to find out what sort of things we like, what makes us giggle enough to buy, but will also give you some ideas for gifts, either for yourself or someone special. Check 'em out.
It's art, OK?

"Next to my house I have a shed in which I get on with all my DIY projects. I also like to decorate with strange things. This week, I added this picture of a woman with an inhaler to my collection of strange but funny decorations. It's a great talking point if you run out of things to say to whoever you have locked in your shed."

Snail tea

"I love tea. Tea rules. Tea is my life. There's a sort of ritual behind having a cup of tea, which involves hot water, teabags, maybe a spoon or some milk. This week I got myself a pack of these useful little things, which are snails that you attach to your cup, so you can float your teabags with risking any sinking or the string falling into the water. And they're quite pretty, too. Get them for the tea enthusiast in your life."

Fart your way to success

"This is one I've used on the ladies. My conquests. My biatches. Girls love unicorns, they can't get enough of them. They also love candy. This product combines the both, so it's got maximum pulling potential if you give one to a girl you fancy. She'll be all over you like rash. Without actually giving you a rash, unless you're trying to seduce a crack whore. Oh, and kids love these too. Delicious."


Learning to care

"I'm a prerry irresponsible guy. I can't be trusted with anything! My girlfriend wanted to get a cat for our place, a real live cat. Naturally, I was petrified of having to care of it, so she got me in the mindset of taking care of something with this pet rock. It's funny, and makes me want to take care of a cat, so maybe soon I'll have progressed from a rock to a cat. Sounds like the beginning of a joke about evolution-denying creationists, but it's not. The packaging leads me to believe that it would be a great gag gift."

Grind the grass

"I definitely down to chill, most of the time. If there's a piece of wrapping paper stuck under the couch, I could be there for hours. But the relax, I need my catnip. It removes all the stress from my life. But this grinder makes things even easier. It works for all sorts of herbs and spices to increase their potency, so catnip becomes a real bag of fun!"

Foxy mug

"I love coffee. I love puns. I love swearing at people. I love foxes. This mug was made for ME. So I bought it. It's sturdy, nicely designed and does the job it's supposed to. Consider buying one in tandem with the snail tea clips mentioned above if you're a tea drinker, because they would be perfect together!"


It's back

"I love reading and sleeping, and I have a serious back injury that means that public transportation is a real nightmare for me. Especially cheap-arse airlines who squeeze the seats so close together for profit that I can't fit my 6ft2 carcass into. This handy gadget makes traveling an enjoyable experience, because you can actually sleep properly. I love it!"

George Carlin is God

"I love t-shirts with a message. Emma likes one too because it's related to swearing. She's now, like me, a devotee of the Patron Saint of Profanity, Saint George. George Carlin, obviously. It actually lists the 7 words you (couldn't at the time) say on television. These days you can hear them in most children's TV shows. How times have changed.

That's it for this week. Hope you enjoyed our selection, and maybe even bought a few things! See you soon.
#1630 - About FMyLife - On 11/24/2016 at 6:32am by Alan - 5 comments