FML's Survival Kit #3
Hello everyone, boys and girls. So, it's that time of the week again when we show you stuff that we've liked over the past week. Buying silly stuff makes us feel alive and less worthless, and we like things that allows us to avoid the void. Anyway, here's the stuff that we liked this week! Booyakasha!

Our team is really into gadgets, games and weird objects. This column will allow you to find out what sort of things we like, what makes us giggle enough to buy, but will also give you some ideas for gifts, either for yourself or someone special. Check 'em out.
Death at one's elbow

"As I may have mentioned before, I like dressing up. I once dressed up as a woman and… Well, the less said about that the better. It's nearly Halloween so this week I will be mainly wearing this Grim Reaper costume. As I'm a big fan of the Seventh Seal by Ingmar Bergman, I'll add white face paint and a chessboard to the disguise. It'll be amazeballs!"

This is real

"I like games, whether it's Monopoly, gambling, beating the shit out of kids for money or just plain old video games. This pretty cheap gadget allows you to turn your smartphone into a wonderful excursion into Virtual Reality! What more could you want? I can't wait til the day we can all escape this piece of shit world and escape into a parallel pixel universe!"

Put it in the hole

"After a hard day hanging around with my friends in the stairwell of my building drinking Red Bull and talking shit, I like to come home to my mom's house and take a long dump. This game is great if your phone has run out of battery power from too many Snapchat sessions, and it's also a great gift for the golf enthusiast in your family. Fore!"

Boing boing boing

"I'm often being told off for being late to meetings or appointments with my shrink, so I got this very modern pogo stick to bounce around town. I haven't been late to anything since, and people envy me in the street. I recommend you get one now, because they'll have sold out soon because everyone will want one, and the streets will be full of bouncing people. Get with the program, granddad!"

The cat's whiskers

"Everyone knows that cats are the height of cool. They always have been. The ancient Egyptians worshipped cats because they thought they were funny. Now, with one of these sweaters you can go one further by dressing your human with cat-related clothes. Or buy one, even two, for your parents, so they can have matching sets! Purr-fect!"

Welcome to nothing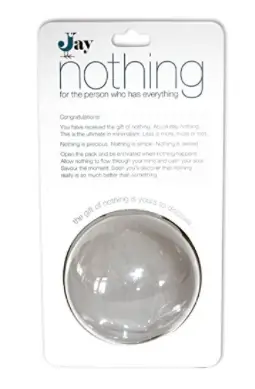 "As I've said before, I'm not really a people person. So when I give a gift to someone, I like to make it as sarcastic and cynical as possible. This week, I've got a joke gift for you. It's literally nothing. Well, not exactly. It's something, but which represents nothing. Isn't that a funny gift? I got one for my boyfriend and now he's sitting on the edge of the bed, crying. Tough titties. I like it."

Serious business

"Let's get straight to the point: I'm a borderline alcoholic. But instead of going to bullshit like AA, I'm trying to hide my passion for booze with an interest in the paraphernalia that accompanies high-end booze. This thing helps wine get air into it, or something. The thing about expensive wine is that it's supposed to 'breathe' before you drink it. Get this to accelerate the process. Or just get it for the snooty fine wine connoisseur in your friends and/or family group!"

Ouch

"As I'm pretty clumsy, I often get injuries. Nothing serious, even though I almost broke a leg trying out Julien's pogo stick. To make semi-serious injuries fun, this week I bought myself some bandages that look like bacon strips. How cool is that? It looks like I've got bacon all over me, and it drives potential mates wild! Everyone loves bacon."

That's it for this week. See you next week, same place, same time for some new and cool stuff we've seen floating around the internet!
#1620 - About FMyLife - On 10/27/2016 at 10:33am by Alan - 3 comments