The colouring book winners are...

We'll make this quick! We reviewed all the entries for this competition, but James Alexander's cat got the final decision. It was pretty tough, and we've added a book winner. This means that 6 people have won!
Who are they, then?

Well, here's the list, in no particular order :
- XCoraline_CrossX
- Monichino99
- ArizonaRain001
- PirateSnozzle
- young_cat_lady
- monyluv1
All the people mentioned above will receive a copy of the book! We'll be contacting very shortly to get your details, well done to all of you.
If you REALLY want a free copy, follow us on Twitter, we'll be giving some away on there in the near future!
As for the rest of you, or for those who didn't know there was a competition going, here's what these books are and where to get some :
What are these books?
Do you ever have to restrain yourself from shouting at someone at work? Or, maybe like Andy Murray you feel the need to scream obscenities with frustration at yourself or just in general at the current political situation? Restrain yourself no more! Instead, colour the words you want to say but cannot with James Alexander's brilliant new books Memos to Shitty People and Release Your Anger.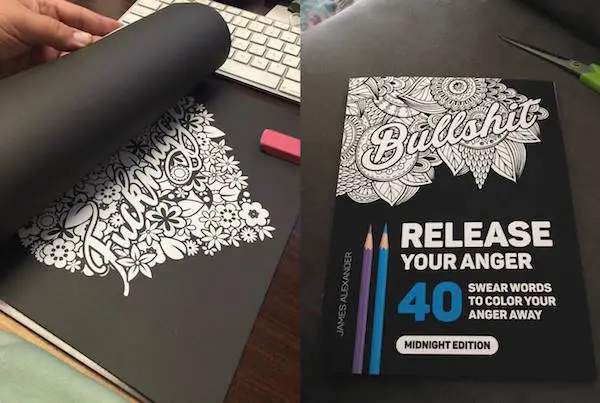 Hilarious, stress-relieving and delightfully deviant, these books are deceptively simple and a genuinely therapeutic use of colourful language. Each single-sided page includes such tension-busting phrases as, 'Seriously, Bitch?' and 'Oh look... the fuck-up fairy has visited' or 'Fuck you, you fucking fuck'. Cute, innocent animals, beautiful flowers or intricate mandalas are hidden in the backgrounds to help let the steam out. To find out more about them, visit James and his books at swearybook.com.

OK, I want to buy one. How?
It's pretty easy. Just mosey on down to Amazon, or James's website, but we've made it even simpler: just click on the book cover below and it'll take you straight to where you can get one:
#1611 - About FMyLife - On 09/26/2016 at 9:22am by Alan - 7 comments