14 Athletes who probably couldn't cut it at the Olympics
Unless you've been living under a rock, you'll have noticed that the Olympic Games started in Rio a week or so ago. You might even watch them while wishing you were as fit as fuck. While the athletes you see on television excel in their profession, those we get to see on FML… not so much. Here's the selection of our favourite Olympic-cum-sports disasters.


There were many junk issues…
Today, I was forced to get up in front of ten swim teams, including my own, and a hundred spectators to swim 100 yards with an obvious boner sticking out of my suit. FML
Today, I got hit between the legs with a kayak. FML
Today, I went to boxing and this hot chick asked me if I was wearing a sports cup. I replied yes when I wasn't. I thought she was going to check with her hand and feel. She checked with her knee. FML
While some let a little loose.
Today, I nailed every single move in my routine at a gymnastics competition. I then finished off with a perfect split, letting out a fart loud enough to wake up a kid in China. FML
Today, while watching the Olympics, my father found it completely necessary to make a farting sound every single time an athlete jumps or bends over. This will be a very long few weeks. FML
Dad goals, tbh.


Some tried to impress the other sex.
Today, at archery practice, I jokingly said that I'd kiss the next person to get a bullseye. They all made a point of missing their targets, some even shooting their arrows way off to the side. FML

I feel you. Been there, done that, got the crappy t-shirt.
Today, I had just finished riding my bike when I ran into the girl I am secretly in love with. While I walked over to her I got an erection through my spandex biking shorts. FML
Or used to impress, in this probably now one-eyed guy's case.
Today, while playing badminton, I was so distracted by my ex winking at me that I didn't notice the shuttle cock that hit me in the eye. FML
Some deserved it…
Today, my fencing team took pictures for the yearbook. We were having individual pictures with our weapons, and it was my turn. When the photographer told me to pose, I tried to be super cool by quickly putting my sabre against my chest like some sort of soldier. I poked myself in the eye. FML
Today, my neighbor threatened to call the cops if I didn't turn the volume down on my porno. I was only watching women's tennis. FML
YEAH RIGHT.

And some were just purely out of luck.
Today, I played a volleyball game at my school. Not only did I miss the winning point, the ball hit my face in the process, which resulted in popping a big fat zit on my nose. FML
Today, I was trying out for my school's athletics team. As I reached the finish line for the 100m sprint, there was so much momentum I couldn't stop. I ended up running into a wall. FML
Today, my dad decided to take me to play golf to relieve the stress of recovering from a bad concussion. While teaching me to swing, he hit me in the head. FML
Today, during our championship field hockey game, my mouthguard fell into a mass of geese poop. The referee made me put it back in my mouth. FML

Tasty.

Anyway, for all of our would-be, also-ran athletes, here's a badge. Gold star for your efforts, go to the top of the class. Wear it with pride.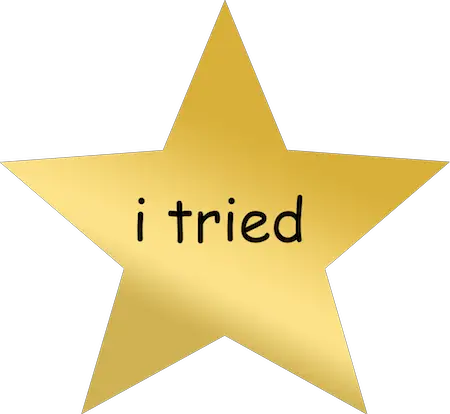 Congrats.
In the meantime, the rest of us will be watching the rest of the Olympics hoping for another broken leg, or fall someone to fall off the horse thing, or make a pathetic attempt at a dive from a really high diving board. Because that's what we do here at FML, we make fun of people doing things that we could never dream of doing, and being cynical twits while we're at it. See you soon!
#1606 - About FMyLife - On 08/17/2016 at 9:43am by Emma - 9 comments