Seal your FML Photos
Hi FML people of the world. We're starting a new thing, something that you might enjoy. This is the dawn of a new beginning, says the movie trailer. As of today, we'll be using the "FML Approved" seal of approval that our team has created.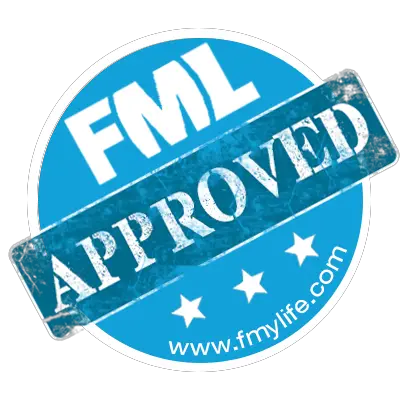 Yep, we sat around, studied the way people use the internet, use their brains, we thought about it long and hard. We used all the resources we had, and brainstormed with the greatest comedy minds and Internet experts. What this all boils down to is the simple sentence, "This seal of approval is great and the FML users might like to use it."

So, what's it for?
You lot are pretty good at coming up with funny stuff, and as you know, we're interested in your lives, and God knows they are interesting. A simple look at the moderation page can tell us that odd things are happening right now. Well, except for the people in the Best of the Worst section, but less said about them, the better. To show you that we count you as part of the elite, this seal will now be one of your tools.
You'd probably seen FML Photos, where we asked you to come up with witty captions for photos that we put up for you. But considering pictures can be funny on their own merit, FML Photos's little brother takes over. FML Photos is now about YOUR photos.

What can we do to help?
Your mission is to send us your weird and wonderful photos, anything that could be construed as an FML situation, but that is funny, crazy, amazing but most of all undescribable. Sometimes, a picture is worth a thousand words and therefore doesn't need a caption. We must insist on the notion that they must be YOUR photos, not things that you've picked up off the Internet. We'll delete and throw a hissy fit any fraudulent attempts.

So, what do we do?
Here are two examples, using pictures we found here and there. But remember, use your own pictures!

Number 1: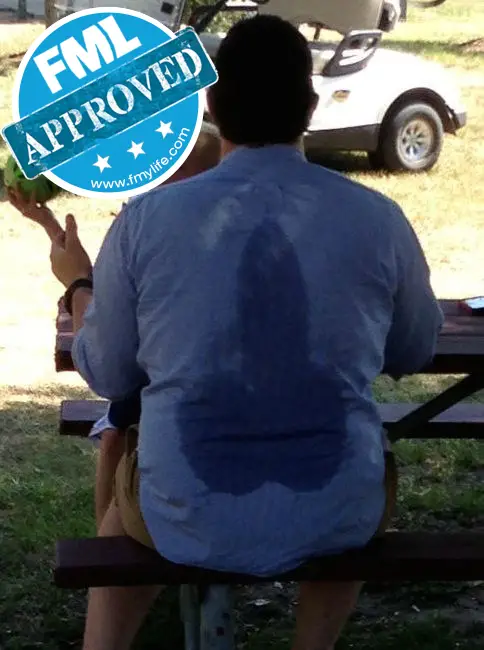 You're at a family picnic, and you notice that the guy next to you at the table is sweating buckets (sorry to hear that BTW), but by examing him a bit closer, you can clearly see that his sweat stains have formed an amusing shape. You send it to us and BOOM, we stamp it with the FML Approved stamp and we'll publish it straight into the FML Photos category.

Number 2: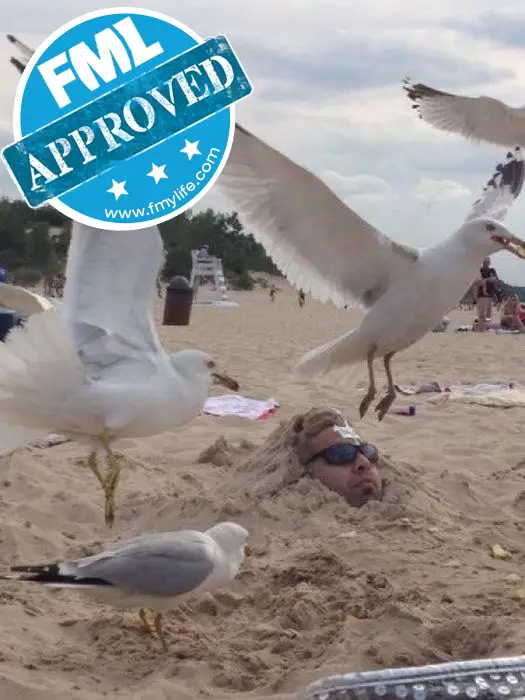 You're having fun burying your best friend at the beach. Everyone does it. Once he's completely trapped, you put biscuit crumbs all around him to attract the seagulls (LOL, ROFLCOPTER). No need to explain what happens next, it's a classic: head shot between the eyes. You send us the picture and WHAM, it's stamped with the FML Approved seal.
Go on, admit it, you laughed. Or maybe just smiled a bit. We know you did.
To send us your pictures, there are several ways:
- By PM on Facebook
- Via e-mail to [email protected]
- On Twitter @fml with the hashtag #FMLApproved
OK, we get it. Anything else?
As the possibilities are endless, we're counting on you for the seal to be all over the place. Use it freely!
To encourage you to send us your photos (and only YOUR photos), we're giving away free FML books (the original and FML Around The World). To win, just be part of the best submissions. Hunting season is now open!
#1605 - About FMyLife - On 08/12/2016 at 5:26am by Alan - 11 comments