FML : with or without filter!

Now we've overhauled FML and introduced new features, we reckoned it was time to make the way the website and our smartphone apps are used. To make sure that everyone can enjoy FML in the best way possible, we've added to the website a filter, which is already present on our apps. To access this filter, you must have an FML account. To create one, it's quick and simple: click on "Login" at the top right-hand corner of the page, then click on "Sign up", and follow the intructions. Once you've done all that, you'll be a proud member of an FML account. Easy peasy.
Each user can now customize their FML page.
This is for all of you who switch between the website and their smartphone app, and also to the FML purists, who are bothered by the appearance of new features. So that everyone can do whatever they like with their FML timeline, the filter can be accessed via their profile settings. Each user, purist or not, has in their settings a panel that looks like this: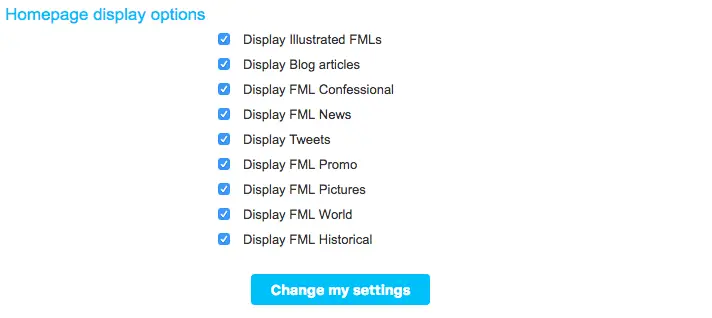 It's pretty easy to use : you just have to tick the boxes which correspond to the features you want to appear in your timeline, or untick the stuff you don't want to see. Hey presto, your FML is customized!
We hope that you'll use this filter to check out stuff in an interactive way. It's a useful tool meaning that you can change what you'll see in your timeline, so don't hesitate to change things around now and again. Between regular FMLs, the Historical FMLs, the FML Photos, there's quite the selection, and that's what makes FML so interesting. Now, with or without filter, FML can be enjoyed according to your tastes!
#1589 - Illustrated FML - On 05/06/2016 at 6:07am by Alan - 11 comments