Eni's illustrated FML
Greetings worshipers of lines and colours! This week, with the help of a talented young illustrator we're checking kids out. No, not like that. Damn, that sounded bad. We're taking a different look a children, in that it's not in a condescending and/or way creepy as the media tends to do when it comes to kids. They're not necessarily innocent, sweetness and light. They can be downright vicious bastards, especially if board games are involved. Intrigued? You should be. This week's interview is this way.
ENI'S ILLUSTRATED FML
"I live in Lorraine, long live quiche and pâté, boudiou!"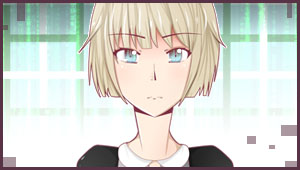 Self portrait Justine by Eni


This week we're welcoming Eni. It's no state secret so I guess I can reveal that her real name is Justine, if not to explain that her nickname derives from the last three letters of her name, backwards. Get it?

Her info:
Age: 18
Location: Lorraine, France
Website: Her Facebook page
Her illustrated FML: The one with the recording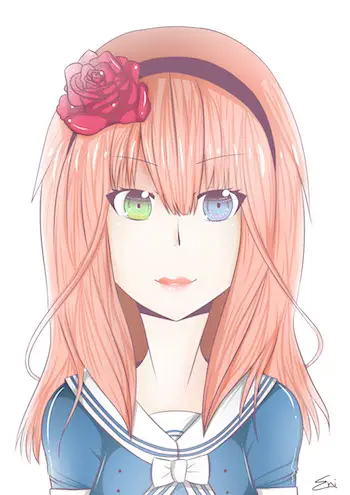 Eni is young, and it's the sort of thing that makes old farts like me quite angry. One day I'll stop whining and moaning about stuff, but not today, it's raining and I haven't had a drink yet. So, Eni is 18, and she's got plenty of talent. It shows. I know, I always say that about the artists I get on here are full of talent, but it's quite sincere. I only have the cream of the crop on here. Except that one time when… Nah, just kidding. Eni is part of the cream, obviously, she contacted us with an enthusiastic e-mail that warmed the cockles of my booze-riddled heart, and gave a me lust for life like in that song. Something like that.

So she does what she get up to then, what with being so young, so fearless? "I graduated high school in the summer of 2015 and I would like to get into illustrating. I also do sewing because I'm passionate about cute clothes and I'm inspired a lot by Japanese fashion. I am also a cat tamer, Felix (how original) and his mischievous antics inspire me to make little comics." Ah, just like me. Well, no. Not at all. Except for the cat tamer bit. My life is nothing but dealing with cats sometimes.

What do you like about what you do? What's missing from your life? "I like to express my world view via comics. Speaking of comics, you ask what I'm missing, well, I'm a few squares short of a comic strip. (Haha ... Hum.)?" Damn, the there's that infamous illustrator humour. I'd forgotten about this rarely-seen phenomenon. It turns up unannounced sometimes, without warning. I'd rather that than the illustrators without a sense of humour, who takes themselves super seriously… But they don't exist, right?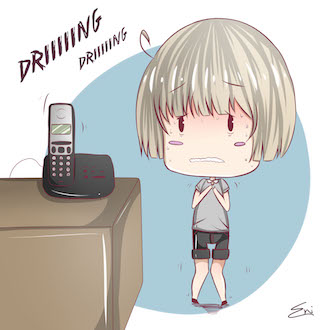 Tell us about your academic and professional career so far, although at 18, you're still brand new! "I have a visual communication multi-media diploma, I studied software such as Photoshop, Indesign, Illustrator, etc… I also did several internships in advertising agencies." Ah yes, you did what you needed to do, it's all good stuff to break into that milieu, if I understood all of the artists that I talked to here. Nothing is going to happen if you just stay at home and wait for the phone to ring, expecting a big contract to turn up.
What are your plans? "My dream would be to publish my own comics or manga. And I would like to become an illustrator." But… you're already an illustrator, right? Oh, you mean in the sense I-earn-my-wages-doing-it. I think you're off to a good start, just believe in yourself, apply yourself, keep your head down, eat right, exercise regularly, don't respond sarcastically when the po-po ask you why you were driving erratically… You get the picture.

Who is your hero? "In my day to day life, I spend a lot of time with several heroes, like Super Happy, Super Motivated, Super Tired and all their friends (Sometimes I'm Super Hungry, which is like hungry but with a cape!)." Hey, there's that humour again. I'm not going to comment, I'm tired. Just tired, okay?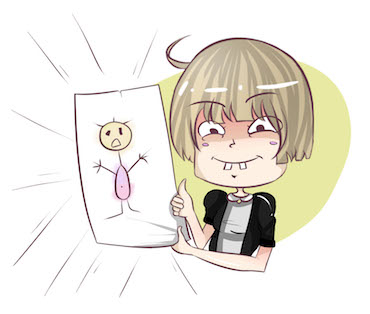 Where's the place where you like to draw? "On my desk, and I like to nibble while drawing." I also nibble writing my articles, and this is why I'm a fat bastard. Be very careful, you're only 18. It creeps up on you very slowly, and one day your metabolism collapses and you wake up one morning and you're a fat bastard.
What inspires you? What pushed you into the arms of drawings? "My father, who himself studied fine arts, the Ghibli studio and manga artists like Takeshi Obata and Yana Toboso." It's a real family affair then! How'd he like coming over to do an FML too? It would be cool to get the father on here after receiving the daughter! Then have a joint, 4 handed illustration after that. No? Come on, say yes Mr Eni's dad!
Recommend a biscuit or your favourite food. "I have a very strict and healthy diet of Kinder chocolate, sweets and above all the top notch food: PICKLES!" What was I saying about snacking and being a fat bastard? I'll keep the pickles though, because I'm also dedicated to worshipping their boundless deliciousness.
What are your latest favourites in film, music, books and comics, etc. ? "I loved the latest Star Wars movie (With Kyshlo Ren, you're right back!) And I'm a fan of the Harry Potter saga forever. Wingardium Leviosa! And above all I love the films of Tim Burton. Right now, I'm watching Breaking Bad. Walter, we are all with you!" I'll therefore avoid spoilers in this article, it would be really bastardly. And I'm not like that. I swear.

Who are the main artists that you like? "I love the drawings of Sakimichan, they are beautiful." And in life, what else do you like? "Besides drawing, I love video games. (Zelda FF14, Skyrim ...)." Fair enough. I have no idea what any of all that is, but I'll go along with it.

If you had to tell us your own FML, what would it be? "One day my dad borrowed my DS, he then put it on a table in a puddle, it died instantly. FML" Oh yeah, I had a similar thing happen to me, but it wasn't a DS, it was a kitten. Naaaaaaah, I'm joking, calm down PETA nutjobs.
Finally, if you were to give advice to someone starting out in illustration, what would you say to motivate them? "If you are passionate and motivated, don't let go and believe in yourself!" That's what I tell myself every time I go to bed. And when I wake up in the morning, it's a different kettle of fish.
That's it for this week! Thank you Eni for being along for the ride, it was cool. Come back and see us whenever you want, we will always have room for you on this page. Next week, there will be an illustration, or maybe not. I don't know. It's the mystery. I have to move house, repaint an apartment, everything's changing, the vagaries of life. You don't care right now, but the changes will affect you too, so ... stay tuned! Until then, I leave you with a musical dog and a yoga goat. Until next week for next part. Or not. Anyway, stay beautiful, sexy and funky fresh!
What about you then? Think you have talent and want to participate in an upcoming illustrated FML? Send us an email to [email protected] not forgetting to give us the address of your blog, or just some of your works.
#1575 - Illustrated FML - On 02/12/2016 at 11:07am by Alan - 5 comments