Lamisseb's illustrated FML
Hello everybody! So, who died this week? That's the question that everyone seems to be asking. We had some complaints that some FMLs treat diseases and death in dark humour fashion. Is this kind of topic not entitled to coexist with regular jokes on FML? Can we laugh at everything? Stay calm. You will never see sexist or racist jokes on FML. But we can laugh at death because as Pierre Desproges said: "Doesn't death to laugh at us? Is death not a practitioner of dark humour? " Offended by dark humour, but seeing no evil in sexism and racism is in no way FML's style. This week's illustrator knows a lot about dark humour and funeral jokes. Let's check him out right away.
LAMISSEB'S ILLUSTRATED FML
"I love the long cookies you dip in glasses of milk. It's a lot less nice to do it with branches of celery."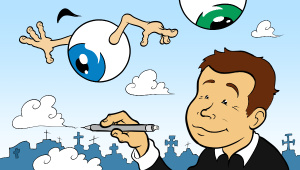 Self portrait Sébastien by Lamisseb


Here we go for the illustrator of the week called Lamisseb. It's a strange nickname that hides a certain Sebastian. Let's find out together.

His info:
Age: "34, but it changes every year so I'm not sure."
Location: La Rochelle
Webite: His blog
His illustrated FML: The one with the divorce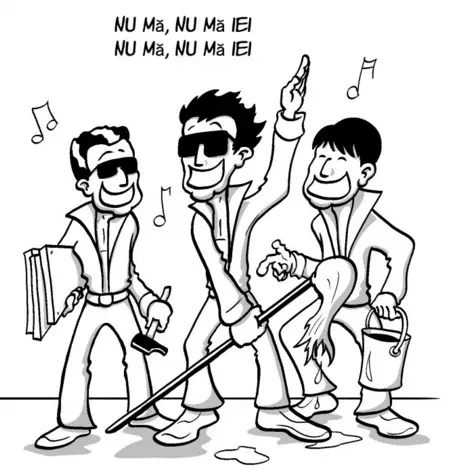 It's always nice to receive emails from talented and funny people. Sébastien contacted us some time ago with a very enthusiastic email, and looking at the content of his blog, we jumped for joy in our the office because we had found a new gem. Yes, yes, we did. Clear drawings, lines as proud as a morning breeze on a Welsh beach, and funny dialogue. All we need here at FML. At first, I was a bit puzzled due to his nickname because I mostly saw "miss" in it, and I thought he was a girl. We exchanged a few emails and via these exchanges we have brought the world the wonderful illustration that we present to you here today. Certainly my creative contribution to the illustration itself was quite small, the glory goes to Sebastian for his legwork and his talent. Now comes the difficult task of establishing who is behind this talent. Who is this dude, since we have established that it is a dude?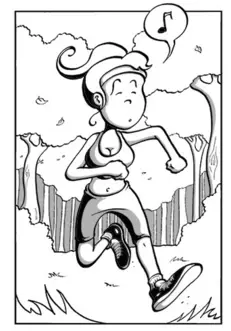 So who are you, and what do you do in life, Lamisseb? "Pasta with tomato sauce, hide and seek games with my children and comics. This last element is what I do to feed my family, I dream of making a living from the first two activities."
Already making a living out of comics, that's a good start. It's not any old scribbling doofus with a pencil that can get to do that. No offence to the unemployed artists I get in this columns.
What do you enjoy about all this? What do you miss? "I like to draw things to tell stories and make people laugh, that's it really. I like to find a funny idea and put it into pictures. I like to enjoy life as it is and, in that sense, I want for nothing. I have dreams, though, loads! As in publishing news-related drawings in newspapers, make a humorous science fiction comic or parachuting off a stool."
He lives off his passion, he wants for nothing. I'm already starting to hate this guy.
Tell us you were at school you slapped about a bit, and your whole school career was a total sham? "I went to school and then I became a heart surgeon at the age of 12. My parents then insisted that I get a "real job." That's when I decided I start off in comics." Parents, always there to spoil the mood. Amirite, teens?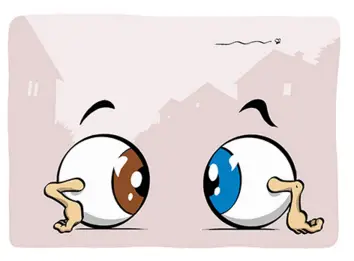 What are your plans ? "I'm working on the sequel to my dark comedy series "Et Pis Taf!". In each of them someone dies stupidly, death and stupidity are two inexhaustible topics that go together very well. Volume 2 is due in 2016. I'm also working on a new project with The Noeils, my little favourite characters." We can see that by browsing your blog, those little eye guys (see opposite) are everywhere. Go take a look at his blog, it's really good. Come on, hop hop hop. Do it now
What are your inspirations, is there someone, an event or something that made you want to get into drawing? "I met Fane when I was a kid, author of the series 'Joe Bar Team'. Seeing his studio and his boards in progress, hearing him talk about this job with such passion and kindness... I was already doing comics at the time but I honestly don't know if I would've carried on without meeting him like that. I would love to see him today." Fane, if you are reading this, you know what to do.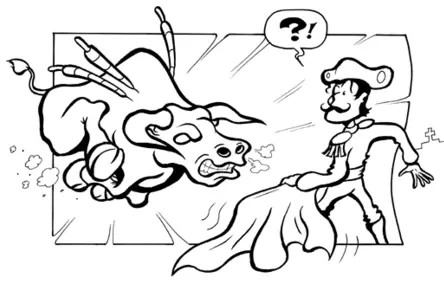 Tell us what you love in life, your passions, your hobbies, your vices, your little pleasures of everyday life? "I like simple and accessible pleasures like caviar battles with a spoon or piloting fighter jets..." And what do you like listening to / watching / reading? "Do you have all day? In no particular order or completeness: the classic Count of Montecristo, the TV shows Daredevil, the movie Nightcall, "Happiness, desperately" by André Comte-Sponville, or the last comic opus, which is as excellent and always as addictive of The Walking Dead." Any other comic book artists you care to mention? "I do industrial espionage on blogs by Ben Dessy (Macadam Valley) and Le Cil Vert. I also monitor some cartoons that are published on Facebook by the excellent Lasserpe, Deligne, Na and Pierre Samson." Noted. I really have to look into The Walking Dead, zombies annoy me in general, except in Dead Set (but only because it's a Charlie Brooker thing). Next.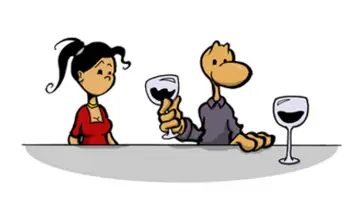 A personal FML perhaps? "Returning from a bachelor party with a tooth missing, having to explain to my wife that no, it wasn't just to "be just like in the movie The Hangover"." Hmmmm. A few more details about the events leading to the tooth and the extraction would have been welcome. Maybe in the next illustration. Given the quality of this week's, we hope you'll come back soon to do another! The door is always open!
And finally, do you have any advice for budding new artists? "Start with 500 pushups, newbie!" Yeah, you need to knock these young whippersnappers down a peg or two, you're right.

Yep, that'll do for this week. It's almost cocktail o'clock! I warmly thank Lamisseb for taking part in this whole shebang. Perhaps he'll be back one day with some other illustration. Here at FML we're hot to trot, to use an expression that hasn't been used since 1963. Until that happens, I'll leave you with one member of the FML team in the snow, and me I when I try to do the splits. See you next week for further illustrations, be groovy, be excellent to each other and don't fear the reaper!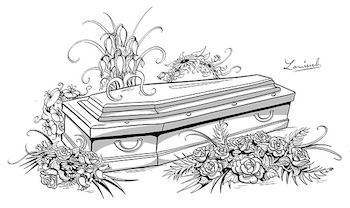 What about you then? Think you have talent and want to participate in an upcoming illustrated FML? Send us an email to [email protected] not forgetting to give us the address of your blog, or just some of your works.
#1571 - Illustrated FML - On 01/22/2016 at 3:46am by Alan - 4 comments