S-Kro's illustrated FML #3
Hi everyone! What a weird time to be alive. Even weirder time to be dead. Lemmy, Bowie… A lot of talented people are popping their clogs one after the other. It's quite sad, but let's not dwell on these sad events, let's look to the future. It's going to be hard while considering the Black Eyed Peas are about to release new songs. Bygones. Anyway, we're welcoming back a regular contributor to this column, with a scientific take on FMLs. Sit back, enjoy the interview and illustrations, and all should be fine. Here we go.
S-KRO'S ILLUSTRATED FML #3
"Sometimes, it feels like the hero of the movie The Martian is really really lucky."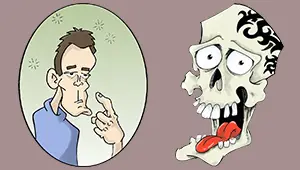 Self-portrait S-Kro by S-Kro


This week is the third installment of our love story, or friendship. We still not sure which. This is the series we're trying out with S-Kro, who explains all things scientific in an easy to understand way.

His info:
Age: "35 according to my arteries, 17 according to my maturity."
Location: Internet
Website : His blog and his Facebook page
His illustrated FML: The one with natural science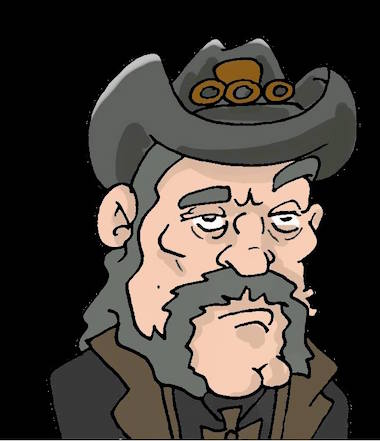 We do not know S-Kro's real name. I think it's a pun, but I'm not sure. I ran into him during a conversation on Facebook, and I offered him to come and do something for us on FML and he agreed. He not only accepted, but he has also done several excellent illustrations, which we will progressively post these coming months! All have a common thread: the scientific explanation of the world around us, and in our case, an application to the stories contained on VDM. The idea is launched with an explanation of speed cameras and the way they work, which is so annoying for distracted or reckless motorists drivers. Yes, you know who you are. We've all been there. They speed is limited to 50 but without paying attention, we've ended up doing 110, the windows wide open, playing hardcore techno... Or is that just me?

Who is behind the nickname then, and what does he do? "Analyse things to solve stuff and give advice that in the end no one will pay any attention to." I don't know why, I immediately had in mind the image of a hamster on its wheel, constantly turning, going nowhere… And what does he need in life? "Drawing classes, but people will have quickly noticed that." Erm, no, not particularly. Too modest, mate!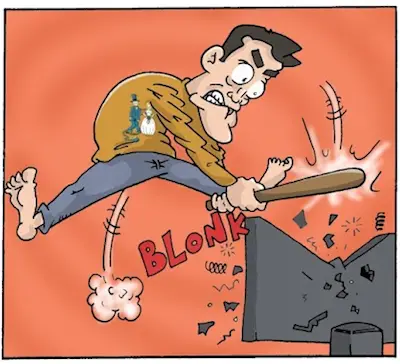 What do you enjoy in all of this? "In drawing, the feeling of creating stories and worlds is quite exhilarating, the sensation of leaving a trace at the bottom of humanity's underpants. The creative process, which some psychoanalysts think allows us to fight against the anxiety of human beings confronting death and... well... it's getting boring now, isn't it?" Oh no no, not at all!

Where did you go to school and learn all this stuff? "I did my schooling quietly, maybe a bit too quietly. I worked just enough to get to the next level. If I'd had teachers (maths and science in particular) that had given me a taste for science, I would've been working in different areas. Let's just say that my comics and my research have helped me catch up for lost time."
We really do need people who are able to explain things as clearly as S-Kro does, these comics really are a sort of public service!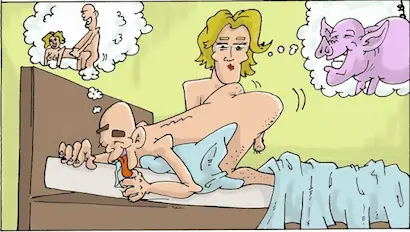 What are your plans? "Getting my comics "Clever things explained by an idiot" published. I'm also taking part in the fanzines belonging to my buddies Pinworms, Reuketeupeuh, El Guapo or Egoscopic, it's a good laugh." This is a great idea, getting the comics published, they're really good. I especially liked the one about the guy growing a beard and getting asked if he was a hipster or a terrorist or dirty or any of that bullshit that I had to put up with last year when I started growing a beard out of sheer boredom. I went through exactly the same thing. So thanks!

What are your inspirations, is there someone, an event or something that made you want to get into illustration? "From my great grandfather to my father, I have always seen people draw or paint, I don't think it helps to have a normal life and it explains a lot." And do you have heroes in life? "In the sense of exemplary characters, I would say guys like Nikola Tesla, Richard Feynman or as Stephen Hawking, but he's crap at basketball." Claaaaaassy!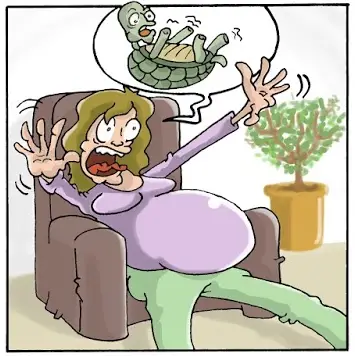 Tell us what you love in life, your passions, your hobbies, your vices, your little pleasures of everyday life. "My hobby is drawing, reading boring stuff and less boring stuff, my friends, my sweetheart ... and farting in my bath." Ah, taking a bath. I miss that. I only have a shower at home. How lucky. Uh, well, yes, and how about your taste in music, books and comics, what you do you love right now? "If I had to keep a book, only one, it would be "A short history of nearly everything" by Bill Bryson. For comics, I read so much that it's hard to make a choice, especially since there's some of my friends in the comics, if I forget any of them, they'll sulk." Yes, you'd better not then. But even so, let's try to see if there are some artists whose blogs you check out regularly, just in case. So? "I don't have time to visit blogs, there's too many.
But the artists who influenced me the most would be Maester and the late Coyote. I love Mo CDM, Eric Powell, Scott McFarlane too, to name but a few, the list would be very long otherwise." Everyone says that. Then again, if you asked me who my favourite musicians were, or which sort of sandwich I like…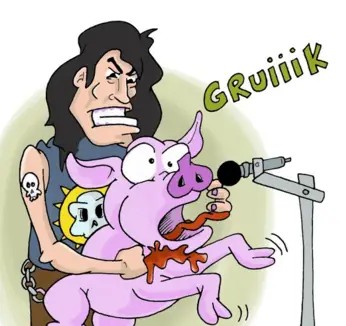 A personal FML perhaps? "Once I was with a buddy and there was this girl I wanted to hook up with. I don't know why but on TV there was a report about the lack of space in apartments when you're in a wheelchair. I had this very drunken guy observation and I said something like: "I don't see what the problem is, if you fold them up with the chair, that won't take up much space." She stood up and left the room and then I learned that her father was in a wheelchair..." My theory is that the way to test future-ex partners to see if it'll work out is their potential to warm to our shitty sense of humour. She, sadly, didn't make the cut. You didn't miss out on anything.
And finally, do you have any advice for new artists? "Don't do it, you poor unfortunate soul!"

Right, that will do for this week! Thanks S-Kro thanks for taking part again. We'll see him again one day with another scientific illustration. I can't tell you when it will be, it'll be another surprise. In the meantime, I'll leave you with a dog with half a lemon and how not to exit a motorcycle. See you next week for a different artist, so until then, be excellent to each other!
How about you? Think you have talent and want to participate in an upcoming illustrated VDM? Send us an email on [email protected], not forgetting to give us the address of your blog, or just some of your works.
#1569 - Illustrated FML - On 01/14/2016 at 11:35am by Alan - 3 comments