Monsieur K & Myster B's illustrated FML
There's a saying that goes something like those who ignore the past are condemned to repeat it. Something like that. This is why television channels seem obsessed with M*A*S*H* re-runs. You can't change the past, but you can imagine what it would be like if you could go back in time and mess about with it. Many people annoy others with their theories on what they would do and where they would go if they could go back in time, usually at parties. No one wants to know how you would kill baby Hitler. And if time travel was ever invented, we would know because people would've shown up by now. Anyway, this week's illustrators know a thing or two about fiddling about with the course of time. Let's check 'em out.
MONSIEUR K & MYSTER B'S ILLUSTRATED FML
"Who are our heroes? Well, erm... Ourselves! We are the Magni-fi-cent! (private joke, sorry)."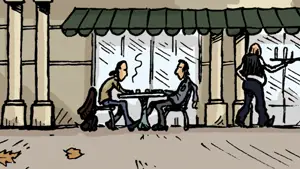 Self portrait MK and MB by MK and MB


This week, it's the welcome return of Monsieur K. and Myster B. who have already graced our shores a while back. Their previous illustrated FML can be viewed by clicking here.

Their info:
Ages: 81 years old between them
Location: Béziers, France
Websites: Monsieur K. and Myster B.
Their illustrated FML: The one with the recycling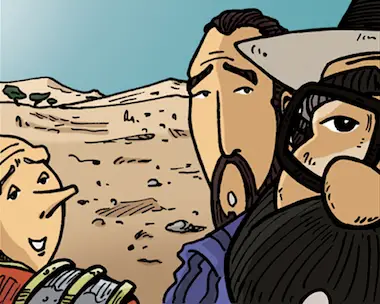 So, how are these two crazy comic book dudes? As we've already had them on FML, I'll suggest you check out their previous interview by clicking here. I'm still going to ask the usual questions for those of you who are too lazy to click on the link, because I need a minimum amount of words to fill up the article to go with the illustrations contained within. And these guys are also here to tell us all about their news. Because they have some. Yes they do. Honest.
So, what do these dudes actually do? "We like making people think we are autistic parasites, until they discover the fruits of our work (and thus our genius)." Hey, that reminds me of someone. Magic mirror, when will my genius be recognised by MENSA? Boohoo.

What is it that you enjoy about what you do? "We like ending up together in a different space-time, imagining stories together and actually creating them. We're on the same wavelength, but we also have our differences which go together well." And what is missing from your lives, workwise or other? "Nothing, thanks :)" Ah, that's rare. Usually I get told that a graphics tablet is required, or a social life. Well done.

Were your school days particularly brilliant? "Our respective school and professional careers are very up and down. Let's just say that we didn't make a career out of anything. The world of comic books was waiting for us, to put it in simple terms…"
Is working in tandem a pain in the butt or a heap of fun? "The way we work is a game of ping pong. One of us (usually B) sends the first idea, on which the other rebounds, and so on, until K draws and B inks. We complete each other in an ideal way."
Where does this ideal work take place? "For K it takes place on his desk, for B if possible outside in the sun. But when we meet up to work, it's by the fire, at B's place (even if it's not lit during the summer)."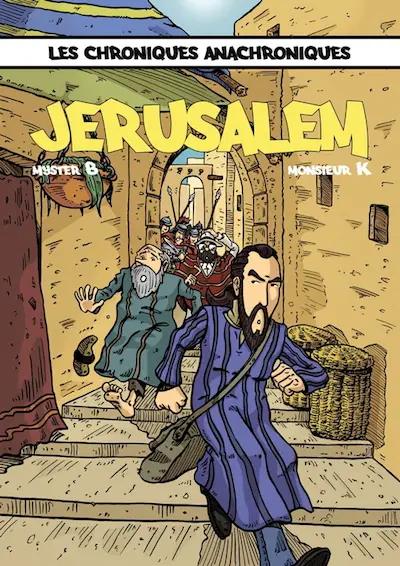 OK? let's talk news. That's why we're here. Tell us what's coming out, or what's just come out, I'm not sure. "Our big news is the second tome of Anachronic Chronicles comme "Jerusalem". It's the sequel of the time travel story of 3 characters who are passionate about the big mysteries of our history, who create myths by trying to solve them. After the beast of Gévaudan, Phil, Frantz et Bernard are now following the footsteps of Jesus Christ. You can order it by clicking here." Now, of course, it's in French as you can see from the cover to the left. But if you want to learn to speak French, what better way than with a great comic book? So order it now, if not just for the great artwork!
Following this monument, what are your plans? "Monsieur K and Myster B have several projects on the go, but the biggest is of course the third tome of the Anachronic Chronicles. An exclusive for FML: the myth explored in the upcoming opus will be the Arthurian legends! In our outboxes is also a certain Jack the Psychopath, who will soon be making an appearance in the comic book world." That's quite a lot of projects. My only project is to think about what I'm going to have for lunch. Pasta or fries. Decisions, decisions.

What are your everyday pleasures, together? "Monsieur K loves to pick his nose and MysterB likes to say to him: "D'you want mine?" when he's not already stuck it in there without warning." I know certain people in the FML office who have the same sort of intimacy. It's very touching. No, I'll give no names.
Do you have a personal FML to share, together? "Our last common FML was when we received 50 printed copies of the first tome of the Anachronistic Chronicles and the colours were saturated. The box is gathering dust, but we get scared every time we receive new editions." Ouch.
Finally, any advice for budding artists?
Monsieur K: "Draw, lazybones!"
Monsieur B: "Yes master! Right away master!"
That'll be it for this week! Thanks to our two friends for their second appearance on these pages, come back and see us whenever you feel like it. When tome 3 comes out for example. Next week, we'll be talking to a Meninist who draws powerful drawings that explain how hard it is to be a straight white man these days and... Sorry, I can't keep a straight face when typing that sort of horsehockey. Next week, I'm not sure what's going down. We'll cross that bridge, etc. I'll leave you with a merciless attack and a cat's tongue. Be excellent to each other, and see you next week!
What about you? Think you've got talent and want to contribute to the illustrated FML? Send us an email to [email protected] but only send us your blog's address and a few samples of your work. No need to create an illustrated FML straight away
#1568 - Illustrated FML - On 01/08/2016 at 6:42am by Alan - 6 comments