Julia Hutchinson's illustrated FML
Happy New Year! Right, now that's out of the way, let's get down to business. We're all hung over from last night's party, right? Wrong. Some people have no friends, families or any form of social life. It happens. This is FML. It's our bread and butter. We had to post something on New Year's Day to celebrate the people who stayed at home last night. The loud and obnoxious twits have had their fun, let's put the spotlight on the rest of us who can't string two sentences together without falling over. Here we go.
JULIA'S ILLUSTRATED FML
"I saw Star Wars last week and really enjoyed it! I guess that's apparent from my FML. I definitely want to see it again in the coming weeks."
Self portrait Julia by Julia


This week, it's Julia Hutchinson who's doing the honours. I do not know whether she's hungover today, or even if she went out last night, but I'm guessing she is and she did.

Her info:
Age: 30
Location : "Rochester, NY this summer. It's in upstate New York, maybe 2 hours from Niagara Falls. Originally I am from Illinois."
Site : Her blog and her website
Her illustrated FML: The one with the underwear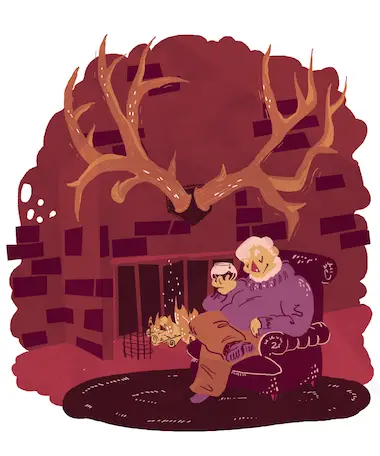 Who is Julia, and what does she do? "I'm a freelance illustrator. I mostly do spots for newspapers but am always looking for the next project. My day job is a receptionist at a doctor's office. We've recently been busy with colds, earaches, twisted ankles- the usual winter stuff."
What do you like about what you do? "For me, it's really satisfying to take a concept and work it out on the page. Working for clients, you never know what you'll be drawing next or what ideas you'll have to put on paper and its cool to see it go from raw idea to finished product. The thing missing from my life is a flock of chickens. We always wanted some, but so far have been living in apartments where there's just no space for them. Chickens deserve open space and grass to run around in. Recently my husband and I have been hopping from city to city. With each new place we realize our chicken dream will have to be put off for yet another year. It doesn't stop us from learning as much as we can. I want a white crested black polish, he wants a buff brahma." There, I've learnt a new word! Buff brahma. I'll try and fit that into a conversation.

What's your current news and stuff? "The big excitement is I did the cover art for an issue of the Willamette Week in Portland, OR. The thought of my art showing up in news racks all over the city makes me really happy. I'm no longer living in that area, so I wasn't able to see it happen." And what about projects? "Since 2007 I've been adapting the story of Final Fantasy VI into a graphic novel format. I'd say I'm about 10% done. It's been my favorite game since I was a kid and I am at my happiest when working on this project. You can follow along at www.ff6comic.com. One of the reasons I took on the above project is to get my cartooning and skills up to publishing level. I believe that comics, with its unique blend of words and pictures, makes a powerful format for storytelling. For this reason, I aspire to do long format graphic novels professionally."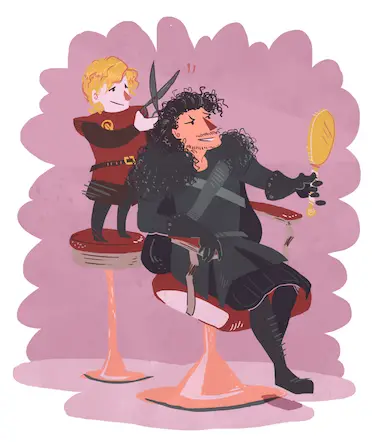 Your career so far? "My schooling path was very roundabout. Self taught and hesitant to major in art at undergrad, I studied something else entirely. The attitude I picked up from that school's art department was that only majors could or should make art (non-majors were forbidden from taking art classes). That hurt and affected my way of thinking for a long time. Years later, I took a few drawing and graphic design classes from the local community college, and it felt like permission was granted, somehow. It felt like coming home to myself. Last year I left my job in Champaign to do a year of illustration classes at an art school in Portland. The feeling of being an illegitimate artist persisted even as the year began. I worried that because I didn't have a degree, my ideas and techniques were inferior. I found out that my classmates didn't see me that way, and treated me like any other artist. On top of that, I learned about many self-taught contemporary artists who are running successful careers today. I still feel like an "art bastard" but am more okay with it now.
And what made you want to draw, if there was someone or something? "I think the reason anyone starts drawing is when there's an idea in your head and it needs to come out. Of course it doesn't look as good on paper as it did in your head. So you try again. You might also do it for the attention, in various forms, which is more of a reason than I care to admit. I'm equally parts inspired and discouraged by other artists around me. I think to myself, "I'll never get that good!". But that's not really a healthy way of thinking. Currently I'm having a lot of fun doing pieces with limited palettes. I get inspiration from the website Design Seeds which has palettes taken from photos."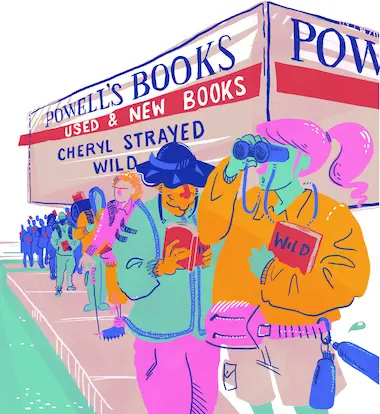 Tell us what you love in life, your passions, your hobbies, your vices, your little pleasures of everyday life. "Nah, I'm a boring person. I love reading graphic novels, keeping up with the new stuff that's being published. Together my husband and I enjoy exploring the natural areas around where we live. We do birdwatching and get our birds anywhere we can. I've been known to stop dead in my tracks to watch a crow waddle around the parking lot. I love the way seagulls land, because they spend a lot of time just folding their wings back in place. It needs to be just right, so they do this fold-fold-fold-fold thing until every feather is perfectly in place. But then they take off again in a second! And do the folding thing all over again. I love it. My vice is staying up too late and hating myself the next day. I'm not even doing anything productive at night, just killing time on the computer. The next morning when I gotta get up early, I'm like "whyyy"! lol."
If you had to tell your own FML, the most FML-esque thing that has happened to you, what would it be? "One night while cooking, I burned my hand on the oven, and burned it again in the steam of a dish coming out of the microwave, and then chemically burned it by handling hot peppers. Three types of burn and the meal wasn't even that good! Shoulda just ordered pizza."
And finally, do you have any advice for new artists? "You don't need anyone's permission to make art. Put aside any worries about being a "real artist" or a "bastard". You're making art, then you're an artist. Period. If you want to go professional, read up on the Graphic Artist's Guild (GAG) Pricing and Ethical Guidelines. Understand that your art is worth more than you're currently pricing it at."
There, that's it for this week, and what a cracking start to 2016! Thank you Julia for your enthusiastic replies, I didn't even feel the need to make wise-ass comments, which is weird for me. I leave you all with a big hug, a soppy kiss and wish you all the best for 2016. Be excellent to each other, and see you soon.

How about you then? Think you have talent and want to participate in an upcoming illustrated FML? Send us an email on [email protected], not forgetting to give us the address of your blog, or just some of your works.
#1567 - Illustrated FML - On 01/01/2016 at 7:32am by Alan - 2 comments