Simon's Xmas illustrated FML
It's Christmas, yay! Gifts and stuff are done, put down your knives and forks, scraps of paper and ribbons, no need for any more shouting matches with family members. We are happy to have seen them, but it feels good when it all grinds to a halt and the pressure stops. You can't choose your family, as someone said. Hope it went well on your side, because for us it was rather comical. I'd rather not to go into detail but let's just say that it's a bit blurry and our brains seem to have turned to mush. Our livers are going to feel like they are under attack for a few more days. And then we must do it all over again next Thursday! Speaking of livers, the Christmas special puts the emphasis on boozing. Check it out.
SIMON MITTEAULT'S ILLUSTRATED FML
"I
like it when it's a friend's birthday, because I give them a drawing. It's cheap as gifts go
"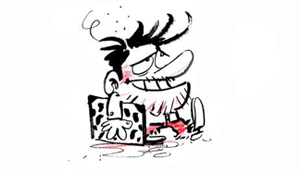 Self-portrait Simon par Simon


This week, Simon is here for Christmas. This lovely young man already did an illustration for VDM, the French FML, but it's his first time on FML, so be gentle.

His info:
Age: 32
Location: Bordeaux, France
Website: His blog or his Facebook page
His illustrated FML: The one with Santa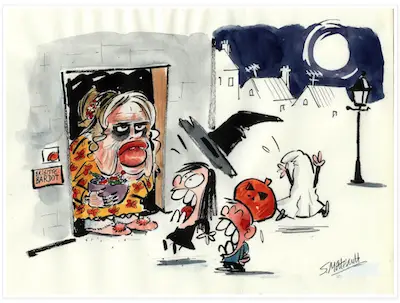 Simon sent us an e-mail to remind us of his excellent work for us and to say he was ready and willing to do it again. Our cat-like reflexes made us jump at the chance so we gave him a big green light, because his talent is undeniable. He covers his comics with loads of text, and we love his style!

What we like about Simon's work is the wordplay, the little details left, right and center on his comics. There are all funny, well thought out, and we always have a good time reading them. The examples in this article is as usual without any text in them, but go see on his blog what he does with words. Again, this proves that it is not enough to know how to draw nice comics, you must also have something to say. The stories, dialogue, all that is the core of comics. It's not all about being good looking, it must also say something interesting! Let's ask him some questions, but beware, he's not very talkative. He's much more talkative in his illustrations.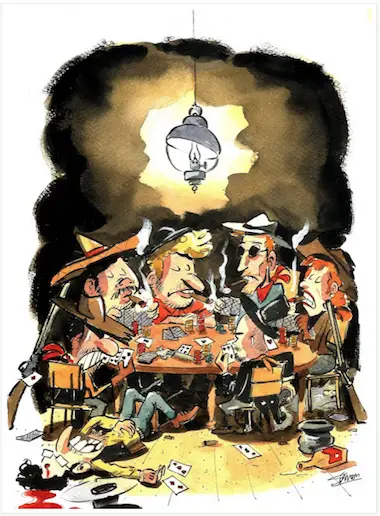 What do you do for a living then? "Drawings: comics, stories for kids, press cartoons, travel diaries..." We really do appreciate his blog here at FML, there's a little bit of a Reiser element in the way he draws, and he's not afraid to call a spade a shovel. What? Isn't that the expression?
And what do you like about what you do? What would you like for Christmas to help? "I like it when it's a friend's birthday, because I can give them a drawing, it's cheap as gifts go. What I'd like? Some friends." I don't mind being your friend, and you can give drawings anytime. My birthday is on the 10th of March. I'm just putting it out there, you never know. You people, reading this right now, get me lots of presents.

What's your educational background? "I did four years of studying at Tournai in Belgium (in St Luc and then at Art School) and then I went to Toulouse with friends to found the independent editions "Croc en Jambe", now based in Bordeaux. Speaking of which, we have a booth at the comic festival in Angoulême at end of January. Come along." OK, yes, we will come. Angouleme, we love the place, its sandy beaches, its sunny climate all year round, its festival that every year brings together illustrators from all around the world to meet with booze from all around the world worldwide. I'm exaggerating a little, but my friend Ronald Grandpey also presents his work there, and knowing him, there must be a way to get tanked up there.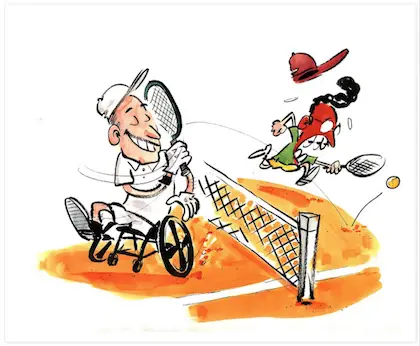 What's your news at the moment? "There's my book "Poil aux Zoreil" (Hairy Ears) that was recently published by the editor "Des bulles dans l'océan" (Some bubbles in the ocean) which is still a masterpiece. Other than that, I have two books I'm working on, "Henry the Radish", a children's story that's really well written (by me) and crudely illustrated by another guy (Johann Guyot) and which will be available in early 2016. I also started creating "Stars of French TV" an amusing comic book about cringey TV presenters and TV shows. Apart from that, I started a little collaboration with the magazine Psikopat (which is beautiful, cheap, no adverts, sold everywhere)." We'll go out get it when we have gotten over the cheap plonk we drank during our Christmas meal. Promise. It's not the best time to ask us to go do physical activity outside, we'll see about it later. Speaking of which, it's truly a tragedy that McDonald's doesn't deliver.
What made you want to draw, in the very beginning? "The magazine called Astrapi when I was 7 years old." Okay, short answer. Makes a difference from the usual answers like, "I've always loved drawing, ever since I was a foetus" but it does lack detail. Are there many artists you admire and that you follow via their blog? "I'm in love with Tronchet but he hasn't got a blog, the old fart." Ah yes, Tronchet, I love his stuff, especially for Jean-Pierre Tergal. A modern hero, who is a lot like all of us. Or is a lot like ME in particular.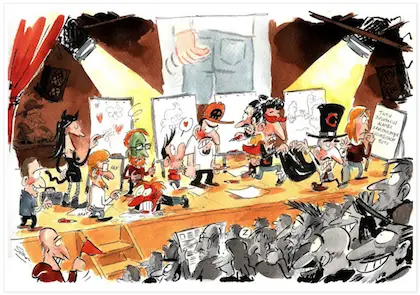 What are your everyday pleasures in life? Your vices? "I have no vices, and even less passions, come on, have a little decency." Yeah, it's hard to believe all that. We know from his past illustration for VDM that he's is a huge fan of the French game show host Julien Lepers, and he would really like his autograph (sorry, can't help you there). The thing is, in France at the moment there's a huge scandal because this Julien Lepers has been ousted from his game show host job for being… well, I don't know, too old and not pretty enough I guess. So I'm not sure what Simon makes of this terrible situation but he must be pretty distraught.
So what about your favorite stuff in music, cinema, etc.? "I went to see Les Croquants (The Crunchers) in concert the other day and it was great. Other than that, I read "Z as in Don Diego" by Fabcaro and Wander, and it was even better."
And finally, do you have any advice for budding new artists? "Forget it, get out of here and run." OK then, erm, we'll say that's a suggestion that isn't without merit, but you aren't obliged to consider it.
There, that's it for this week. Thank you to Simon for offering to do your second illustrated VDM, which is also your first illustrated FML, it was a pleasure to have you with us again. You can come back whenever you want. Next week is New Year's Eve, and I do not know if there will be an illustration to publish. Probably, but next week will be tough for everyone! Until then, Merry Christmas, happy holidays and be excellent to each other!

How about you then? Think you have talent and want to participate in an upcoming illustrated VDM? Send us an email on [email protected], not forgetting to give us the address of your blog, or just some of your work.
#1565 - Illustrated FML - On 12/25/2015 at 3:15pm by Alan - 2 comments