Mselle Risa's illustrated FML
Let's not kid ourselves, there's not a great vibe at the moment, globally. It's now the weekend after last weekend, the shitty weekend, the weekend when the wheels came off in Paris. Life goes on though. If we stopped publishing, if we stopped having fun, if we hid ourselves, if we were constantly afraid, if we cried non-stop, it would mean that the idiots would've have won. That's not going to happen, folks. So, here we are again with a brand new illustrated FML. Usually, FMLs is the day to day crap that makes you laugh, something that you can imagine living yourself. We will try to forget about the unimaginable, just so we can present the artist of the week. "Talking about something else doesn't mean we stop thinking about it, MOFO" - Sophie Marie Larrouy. Come on, let's do this.
MSELLE RISA'S ILLUSTRATED FML
"Strangely, I prefer chips to cookies, but if I had to choose a brand, I'd pick the classic chocolate ones from Lu."
Autoportrait Mselle par Risa


This week Raïsa is with us for the ride. This young lady is rather mysterious because I don't know how old she is. Or she just forgot to tell me. We'll call her by her nickname, Mselle Risa.

Her info:
Age: No idea
Location: Internet
Website: Her blog
Her illustrated FML: The short one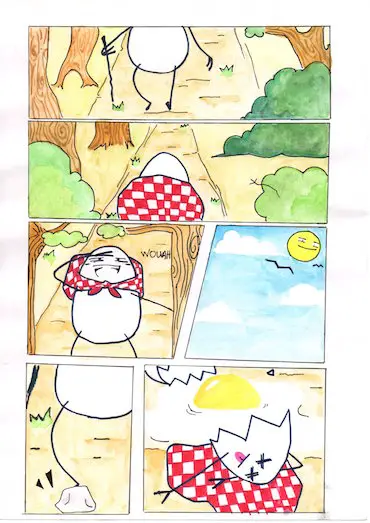 Mselle Risa contacted us some time ago with a well enthusiastic email. At the time, we were wary about agreeing because we were not sure how she would go about interpreting an FML, but we had been wrong to even doubt her talent for interpretation. Her illustrated VDM is rather clever and cute. And that's what we need right now, cute things. Kittens, candy and hugs. Speaking of which, this morning I was on the verge of offering to hug the girl who works in the bakery opposite my building (the one for which I have a boundless, unconditional love, albeit a secret one) due to the world being a shithole, and that we have to seize all opportunities to share moments of tenderness. Then I realised it was 7:15 a.m., I still probably stank of the previous night's cheap wine, and she certainly doesn't share this attraction, or desire to share tender moments. So I took my sandwich and I scuttled off without saying anything. Anyway, I digress.

Who is Mselle Risa? What is she up to ? "At the moment, I've decided to work while waiting to retake my accountancy degree. I've always loved to draw, but due to lack of time, I started to neglect my passion. This year is THE year I stop finding excuses. Before I was a little piece shit, drowned in piss-flavoured sorrow due to my degree failure. But now I am reborn ... I would say, I feel "Let it goooooo, let it gooooo" (big up Elsa). Ok, I'll get my coat." I said that if I heard a reference to that song one more time, I scream a scream of hatred and despair. I just did, I shouted, "WHAT IS LOVE? BABY DON'T HURT ME" out my window. But seriously? "No seriously. That's why I decided to create my blog and my Facebook page. A big step for me. In short, to answer your question, I can manage things and do whatever what I want. Take more time to draw, practise so I don't lose my touch." Practise makes perfect. Or is that plastic surgery? Nah, have you seen those people?
What do you like about what you do? "Knowing that for once, this is my own little universe. Having this sense of control. "I've got the power", as my friend Jim Carrey would say." Wait, what? Jim Carrey? What a younger person's mistake. I'm an old fart, I'll educate you. It comes from "The Power" by Snap. What a great song, so many memories of not scoring with girls with that playing in the background. "What I do, what I create, it all belongs to me and I cherish this power. I draw for me. How cool is that? You know, that moment when you have an idea, you get to transcribe it perfectly on paper. And finally, for a moment you giggle like a fool while drawing? That's what I love. From the moment my own drawings make me laugh, I know I'll be able to communicate that to at least one other person." The pleasure of making people laugh, I know that desire and heady rush. It's a personal pleasure, too, although I prefer to do it via words and Facebook statuses for the moment! And what you need to complete your happiness? "Oh god, a drawing tablet! Thanks to Christmas and the generosity of others, which I hope will be huuuuge and my own money of course, my goal will be achieved. At the moment I'm working by scanning my stuff, but it would be a real plus to have a small tablet. I already idealise it in its bassinet. Yes, I said bassinet." I hope you get it. And while we're on the subject, I would like as a gift a whole bunch of money. Lots of money to go on vacation. And buy me a giant cat tree thing.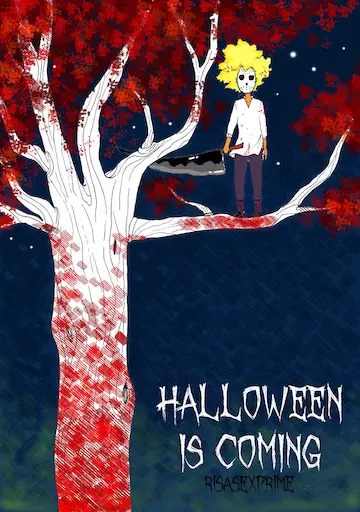 What's your news then? "I'm just starting to find a good rhythm for my illustrations. I have to feed my baby blog. So for my news, I will say my blog. There may not be many items, but everything is homemade with love, all sprinkled with humour." And your projects, apart from your blog fed with love and humour? "Publish a comic book. 5 years ago, a crazy idea, which should have remained a joke amongst other people, took shape on paper. When I'm done and I feel ready to share, I'd really like to publish it. This is one of my main goals, if not my dream. Although, it's a dream, it doesn't mean that I'll succeed... I know that drawing isn't my profession, I'm not an illustrator, I have no training as such, but it does not undermine my resolve. And also, maybe nobody will engage with the story. But never mind, I must do it, even if it comes out when I'm 100. Yes, I also plan to live a long life." I don't recommend it. My grandmother is 97 years old and she complains about it. She bored, and will say so to anyone who will listen. So I guess we might as well eat badly and booze away.
What made you want to draw, at the outset? "My big brother. I was 6 years old when my brother amused himself by copying Dragon Ball Z, to draw Goku. The girls in Nicky Larson. Me, like a sheep, did the same. It started like that. And so on for all the cartoons I saw." This seems to be the right school for learning how to draw for a lot of illustrators.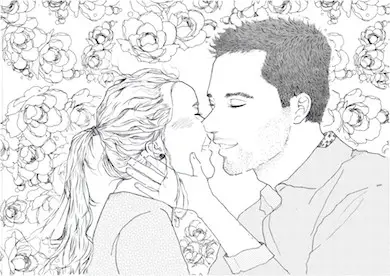 Your little pleasures in life? "I love cooking and eating. A perfect combination. Those who know me know that I love snacking. Watching TV shows and reading books. Making origami objects. But drawing remains my ultimate hobby!"
How about a personal FML if you have one? "One winter morning, (I say this because it was still dark), I left the bus to trundle to class. My eye was caught by a beautiful cat by a hedge near a store. There was nobody around, so I jumped at the chance to see him. While stroking him, I felt sorry for him, it felt from his rough fur that he'd lived for a long time in the street. Then our eyes met, and I noticed that his were all lifeless, and I realised that the cat was dead! You can imagine my scream." Ewww! That's awful ! Yes, OK, I'm a crazy cat lady. Poor cat.
And finally, do you have any advice for new artists? "You must give yourselves the means to succeed. Nothing is impossible, only limits that you impose on yourself. If you know that your artistic background is weak, draws as much as you can, to acquire a solid foundation."
There, that's it for this week. Thank you Mselle Risa for your illustrated FML, it was a pleasure to have you amongst us. Next week, it'll the turn of a horse that paints with its tail but only if a dog is looking at him and barking. It will be fun, I promis. I leave you with a band that was little known until recently, who did an excellent cover of an excellent song by an excellent band from the '80s. See you next week, be excellent to each other, and everything will be alright. I think.

How about you then? Think you have talent and want to participate in an upcoming illustrated FML? Send us an email on [email protected], not forgetting to give us the address of your blog, or just some of your works.
#1557 - Illustrated FML - On 11/20/2015 at 10:50am by Alan - 1 comments