FML's Question Time #5 : Halloween - seen a ghost?
The competition is OVER! We have a winner!
We read though your stories and agreed that RoseBudx's tale was the most worthy of winning an FML book. It was well written, quite the yarn. So she'll be receiving her copy as soon as we can send it to her.

Thanks to everyone for taking part, we hope you had a great Halloween.
--------------------------------
Halloween might be the agoraphobic pedophile's favourite night, but here on FML we're less enthusiastic. It's Halloween this 31st of October, and it's a Saturday. That means a lot of kids will be out ringing doorbells, slinging shit at porches and whining if you don't give them sugar-coated spiders. As you can see, we're not getting into the spirit of things. So, instead of being miserable bastards, we thought that we'd get really involed. You see, this part of FML is all about asking you lot a simple question, and letting you get on with it. It sparks a debate, an exchange of ideas, and sometimes an exchange of bodily fluids. No, not really. Although we can live in hope, eh? Anyway, lets get down to the nitty-gritty of scaring the life out of each other. You might even win something this time.

To sum up the idea behind this column: we ask you a question every month or so, and all you'll have to do is give your opinion, back it up with stories or something you overheard while getting your tyres changed by a guy with a mullet. What we are looking for are debates, exchanges and comments. There are no limits, feel free to express yourselves and get stuck in.

This time around:

Are ghosts real, or is it all a load of ectoplasm?
Tell us about your encounters with the spirit world.


The question, if it isn't that clear, is to determine whether Halloween and all the idea of ghosts, monsters and ghouls is all a figment of our imagination, or is it based in fact. A lot of these celebrations and holidays are purely commercial. It's all about the money with these things. Valentine's Day, Chrismas, Ebola... So, do you reckon all of this is true? Are ghosts real? Have you seen one? Tell us your story.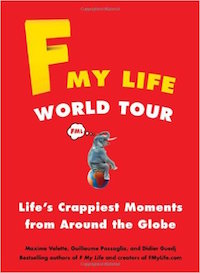 This month, to spice things up, we're adding a prize for the best story told!
The best story wins an FML book (the winner will be evaluated on the amount of thumbs up + our totally arbitrary judgement). Tell us your scariest story. But it has to be true. Or true-ish. Make us shiver. We need to be able to tell other people at midnight on Saturday night, on Halloween nights for years to come, the tales of your encounters with the ghost of the guy who was murdered in your house, the tale of the ancient burial ground underneath your bed. You know the sort of thing. The best story will be sent a book, to celebrate the fact that you spun quite the yarn!
Like the times we did this before, to start you off, we've asked a few people what they thought about the whole thing.
"Halloween is the only day of the year I can leave my apartment building and not be too worried I'll be mobbed by fans, because they're all wearing my crash helmet and skirt." - Darth Vador
"Halloween is just another example of the way the patriarchy is trying to impose onto women its vision of a male dominated society, I mean, come on, the movie is called The Mommy, helloooo, it's in the name, like, moms are evil, hey, where are you going, come back, I need a cup of salt." - My next-door neighbour, the sociology student
"Halloween ? I love Halloween, I get to dress up in crazy clothes. One day in the year when I just don't give a shit. I saw a ghost once, it was dancing across the ceiling, I'm guessing it was Lionel Richie, but he isn't dead so fuck knows." - Nicki Minaj

There, you get the idea.

Don't hesistate to tell us all about the ghostly stories you've lived, the Halloween parties you've organised, or the ones you've thrown up at, your besti disguises… we'll take anything you can throw at us!
Right, time to let your opinions and experience loose. Work can wait 'til Monday, procrastinate a little.
#1552 - About FMyLife - On 10/30/2015 at 1:23am by Alan - 123 comments