G.E. Gallas's illustrated FML
Hardcore will never die, but you will. We're back with some rock n roll, or dare I say it, some punk rock. Don't run away, it's not that terrible stuff that emo kids listen to while slashing their thighs, it's the real thing. Not the corporate-sponsored, over-produced kind. Anyhoo, this week we've been fighting against our inner demons while revisiting our record collections, and celebrating the return of New Order with a cracking new album. This week's illustration will make you want to travel back in time to New York City and hang out with Talking Head, Lou Reed and Iggy Pop, or maybe watch re-runs of Starsky and Hutch. Who knows? Anyway, that's enough Generation X nostalgia, let's get on with the interview.
G. E. GALLAS'S ILLUSTRATED FML
"One of my favorite restaurants is Rai Rai Ken in the East Village. I love going there during happy hour to eat pork buns and gyoza while listening to the J-Pop they always play."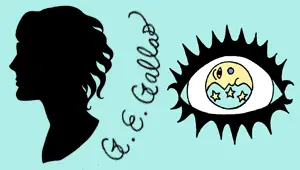 Self portrait G.E. by G.E. Gallas


G. E Gallas. I don't know what the G and the E stand for, but I'm pretty sure we can find out what her full name is somehow. Or just guess. General Electric? Probably not.
Her info:
Age: 27
Location: Washington, D.C./Gaithersburg, Maryland
Website: Her blog
Her illustrated FML: The one with time-travel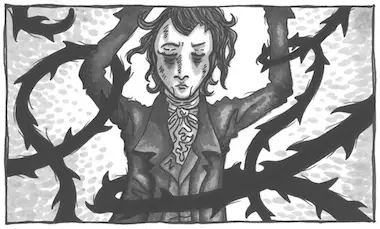 This week's artist is quite arty. I don't mean that our other illustrators are boorish yobs, I mean she has this American Gothic, NYC art school quality about her work. Does that make any sense? Probably not. I can imagine her listening to the wonderful Velvet Underground in a tiny NYC apartment, typing out a short story about a man who learns how to see though walls, but who loses a pair of shoes each time he does it. Hmmm. I'm not making much sense today, I really need to cut down on the bootleg cheese. G.E. contacted us a while back, and as you can see, her work is quite striking. It's pretty rare for an American artist to contact us, so we said yes. She'd already set her heart on the FML, so we were away to the races, up and running, well chuffed. Let's find out more about this mysterious person and what she does.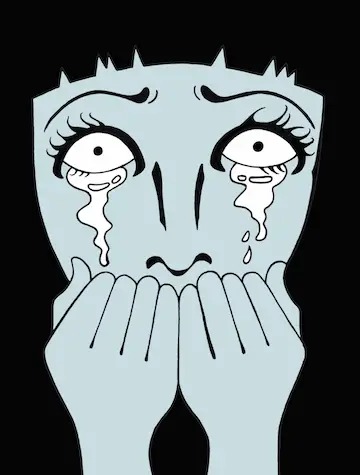 So, what do you do for a living? "I'm a freelance writer and illustrator! My illustrations are featured in the young adult title Scared Stiff: Everything You Need to Know About 50 Famous Phobias by Sara Latta and the non-profit self-help book Do More Good. Better. by Steve Scheier. Moreover, I'm a graphic novelist working on a series called The Poet and the Flea about the poet-painter William Blake. While working on The Flea, I've become a self-taught Blake scholar and have spoken upon invitation to The Blake Society (London), Yale University School of Drama, and Germanna College (Virginia). As you can see, I'm very interdisciplinary!" Ah, William Blake. Most famous amongst bad music lovers for the band the Doors taking their name from one of his texts ("the doors of perception"), but also a great inspiration to many. I live by the notion that "the road of excess leads to the palace of wisdom". I've not yet reached wisdom, but by jove I'm enjoying the road.
Where do you come from, school-wise and studies and all that? "I am a graduate of New York University: Gallatin School of Individualized Study, where I created my own major: a cross-cultural study of storytelling within film, literature, graphic novels, etc. I've been studying Japanese language and culture for over 10 years and spent my junior year abroad in Tokyo, Japan. I've interned at the Cannes International Film Festival as well as Zest Books, a young adult nonfiction publishing company in San Francisco. This year, I volunteered at BookExpo America in Manhattan and attended New York University's Summer Publishing Institute." Quite well traveled then. And you've been over to France, home of FML and VDM (the mothership). Some of you might not know this, but FML is originally French, and is run in France. So stop sending us e-mails about the US constitution and US laws, they don't apply to your "right" to "the freedom of speech" to post comments calling strangers on the internet "whores" and "sluts". The Cannes Film Festival is quite the blast over here, you must have enjoyed yourself!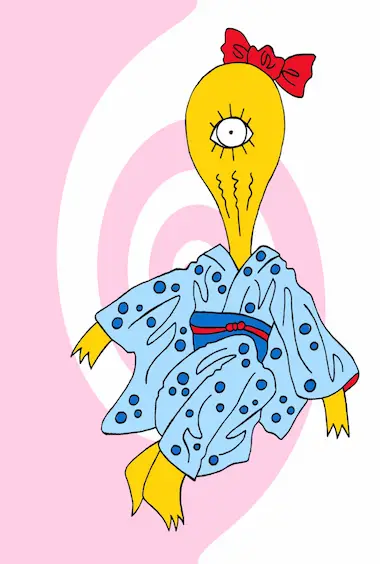 What are your plans, work-wise or personally (if we can go there)? "For the anniversary of William Blake's death, I was interviewed by the new blog Glommable (you can check it out by clicking on this link). I will be exhibiting for a third time in a row this September at SPX (Small Press Expo) in Bethesda, Maryland." And what sort of ambitions do you have for the future? "As I mentioned before, my current project is the three-volume graphic novel The Poet and the Flea about William Blake. The script for all three volumes is complete and I'm almost finished illustrating the first volume, which I've very excited about. The graphic novel's main antagonist, The Ghost of a Flea, originates from a miniature painting by Blake of a muscular and menacing creature that is said to have haunted him. I have so much fun working on this project because I try to incorporate Blake's unique style into my own and there are so many interesting characters, costumes, angels, demons, and cityscapes to draw."
What is your inspiration, is there someone, event or something that made you want to start drawing? "I've been telling stories through words and images for as long as I can remember. My mom's an abstract artist and my dad (a lawyer) is very artistic, so they've always been very supportive. During elementary and middle school, my biggest inspirations were Edward Gorey, Hergé, and Ai Yazawa, all of whom inform my work even now. I've saved many of my old sketchbooks, and it's wonderful to take them out on occasion and see how far I've come." Any heroes you'd care to mention? "Joseph Campbell! I often joke that his The Hero with a Thousand Faces is my bible. For those unfamiliar, Campbell's masterpiece is about the universal hero's journey, which I use in my own writing as a formula or foundation for storytelling. Campbell has been an inspiration to me since high school and was an important fixture in my self-designed major."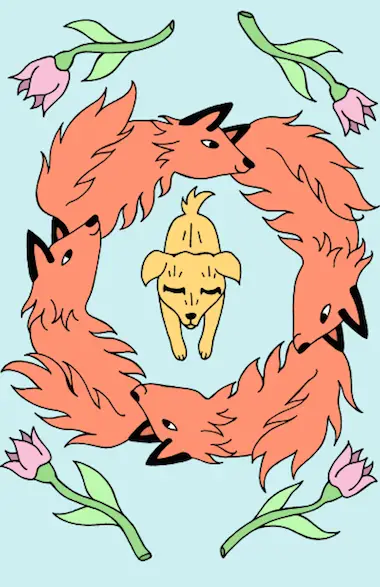 You chose an FML containing the glorious Ramones. What sort of things are you into? "My taste in music is very eclectic, so one minute I'm listening to the Japanese jazzy rock song "Kamisama, Hotokesama"(God, Nor Buddha) by singer-songwriter Sheena Ringo and the next I'm listening to Verdi's aria "Di quella pira" sung by the German tenor Jonas Kaufmann. I'm a huge movie buff, so asking me my favorite movie is a very tough question to answer. But my all-time favorite film is The Manchurian Candidate (1962) starring Frank Sinatra, Angela Lansbury, and Laurence Harvey. It's the kind of movie you can watch a hundred times and notice something new and exciting every time. I just finished reading all 650-some pages of Earthly Powers by Anthony Burgess (who wrote A Clockwork Orange). It's actually my mom's favorite book — she's read it at least three times. I was completely blown away by it! As for television, I can't say enough good things about Hannibal and am so sad that it was canceled. Right now, they're into the Red Dragon plot line and I get such a kick out of all the Blake references. And comics: I'm thoroughly enjoying the deluxe anniversary edition of Tove Jansson's Moomin, the famous Finnish troll that looks more like a hippopotamus."

What do you enjoy in life besides all that? "One of my favorite pastimes is visiting museums! Since I grew up just outside of D.C., I was constantly visiting museums with my family or on school field trips. While in New York this summer, I tried to go to a different museum every weekend. I really enjoyed the new John Singer Sargent exhibit at the Met and the Lewis Carroll exhibit celebrating 150 years of Alice in Wonderlandat the Morgan Library. A few years ago, I was in London for about 4 days and visited the Victoria and Albert, Tate, and British Museum. I'd love to go back to London in the near future to continue exploring their amazing museums." Well, if you're even in Paris, give us a call, we'll show you round the place.
That'll do for this week! Thank you G.E. for your extensive replies and your excellent work. And your great taste. The Ramones rule. Next week, we'll be back with another installment in our quest for the ultimate illustrated FML. In the meantime, enjoy the beginning of the third world war that seems to be taking place at the moment, check out some horrible people getting their comeuppance, and be excellent to each other. See ya!
And how about you then? Think you have talent and want to participate in an upcoming illustrated FML? Send us an email on [email protected], not forgetting to give us the address of your blog, or just some of your work.
#1546 - Illustrated FML - On 10/02/2015 at 4:34am by Alan - 6 comments