Kim Chaing's Illustrated FML
Last week it was Auntie Bernie's explosive return, with her grenade-like advice. We're returning to normal programming this week, with something softer, namely a very cute illustration. It will be like this from now on, one Friday per month will be booked for Auntie Bernie to do her thing, with other Fridays set as usual. It'll allow me to take a break, and rummage the net looking for new artists to offer you on here. Well, anyway, how are you guys? Here in the FML offices, we can feel the autumn cold coming on, to the point where we've put on our sweaters and Peruvian hats. It's so depressing, I've resorted to trying to cheer myself up by pigging out on chocolate stuff and going to chat with the girl who works at the baker's across the street, because I have a huge crush on her. Will she know one day? Who knows. Come on, let's go check out the artist of the week, with sun in our hearts and a smile on our arses.
KIM CHAING'S ILLUSTRATED FML
"I'm terrified of heights. Which doesn't stop me from living on the 14th floor of an apartment building, surprisingly."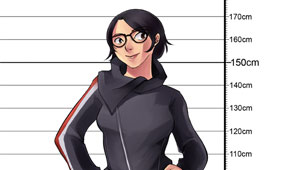 Self portrait Kim by Salayanara


Kim is also called Salayanara. It's hard to say out loud, or type without looking at an example, so I'll call her Kim. Because I'm lazy.
Her info:
Age: 39
Location: Paris
Website: Her blog
Her illustrated VDM: The one with the coconut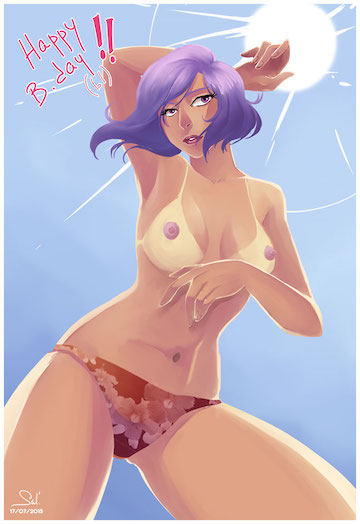 We're venturing into the wonderful world of Kim. Let's talk directly to her. She sent us a mail in the middle of July, when it was hot and we were sweating profusely in our boxer shorts (well I was, I don't know if Kim wears boxer shorts) and I could straight away feel her determination to feature on FML. I had a look at her blog, I threw my hands up in the air I shrieked my shriek of joy: "SPLISH SPLASH I WAS TAKING A BATH!" So she started creating her artwork, after we agreed on the story she was going illustrate. Well, I'm not going to explain how it all works. If you're an illustrator and you want to know how all this happens, write to the address below and take part.

So, what does Kim for a living? "Currently I'm looking for a job as graphic designer / web designer, having worked for almost 9 years in a video games company. Meanwhile, I take care of my little boy who is eight months old, I play video games, and of course I draw! " Yes, so you do nothing, you lounge around, says the right-wing side of my brain. "It's easy to find work," it says. "There's jobs everywhere, you just have to look." OK, I'll return to reality. If professionals are in the area and want to offer her a job because they like her works, they shouldn't hesitate to contact her!

What do you like about this job? "I like to be able to do a bit of everything, even though drawing is mostly a hobby for me. What I miss, however, is time! You know, taking care for a baby full time isn't easy, even though I love my little fella! Luckily, I still manage to draw between two diaper changes." Is there something missing that would make you happy? "Oh, what I miss is a built-in fan for my graphics tablet. When it's hot, and that was especially true this summer, I can no longer draw, otherwise I run the risk of ending up baked by the heat of my gear. Yep, we all our problems." I guess it could be good for fried eggs, or shrimp 'a la plancha', right?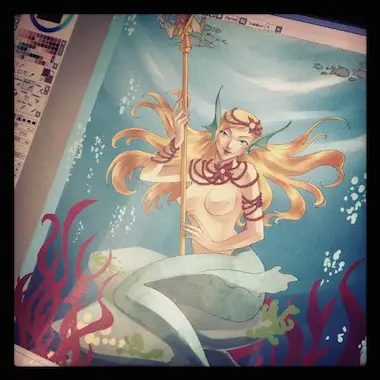 Tell us your news! "I've only just took up comics again, the last time I did them was in college, that's how it long ago it dates! I'm currently taking part in a comics contest, it's the first time you can read a story of which I'm the author on the net because this is my first finished project. When I think of it, I'm a little moved." The story is here, in French though. Yeah, in college I spent my time boozing and playing "Wonderwall" on the guitar to try to impress Maïder A., ??a brown-eyed Basque girl who had dark eyes and... Maïder, if you read this, know that... no, nothing.
Where do you come from, school-wise and studies and all that? "A literary diploma in my pocket, I then studied visual arts at the Paris 8 University, because I couldn't go to a cartoon school (too expensive and too far away). I then turned away from the artistic career path, working in customer service, before moving to a famous publisher of video games, then giving in my resignation last year to try my luck in an area that I feel most at home: webdesign." That's beautiful, giving up everything to get started in pursuit of her passion. I tell myself that one day I would like to give up everything to open a fishing store or a bar full of whores, but I have to find financing first.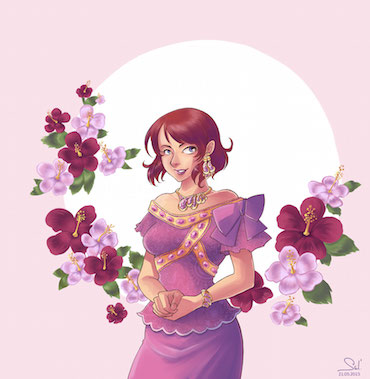 What are your plans, because you have recently changed your plans? "For a start, find work, because I must! And then do more comics. I have tons of projects that ended up gathering dust over the years, and I want them to see the light of day for real." Indeed, getting job is the first step. As I said above, if an artistic director or a professional person likes what they sees, they shouldn't hesitate to go through us, or contact her directly. At VDM, we like to make people happy! We're not necessarily about rotten stories.
What is your inspiration, is there someone, event or something that made you want to start drawing? "I was about 4 or 5 years old when I wanted to make drawings in a more concrete way: I was at a friend of my parents' at the time, and I saw two big girls, a dozen years old, draw in a corner. I was so overwhelmed by what they were doing, it made me want to do the same. Ever since I've never stopped drawing, even if I've not made a career out of it yet." Ah but it will happen! I wish I could be a musician, but I'm far from the musical talent you are at drawing. I try, I sometimes play in concert with a small band, but hey, I'm not as technically proficient as I should be. There's no reason that your talent doesn't turn into petro-dollars soon.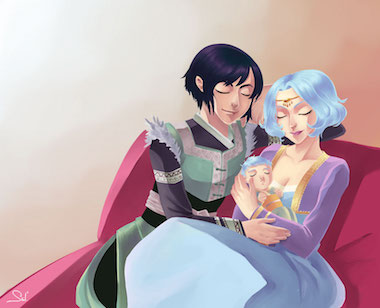 Tell us what you love in life, your passions, your hobbies, your vices, your little pleasures of everyday life? "Video games are my second passion, I've played ever since I was a kid. Even though in recent years I've played less, I remain attached to certain MMORPGs like World of Warcraft or Ragnarok Online, Otherwise I love cooking, and as I like to eat well, the two belong together, haha." I share the latter passion, but in terms of cooking, it's catastrophic. So I'll invite myself over to set myself down at the table, okay? Because, well, that I do know how to do, turning up to stuff myself, empty the bar and run off. And your latest favourites in film, music, books, TV series and / or comics? Stuff to recommend us? "I'm not a film buff, and indeed outside my PC, I'm not into either screens, however I'm obviously a fan of comics and manga. My big current fave is "Bride Stories" by Kaoru Mori." Well, not much going on then, eh? So I'll say I saw Morrissey in Paris. That's all. And it appears that a girl released an album called "Poparoïd". POPAROÏD! Preposterous.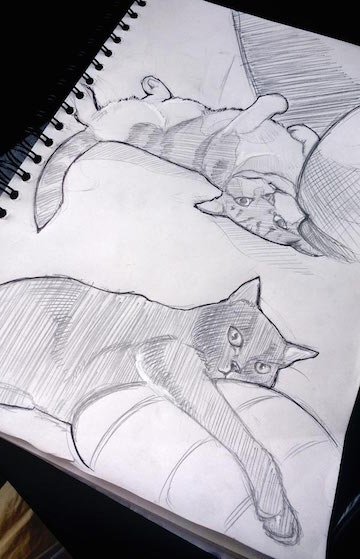 Well, and what's the most FML thing that happened to you? "Ah well some time ago I read an FML that happened exactly the same to me as the author, I had used mouthwash without diluting the product as shown in the leaflet, I shed tears before realising that I should have read it better. Besides that, my life is unfortunately not as thrilling to the point of making an FML out of it (and I tried)." I admit that events rarely happen where I've thought, "Hey, that would make a good FML," and yet I work here. That may be why, fear of rejection.
And finally, do you have any advice for new artists? "Big question! I would say that for beginners, it's best to start by learning the basics. When we start, maybe we tempted to reproduce the drawings of an artist we admire (I started like that too) except that we don't always learn very well in this way, and that quickly ends up reaching its limits. Not to mention it also runs the risk of repeating the mistakes of the artist that you're copy. Now this is a bit daunting and not very sexy, drawing from actual models to understand the structure of objects, and shapes and observe and learn the theory from books or tutorials, this is the best school for me. And of course, draw every day, if that's for 5 minutes, no matter what you draw. But most important, it's still the motivation and discipline. Without that, there's no progress."
OK, let's fold up our sketchbooks for this week! Kim, thank you for letting us feast on your talent and your patience. Next week, we get the daughter of the King's henchmen. But before that, we will have a fun weekend celebrating Natacha's birthday (no, not the flight attendant, the other one) and then we will dance to funky-ass music to forget death and we will meet up again within a week. OK? If possible, call your parents. Do it now, believe me. Be excellent to each other and don't be a cunt.
And what about you then? Think you have talent and want to participate in an upcoming illustrated FML? Send us an email on [email protected], not forgetting to give us the address of your blog, or just some of your work.
#1545 - Illustrated FML - On 09/25/2015 at 11:02am by Alan - 5 comments