RoSaCe's illustrated FML
Back to business! Yep, everyone is back from their vacation, unless you're a rich, childfree, lovin' life-type of person who doesn't go on holiday when everybody else does, and can do whatever they want, whenever they want. Lucky you. We've put our beach towels and swimming costumes into storage ready for next year, and we're settling back into our old routine. Like, for example, being depressed, "watching the telly and thinking 'bout your holidays," bad personal hygiene and remembering the annoying neighbours and their shitty music blaring at 2 am, every night. To soothe the pain and suffering brought about by not being in a camper van near a lake anymore, let's check out this week's illustrated FML. So chic!
RoSaCe'S ILLUSTRATED FML
"
I also love nice jackets, suits and shoes. It's a passion than quickly become quite expensive, so I've become the king of second hand shops!"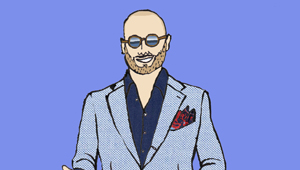 Selfportrait RoSaCe by Croquis Sartoriaux


To feel like we're back in the saddle, RoSaCe has done an illustration for us. A new school year has begun, so we're overhauling the format a bit. Just a bit, though.

His info:
Age: 32
Location: Paris, France
Website: His blog
His illustrated FML: The one about Asia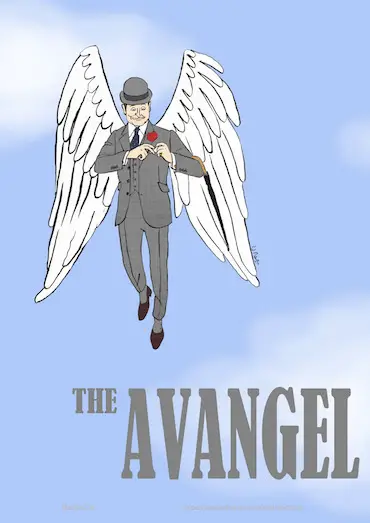 We asked ourselves what the people who come to this page would like to see? There are FML members who come here to learn more about the artist of the week, and to find out who the hell created the weird-ass artwork. Others want to see the illustrations we've selected to go with the article. So, we thought it would be a good idea to add a few more drawings and stuff by the illustrator, all taken from their website or blog. How great is that? For those of you who read the words I type out while I'm sitting in my hovel under a smelly bridge, it'll be more or less the same. The jibberjabber will be kept to a minimum. There will still be a bunch of jibberjabber though, and this sentence is proving my point because I can't think of a way to end this bit, so I'll just paste in a link to a animation, click on it. But if anyone has a suggestion for these articles, and/or something you would like to see featured on here, drop us a line in the comments down below. No requests for pictures of my arse, though.

Let's move on to this week's artist, because that's what we're here for. "I work for a headhunting company." Don't get worked up and start thinking he's talking about the shrunken heads of faraway tribes in weird places like Gloucester, it's got nothing to do with all that malarkey. He helps people to find jobs, even when said people aren't actually looking for one. Yes, it does happen. And does he enjoy doing what he does? "I enjoy challenges, the relationships I have with my clients as well as the people I'm hunting down (who can also become clients too!). In my artistic world, I like having ideas and then being able to make them into an illustration that will have an impact. This comic strip for FML is a new exercise for me, I usually only draw one frame!" Oh, yep, that sort of illustration wouldn't have made it past the rigorous selection committee that we have here at FML; studies have shown that one-frame comic strips are 61% less successful than the rest. I completely made that statistic up, but that doesn't stop it from being true.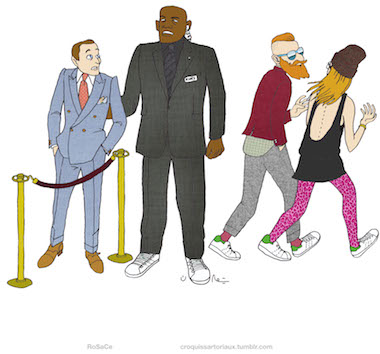 How's the rest of your life? "My personal life revolves around the fact that I love being with my wife and kids!" I should hope so, saying the opposite would've been weird (even if I know people who say the same, and mean it).

RoSaCe's blog is quite unusual. Based on the world of fashion, his illustrations are original and I recommend you go an check them out, especially if you like fashion, and if you're a fan of subtle humour (although a degree in French is required). He's also created advertisements for clothing companies, which allows him to mix business with pleasure. Click here to check one out.

Let's ask the usual question, what sort of things is he up to at the moment ? "I'm sort of 'specialised' in men's fashion, so I've done quite a few adverts for various fashion brands, as well as for some websites, and for some companies who needed corporate communication items. I should also be creating a cover for novel, a very exciting project for me." That's lucky, this weekend it's the Who's Next expo in Paris, and that's bang right in the theme of this article. It's almost like I did it on purpose. OK, I've already said something like that a few weeks back about an illustration that was in tune with Japan Expo, but still, it was totally planned. Like, totally man. Yeah.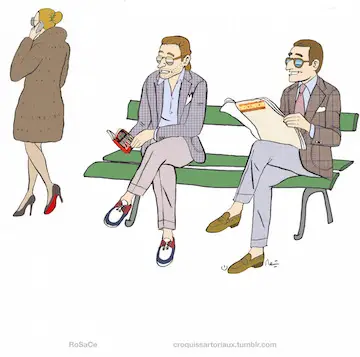 What's your story, dude? Can I call you dude? "I studied law and went to business school. I stopped working for a year so I could concentrate on my illustrations, and I'm dipping back into the job world to support my family." That's honorable, family is everything. Or is it booze? I can never remember which one is which.

What are you inspired by? Was there someone or something that made you want to start drawing? "My daily life is my main source of inspiration, my exchanges with my readers give me new ideas. As I'm very much fixated on "men's fashion", it's a very active microcosm, where I've been able to use forum culture, ie. people who post on fashion forums and the main movers and shakers in the industry (companies, brands, bloggers, clients, etc.). As for drawing, I can't really remember starting. When I was 2 years old, my parents would find me at 2 am in the living room reading comic books, so I've always been immersed in it." I was also immersed in the whole genre, but I'm still as shit as drawing as when I took over this blog section. I did consider posting an illustration of mine every week, but my characters always end up looking like extras from the Walking Dead. I don't have that magic touch, unfortunately.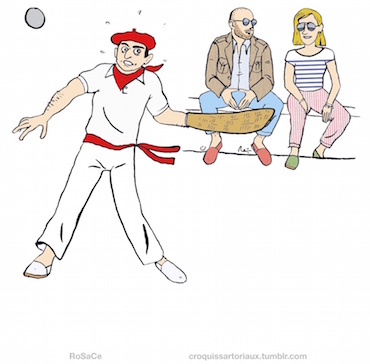 As for your projects, what's going on? "Developing new collaborations; I'd like to work for press organisations." Let's hope that this column and his illustrated FML brings him some interest from prospective clients.

What else do you enjoy in life? What sort of pastimes do you like? "Between my job, my drawings, my wife and rugby (I've been a rugby player for over 20 years), I'm quite happy with the way I fill my days at the moment! Other than all that, I like nice jackets, suits and nice shoes. It's a passion that can become expensive quite quickly, so I've become the king of second hand shops!" His passion for clothes is in tune with his blog, he's definitely a collector, and I can only imagine what it's like in his house. It must be like Ali Baba's cavern, but a bit more dandyish. With not much in the fridge because all the cash has gone on clothes and shoes! Be careful with your money, sunshine. It's all very well being nicely dressed and stuff, but you might end up being the best-dressed homeless guy in your post code!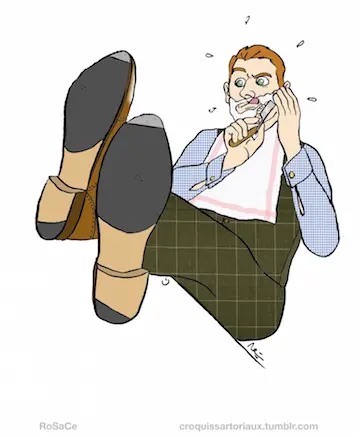 Who are the main artists you like and whose blogs you check out? "The master Boulet of course and Laurel, whose Californian adventures I check out all the time. I follow Monsieur le Chien (Mr Dog) whose observations are very good." Do you have any heroes? "No heroes as such, but I like the literary works of people like Jean Raspail, Jean Christophe Rufin, Dino Buzatti… In the comic book world, I really like, in no particular order, Pratt, Manara, Trillo, Lauzier, Voutch, Sempé, Faizant…"

Got a personal FML you'd like to share? "I'll spare you the stories about babies and poop and vomit everywhere. I had a job interview at 2:30 pm and my shoes were at the cobbler's. I get on my scooter wearing a suit with some flip-flops, thinking I'd put my shoes on once at the cobbler's. I get there at around 2:10 pm to find he was on a lunch break from 2 pm to 3 pm. I was on the verge of having to choose between turning up for the interview in flip-flops, or arriving properly dressed but 30 minutes late. Luckily, it all turned out fine in the end." Now, great story, but riding on a scooter is dangerous. Not because it makes driving tricky, but because if you have an accident, you might end up with skinless feet. Damn, I've turned into a boring old fart.

That'll be it for this week. We can now go off to look for clothes, shoes and a whole new visual identity. I'm sure that RoSaCe would be happy to give you advice, or more specifically, make snide remarks about your dress sense, you badly-dressed muppet! As for me, I'll see you next week. Remember to be excellent to each other and stay safe (no flip flops on your moped, capiche?).

What about you? If you think you've got talent and want to contribute to the illustrated FML, send us an email to [email protected] but only send us your blog's address and a few samples of your work. No need to create an illustrated FML straight away.
#1539 - Illustrated FML - On 09/04/2015 at 5:46am by Alan - 6 comments