Auntie Bernie replies #1
Hello all you crybabies, from Land's End to John o' Groats. Yes, I'm finally here my lovelies. Since last week, my inbox hasn't stopped humming with the noise of new mail dropping into it, letters full of words straight from the hearts of lots and lots of troubled young people. They all appear to be in great pain, and frankly, I've been waking up in a cold sweat ever since. What on earth is wrong with this spineless generation? Where are their parents? Whatever happened to dealing with things with a stiff upper lip? Right, time for this week's verdict. I'm at my desk and the dog is peering at me suspiciously from his basket. I hope you're ready for this.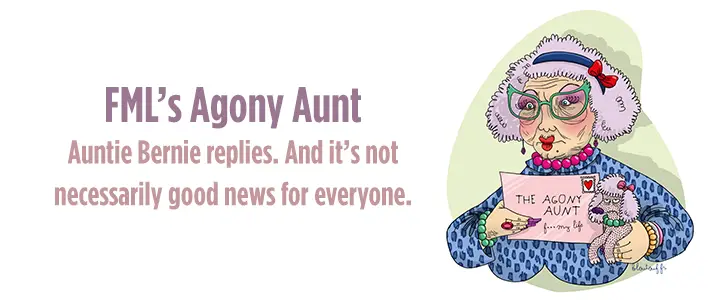 This is what's going on right now: Last week, you were asked to write to me if you needed assistance with any personal problems you might have, with the promise that I might give you advice this week in this very same column. It was last week, people, get a grip. Don't you remember? Go back and read what my friends from FML wrote, then come back. Have a little musical interlude in the meantime.

(Communist kids singing for their Red leader)

There, remember now? Up to speed? So, some of you wrote to me. And what a disaster it was, you young people certainly know how to depress the living daylights out of me. I don't what's worse, the comedians with their little "jokes" about my age, my looks or my dog, or the weird questions that smacked of "Look at me, I'm so random!!" Luckily, some of you sent me some actual messages that I could look into, even if they were so boring I had to take some extra medication to keep awake, I've selected a few that I can use today for your entertainment. I mean… that I can use as educational tools to help soothe the pain.

Modern romance

Our first case of the week involves preggoeggo68 :

"My fiancé has no clue how to court me, or romance me and doesn't seem to understand that when a girl says I don't need that, it doesn't mean she doesn't want it. Even when I explicitly state things I want now he says he doesn't know how he would do that and gets frustrated. How do I get through to him without making him mad at himself?"

First off, what kind of a name is preggoeggo68? Were you drunk when you created your account. I hate that word, "preggo". It's so boorish. So that's bad enough, but dear… your man sounds like a real nitwit. Is he the kind of guy who calls his car "her" and who plays silly video games instead of taking care of your delicate flower? You need to get up into his grill, honey. Otherwise, he's going to walk all over your ass. Don't believe that something as subtle as stating you don't need something hoping he'll get the hint that you actually want it isn't going to work. And if when you say you want something, he doesn't bring it, well… cut out what he likes. Apple pie. Cleaning his dirty, piss-stained underwear. Hand jobs. I wonder what attracted you to this man in the first place. You need to reevaluate everything, sweetie. Otherwise I'll be coming round to kick his butt. And yours.

Mother knows best

KneeJerker has a question relating to grades :

"How the hell do I get my mom to not be a bitch to me? All she ever does is whine about how bad I look and my grades not being up to her par even if I try my hardest."

Listen sonny boy, I actually agree with your mother. You should dress up properly, look smart and work hard at school. Calling your mother a bitch is proof that you're totally devoid of any class. Think classy for once. Your mother cares about you. She wants you to succeed, to look good. She doesn't want you to be a hobo, or at least, she doesn't want you to look like one, you nitwit. Get down and do some work, get some help if you need it. When I was in school, they used to throw bibles at our faces if we stepped out of line. You can't hit noisy children anymore, unfortunately. You can however trip them up in supermarkets when their parents aren't looking, or push them into the frozen peas section. So, listen to your mother you ungrateful little tit, and do something meaningful with your life. Just don't do it in my living room when I'm trying to sew my dog a new swimming costume.

Qui pro qui?

A classic problem for milehigh52:

"Dear auntie Bernie, how do I last a long time in bed? I'm worried I might not last long enough to satisfy her."

I'm a bit conflicted about this one. When I read the name "milehigh52", I immediately thought of the Mile High Club, of which I've been a member since one memorable flight in a Boeing 707 in 1975. I digress. I thought, hello, here's a stud out to ask questions about sex and things of a carnal nature. Then I read the message. Oh, this guy is definitely a virgin. He must be. Not that there's anything wrong with that. Well, up to a certain age I suppose. Or for medical reasons. Some people are virgins for superstitious reasons also, that's fine. This guy, I don't know. He's worried he's not going to last long enough to satisfy "her". You know honeydrop, sometimes it can be over in a minute and be great for both partners. And sometimes it can last an hour and everyone's crotch chafes like hell, and no one came. There's no fixed required amount of time, everything is subjective, so stop listening to the stupid things your friends say. Don't be such a big baby and get on with it. Practice makes perfect, just talk to women. They're people too, you know? They have the same doubts and fears as you do.

The Graduate

A different sort of problem from Peterchor, with extra lies and deceit:

"My grades have not been great, and here's the kicker, I've had to change my major really late in the college game. I've been making the right sort of strides vis-a-vis academic improvement, but personally, the same social insecurity that allowed me to care about my friends' opinions too much last semester continues to cripple me. I'm that ashamed. I continue to lie to my friends about how bad my grades were and about the old major. I'm anxious that people will find out or that they already suspect something."

Oh dear, Peterchor, what have you done? You gone and given in to peer pressure, to social anxiety and all that crap. It's garbage. When will you ever learn? I'm in half a mind to track you down and clip you round the earhole. Never listen to your friends, they're all idiots. How do I know that? Because you're sounding a bit like one too. Yes, I'm a bit blunt, but you shouldn't have changed your major, why on earth would you do something like that so late in the year. What you should've done was called someone with half a brain cell to tell you it was a bad idea. Grades mean nothing in the long run. When I was at Oxford University, I had terrible grades in the first year, but I stuck by my guns and I got my diploma in the end, and I'm now a qualified garden hose operator. So don't lose hope young man, stop being a wet blanket, don't listen to your stoner friends and do your thing like James Brown. Capiche?

There, I've fixed those young people's lives, that'll do for this week. If you wrote to me and you're a bit sad that you weren't featured in this week's column, don't panic! You might appear next week. If you want to write to me to appear in the near future, my profile is here, or click on my message at the top of the comments under the article.

Who are you? Who who?

The last part of this column: the profile pic. The people who wrote to me also have faces. I don't mean the people who cheat by using pictures stolen from Russian models' Instagram accounts (when in doubt: reverse image search on Google) or who use pictures that have been floating around since Windows 95 and who lie and claim "Yes, that's me in the photo!", I'm talking about the people who are brave enough to put their real face on FML.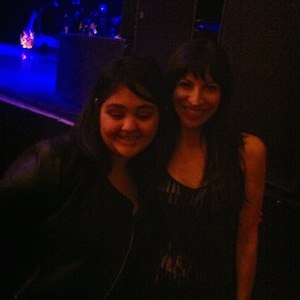 This week, we're taking a look at Jovkid123. What on earth is going on in this profile pic? It appears that our FML member of the week is on the left, and she's posing with someone we should be recognizing. But I don't. Come on Jovkid123, keep your eyes open. Are you taking a nap? Are you having a stroke from meeting this person? It seems that the flash has broken as well, so we can't see shit. Did you fall over just 5 seconds after the picture was taken? You look happy enough, or was it the 8 pints of beer you had just before? I'm still wondering who the lady on the right is. She's obviously in the music business. Is it Cher? Is it the guy from Aerosmith? I can't tell these days, they all look the same. Open your eyes, godammit!!



That's my first column done. I hope you didn't hate it too much. I'll be back next week with more of the same. Don't hesitate to write to me if you need help seeing the light and/or need advice on how to lead your love life. I'll try and help out, in my own special way. Take care, young people.
Auntie Bernie is dressed by Bénédicte of Bloutouf
#1532 - About FMyLife - On 07/31/2015 at 5:43am by Auntie Bernie - 28 comments