Feeling shitty? Write to Auntie Bernie!
It's a new summer, so here's a new feature. OK, that doesn't mean much, but you've got to start somewhere. The idea came from the fact that we get sent a lot of FMLs that touch us, in our heart of hearts (because we do have them, we're not machines) but we can't publish them because they're just… sad. So, we got in touch with a specialist to take care of these cases, in her own inimitable way. But her main caveat was that she wanted to remain anonymous. We said OK, great, do what you gotta do, shroud yourself in mystery, take on a persona, get someone to create a profile pic (thanks Bénédicte over at Bloutouf) and we'll set the wheels in motion. And here we are.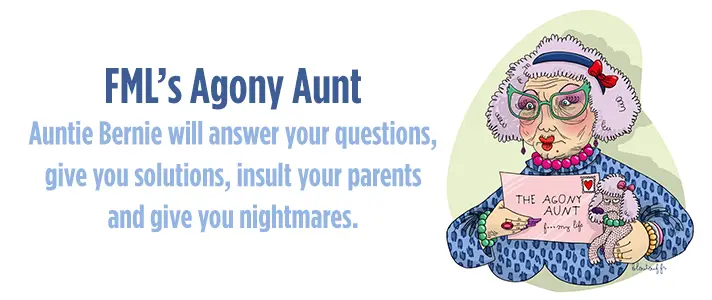 OK, for those of you who haven't fully got it, here's the idea. We received this submission:
"Today I has sex with my girlfriend but when I tried to penetrate her my penis wouldn't go in. It was blocked. And my girlfried was like all excited on me saying, it wont go in!!! Please can you give me some help for it to slide in better? Thanks to those who will."
We thought it would be great to be able to advise this young man on how to stick his disco stick into his young lady, but only if a specialist did so. And give this specialist a regular column, every Friday during the month of August to start out, instead of the illustrated FMLs (the illustrators all being on holiday). So, if you're having problems, need advice in matters of the heart, have issues with your relationships, unrequited love, need sexual healing, send her a message. You might appear in the first issue!
Her profile is here:
This link might not work on every media, especially on apps and smartphones. DON'T PANIC. She'll be the first to comment on the article, so all you have to do to send her a message, or add her to your contacts to send her a message later is click on her comment and then click on the arrow icon thing or whatever it is that allows you to send a PM to someone (it varies on each app, but it's usually the arrow).
Oh yeah, we forgot to mention something. Bernie's style of dealing with people's problems is very… odd. This is FML, so we don't beat around the bush and hold people's hands. If you were expecting us to tuck you into bed, you were very much mistaken. We aren't a bunch of hippies braiding each other's hair. She will pick you up and throw you into a ditch if you're not careful. You have been warned.
Right, get cracking, start sending her your trouble and strife, and expected the unexpected.
#1530 - Special guests - On 07/24/2015 at 11:58am by Alan - 31 comments