Cécilia's illustrated FML
It's summer ! It's a heatwave ! I'm well aware of that fact because I almost fainted in the street the other day, and I had to hide in a supermarket and sit in the airconditioned neon glow and wait for the weirdness to subside. Last week we were sort of celebrating the Paris Japan Expo, and yes, I know, that's done and dusted, but we're keeping the spirit alive by having another Manga-themed illustration this week. However, this week I'm not dressed in a cosplay outfit, I've slipped back into something more comfortable. I've put a trucker's hat on, along with a t-shirt that says "Jesus is coming" above a Minion, so I can fit in with the 2000 American tourists in my neighbourhood. Erm, what was I saying? Yes, this week's illustration has its lines deeply drawn in the Manga camp. Right, let's check it out, cosplay or not. Oh, and remember to hydrate yourself if it's hot. Chop chop.
CÉCILIA'S ILLUSTRATED FML
"I've already drawn on sheets of toilet paper or on my thighs in the bathroom to pass the time."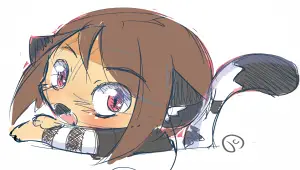 Self portrait Cecifolle by Cécilia



As I've said, this week we're staying Manga with Cécilia. And it rhymes, sort of. She also goes by the nickname Cecifolle, which roughly translates as Cecicrazy, but Cécilia is better for the purposes of this article.
Her info:
Age: 24
Location: La Garde, France
Website: Cecifolle
Her illustrated FML: The one with the sports bag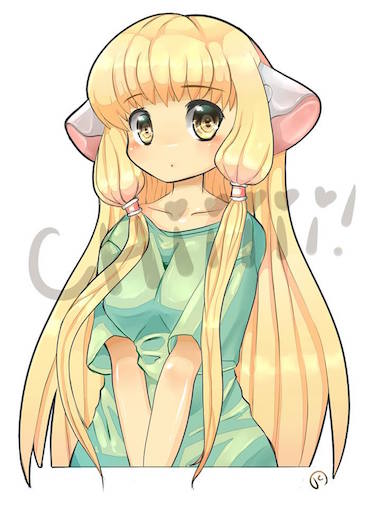 As you can see, Cécilia really is Manga. As we did last week, we're staying for a bit longer in the Japan Expo theme, which took place in Paris at the time. We could've shown both illustrations at the time, but like precious metals or really sweet candy, you have to consume them in small doses because what's rare is expensive. Or something like that. Cécilia is on the road to educating, or more precisely, "I'm preparing the exam to become a nursery school teacher, even though I have some trouble with spelling…" Yep, that's going to be a bit of a problem. You can't be a teacher if you write school with a K. I'd better do a proper spellcheck on this article now I've written that. If you see any odd spellings, don't hesitate to tell me. It does happen to me a lot, I know.

She likes to draw: "What I like is to provoke an emotion in other people, and give my drawings life with a few lines, which is why I like to sketch. What I'd like is a bit more self confidence so that I could create my own little world and then show it to other people." Saying a "few lines" shows a lack of self confidence, because she already draws pretty well from where I'm sitting, you just have to check out the few examples on this blog page.
As for her news, it's obviously all about the kids. "For the moment, I draw for my own personal pleasure, but I'd like to make albums for children, as a sideline to my career as a teacher, but with more of an occidental style than a Japanese one I guess. My heart is torn between the two. I'd also like to create my own mangas, well, I've got a small project on the go which will short see the light of day on my blog, as soon as I've reached the right drawing standard." It's true that we'd like to see what she'd be capable of producing in a more "traditional" style, outside of the Manga style. Maybe she could come back at a later date and create another illustrated FML to show us what she can do?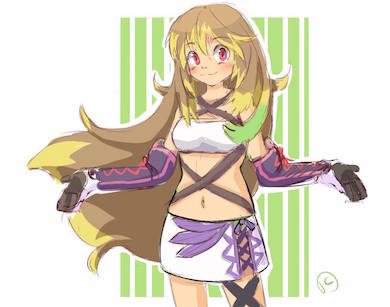 Where did you go to school? "I went to school from nursery school to high school in my hometone La Gare. I then went to Nice to study Psychology. I blew my mind. Once I got my third year diploma, I went to the ESPE (education school) to learn how to teach." Small world. I studied Psychology too, I got to the fourth year then got a job as a… sound designer. It can get you anywhere. And I know Nice a bit, too. I'm going back at the end of the month to… Erm, I'm not going to tell you my life story, we're here to talk about Cécilia, but I will say that it'll be the Guacamole festival.
What or whom made you want to draw? What inspires you? "My grand-father, at first, who was a Disney fan. He always showed me his drawings and taught me to draw with circles. In middle school, I didn't know the internet or Mangas and all that, but I was given my first Manga DVD box set and I met some friends who were really into that sort of stuff. It was then in high school that I really got interested when I met a girl who had a lot of talent, she really motivated me, and I followed in her footsteps. I created a blog, she showed me the graphics tablet and it was a revelation. It was only by the end of my Psychology diploma, two years ago, that I started to draw seriously so I could make progress."

Besides the talented girl, are there any other artists that you check out? "Her artist name is Hadh. Otherwish, there's Nadou, Maliki and Mi eau. There are so many."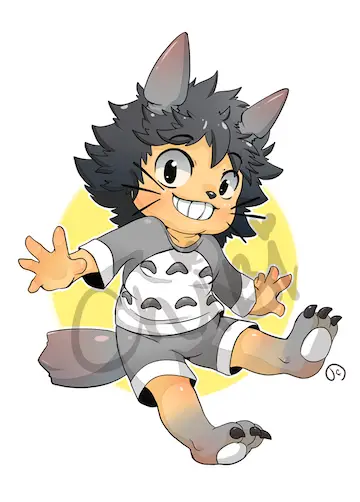 What are your pleasures in life? "I love animals, I'm crazy about them, I should've been a vet… But other than that, I love doing nothing, being at home, drawing, watching TV shows… I don't really like going out. Maybe because I'm still a student, paradoxically I like playing life simulation games where you have to do lots of things, like administrate a farm (Harvest Moon). I don't really have a passion because I like everything: cooking, piano, TV shows, movies, but I consider them to be hobbies. I think I'm going to make my job as a teacher my passion."
Do you have a personal FML to share with everyone? "Off the top of my head : Today, I've entered for the first time into my new apartment to take some measurements. I've gone out onto the balcony, closing the door behind me, but the bay door clicks shut. It's locked, it's January, my phone and my jacket are inside, I'm on the 4th floor. I'm cold. FML". Well done, the whole team agrees, you deserved it.
To finish off, can you give some words of advice to anyone starting off in illustrations and drawing? "Draw what you love." That's pretty succinct, but it's quite good advice. I've tried to teach friends how to play the guitar, and it's pretty much what I tell them to do. It can be quite pointless trying to learn songs they don't really know or like, the easiest thing to do is stick on a song they love and try and pick up the chords or parts of the song by ear. If they can do that, they're halfway there. I'm guessing that drawing works the same way. If you start by trying to copy the drawings you love, and you'll get there eventually. I should try it too!
That'll be it for now! Thank you Cécilia for taking part in. I don't think I've left any spelling mistakes, and if there are, it's your fault for being a terrible teacher! This weekend it's a train journey down the south of France for me, I'm going to see some friends and hang out. Next week we'll be getting another illustration, and the week after that will be a surprise! You'll see. Have a very funny Vine, and be excellent to each other until next week. We'll let Cécilia have the last word. Take care.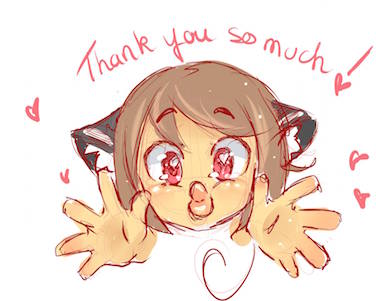 What about you? If you think you've got talent and want to contribute to the illustrated FML, send us an email to [email protected] but only send us your blog's address and a few samples of your work. No need to create an illustrated FML straight away.
#1528 - Illustrated FML - On 07/10/2015 at 8:22am by Alan - 9 comments