Tania's illustrated FML
Hi gang! How are you all doing? This week has been quite eventful for some people. Uber has been causing taxi drivers here and there to get their knickers in a twist, notable over here in France, which caused Courtney Love to get stuck in the crossfire, resulting in some amusing tweets. To say that the taxi drivers are mental is an understatement. They've been kidnapping Uber drivers in broad daylight, filming themselves while doing it, because they reckon that Uber Pop is illegal. But kidnapping isn't, huh? Anyway, a lot of shitty things have been going down, but we'd rather be aware of what's been going down and not be like some commenters on FML and refuse to keep in touch with the world around them, avoiding newspapers and news outlets in general, because, "It's too depressing". These people vote. Scary. Anyway, to lighten the mood, this week's illustration is about cakes and babies. Intrigued? Read on.
TANIA'S ILLUSTRATED FML
"My phobia? Those toilets you have to squat over, and squids. If a squid comes out of the hole, it's twice the points."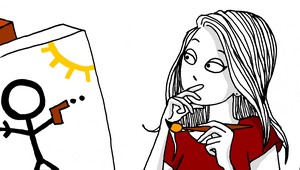 Self-portrait Tania par Tania



Tania isn't a nickname. She says that she "gave nicknames up the day that MSN died." I can understand that. I underwent the same process a few years before, when I stopped driving around with a CB in my car. For the younger readers, I mean a Citizen Band radio, which allowed people to talk to each other, mostly truckers. We all had stupid nicknames, like Smokey and the Bandit. But not anymore.
Her info:
Age: 26
Location: Lyon, France
Website : La minute papillon
Her illustrated FML: The one with the cake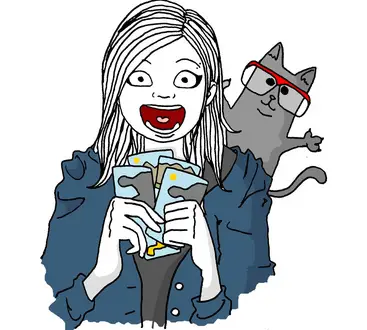 Tania had sent us a very nice message via a carrier pigeon. OK, she actually sent us a nice e-mail, but we do hope that someday, we will receive a message via carrier pigeon, or via smoke signals. Erm, maybe not smoke signals, because an illustration sent via smoke signals would probably be way too experimental for our tastes. I digress. Tania's works and sense or humour were so in step with our tastes that we said yes straight away. Sometimes, it's really easy to say yes to an illustrator's offer, when all the conditions are obviously reunited in a way that we know that the artwork will be good. We want more like it, send us your stuff! So, what does Tania do then? "I'm a web writer for an agency that specialises in SEO. My parents think I work for Google. Maybe that's what I told them to avoid a long, fruitless, 4-hour conversation. It used to be music that widened the generation gap, but I get the impression that IT jobs are doing the same sort of thing nowadays. My old man can make an Airbus A320 work, from A to Z, but he's flummoxed by a 4-in-1 remote control, and gets me to program it for him. Or he's just lazy and doesn't want to learn new stuff since he's retired.
What do you enjoy in your line of work? "I like the constant variety. In one day I can just as well write about the legends of Brittany than about the oil crisis. That, along with the friendly colleagues with the crap sense of humour and the free coffee make my days pretty fun. As for illustration, I like being able to give life to anything that pops into my head. A TV show host disguised as a pineapple, a surfing stool, everything can exist. And, in all modesty, what I also love, is making my friends laugh, even though they suspect me of taking drugs." Creative people are often suspected of taking all sorts of things, but it's often justified. I should know.

As for projects and news, there's not much going on. "Absolutely no news, but sometimes I post articles on my blog. However, be around in 2050, something heavy is going to be unleashed." As for her projects? "Pokemon Master." OK. Sounds realistic.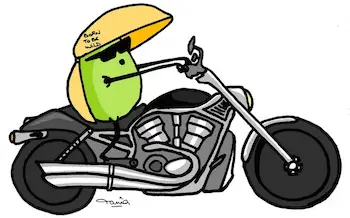 What did you do at school and stuff? "I got a high school diploma with a literature specialisation, with a good grade, which made my mother happy. I then looked for something easy to do, which required the least effort, so I ended up doing English studies, all while working at McDonald's for 2 years to finance my student parties and my driver's licence. I found my calling doing a journalism masters, which open the doors to local press and the fishing contests all around my area. After a few months in a newsroom, I set up camp in a web agency in Lyon where I'm enjoying life."
What made you want to draw? What inspires you "I've always scribbled, but the works of Zep inspire me, and I really like what he does, his hyper-expressive characters and his attention to detail. Other than that, in my health report, when I was 3, the paediatrician wrote "excellent graphics". I probably drew the best square and circle of his career, but still, I guess it directly influenced my vocation."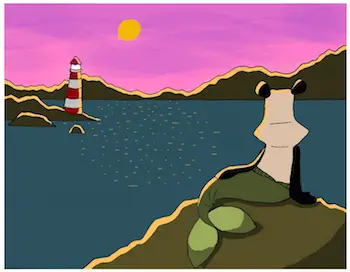 What are your pleasures and/or vices? "Dinosaurs (except Stegosaurus, they're losers), driving alone at night, licking the covers of apple sauce pots, losing my phone and finding it in the fridge, going to Brussels, a place I fell in love with during a 4-month internship, drinking coffee until the point of no return where I start to hear colours, folk music, season 3 to 16 of The Simpsons."

Do you have a personal FML to share? "Today, feeling amiable, I clear the table, and take away a pile of glasses. Result: 2 hours in the ER and 4 stitches in my left ring finger. FML. The legendary clumsiness of left-handed people is mainly due to me, without wanting to brag." Left-handed people are weird. I've always said so. Sorry, I'm a right-handed bigot.

To finish the article, can you give some advice to anyone starting out in illustration? "I don't think of myself as an illustration pro, but if I had one piece of advice to give, it would be 'Keep going as long as you are enjoying yourself, and if you have a cat, please be away that the felt-tip pens that have mysteriously disappeared are probably under the fridge. Or in its litter tray.'" As a cat owner, I can only vouch for that piece of advice.
Right, that'll do for this week. JI want to thank Tania for her illustration, her kindness and her sense of humour. This is all very important. Oh, and her reactivity. I'm not saying that these are rare qualities amongst our guests, but I like it when a plan comes together. Well anyway, it's Friday, time to relax, put on a Tindersticks song, take the cats for a walk and have a few beers. As always, be excellent to each other and see you next week.
What about you? If you think you've got talent and want to contribute to the illustrated FML, send us an email to [email protected] but only send us your blog's address and a few samples of your work. No need to create an illustrated FML straight away.
#1526 - Illustrated FML - On 06/26/2015 at 6:25am by Alan - 8 comments