Flopom's illustrated FML
Hi gang, how's it going? The weekend has finally arrived and we finally collectively breathe a sigh of relief as we unbutton our tight, sta-prest trousers to go run barefoot round the garden. We've spent all week with our noses to the grindstone, or studying things, or taking exams, all of which will of be absolutely no importance since the sun at the middle of our universe will one day implode, and everything will be cold, dead and as sad as a Zach Braff movie on a wet Sunday afternoon. But it's not going to happen before at least next week, so let's go nuts and have fun while we can. But try and make your parents proud, get some diplomas. The whole FML team supports you in your endeavours. We'll be here, waiting for you to send your stories in about how you messed up your oral exams or other failures. Anyway, time for this week's illustrated FML, which has nothing to do with exams, but I couldn't think of a transition. Here we go!
FLOPOM'S ILLUSTRATED FML
"My drawing isn't perfect, that's for sure. The world we're living in isn't either. Whatever happens, I'm going to strive to change all that for the better."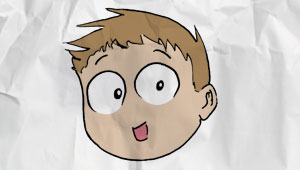 Self-portrait Flopom' by Florian



Flopom' is a talented lad. Finally, after a shedload of talented young ladies. Whether or not the week's illustrator is a girl or a boy is irrelevant, but it seems that sometimes the choice of the FML and the drawing style is different according to the artist's gender. And we like a bit of variety on FML.
His info:
Age: 20 "I think…"
Location: "Vernon, in Normandy, by I work in Rouen and soon in Paris."
His website: Flopom's blog
His illustrated FML: The one with the nose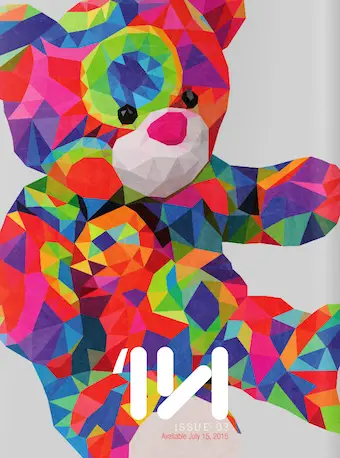 I'd contacted Flopom' via a forum called Case Libre. We got talking over a bottle of vodka, which led to a dance floor in Paris and some rather nice… Erm, no, that's not what happened at all. The Case Libre part is true, though. Go check it out, it's in French mainly, but I'm guessing that English is spoken by most people on there.
Flopom' is a "Graphic Designer (or advertising illustrator, whichever one you want)." Yet another one amongst us! When are we going to get a zookeeper?

What do you enjoy about what you do? "Being able to put my creativity at brands' service. When you're an advertising graphics designer, you have to do things that people like, but that the client and their "target audience" like. You have to wrack your brains, find good ideas quickly and convince people. Each project is in fact a challenge and it's what I like the most about this job, on top of the creative side, which to me is the most important." Creative, schreative. You need time to be creative. Flopom' lacks time to properly work on comics. Which is why we're here.

So, what's your current news, or projects? "At the moment I'm working for ad and photography agency in Rouen, which creates communication campaigns for big motorcycle brands. Within the agency, we launched last September Aris'In, a magazine which highlights various talents. It's a sort of creative laboratory where we experiment various things and we go over atypical subjects and news items, based more on pictures than text. It's free and available online here." As for his projects, he's given us a bullet-point list:
- Create a small comic book series; I'm writing the story in the train as we speak…
- I had a short film project, but that's also on stand bye.
- Keep on working with the Aris'In team, who are really great!
- Why not join a big ad agency in Paris?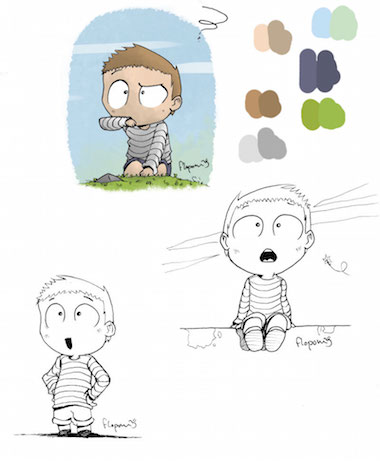 Where did you go to school? "I went to kindergarten in Vernon, then primary school in Saint-Pierre-la-Garenne, the middle school in Aubevoye, then high school in Gaillon… and now you can visit Normandy! On a more serious note, I'm currently finishing my second year of a Media and internet studies in Elbeuf (don't visit that place, it's a dump), and next year I'm going to the MJM Graphic Design in Paris (*so happy!*)." Normandy is a really nice place. It really is. I'm saying this under threat of violence by several friends who are from there, and who will do my kneecaps in if I suggest anything else.
What made you want to draw? What inspires you? "I'm find inspiration in everything around me: movies, advertising, television, books, everyday life, in the subway… And if there's anyone who made me want to start making comic books, it's Stan Silas (Norman's Life, Biguden). I've been following him since his beginnings and it's incredible to see his style evolve in a short space of time, despite the fact that he's self-taught. He's passionate, readable and very nice to talk to at book signings!"

Speaking of which, are there any other artists whose blogs you check out regularly? "Due to lack of time, I actually rarely check out blogs. I subscribe to their Facebook pages because everything turns up at the same time and the same place. I follow Silver's news, I love his style, Raoul Paoli too, and I'm forgetting a lot of them…" I do that all the time when I go shopping and I've forgotten to take a shopping list, I totally forget what I'd come to buy. Does that happen to you too? Tell me about it in the comments (no, really, you don't have you, I'm having a laugh).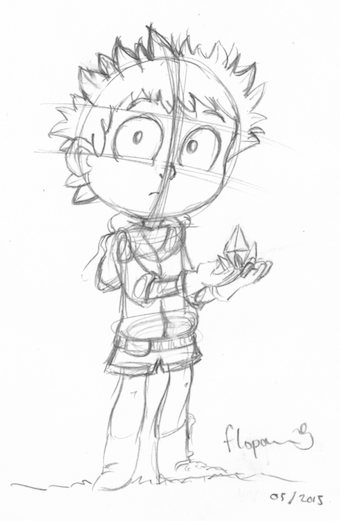 What are your pleasures in life and stuff? "Drawing, advertising, creativity, silly jokes, photography, gardens, M&M's, walking around Rouen, the Seine, moaning, having a laugh, talking, meeting non-boring people… I like a little bit of everything and I'm satisfied by simple things." How about things at the movies, music, etc.? "Movies: it's not the "latest" things but I like Tim Burton's movies, as well as Hitchcock's and Besson's. Musically, I discovered Feu ! Chatterton and it's quite good. Books: I've always been told to read other things than comic books. I never listened. TV shows: I never miss an episode of Desperate Housewives. Each character has a specific personality, that thing that makes them them. There's murders and stuff but it's funny and thrilling. In comics: Hold Up - journal of a robber by Raoul Paoli, Zombillenium by Arthur De Pins and Biguden by Stan Silas. I tried The Little Death but it didn't do it for me… I liked GungHo's graphics, I ordered it online but they still haven't sent it to me!" He doesn't miss an episode of Desperate Housewives? What year is it in Normandy?

To finish off, have you got a personal FML to tell us? "My hamster got eaten by an own when I was on a weekend break. It managed to get into the house via a small duct, landed near the cage, my hamster came near and CRUNCH, no more hamster! - FML." RIP in peace as the idiots who don't understand what RIP means say. Not cool. Weirdly, he's afraid of mice and stuff: "I hate mice and other creatures like them. Last summer, on the way back from a firework display, I stumbled in the dark into something soft and it screamed. It appeared to be a rat. EWWW!" Rats, mice and hamsters are the same, or is it me?
OK then, let's close the shop for this week. Thanks Flopom' for your illustration and your good mood. We need more people who are in a good mood. It took a while to publish this illustrated FML, but we did it! I'll leave you with my friends in the yard and a surprise guest. Oh and let's listen to some music to chill out for a bit, we need to chill out. Next week, we'll be visited by the ghost of Roger Waters of Pink Floyd who will be telling us all about his favourite cheeses. Until then, be excellent to each other. See ya!

What about you? If you think you've got talent and want to contribute to the illustrated FML, send us an email to [email protected] but only send us your blog's address and a few samples of your work. No need to create an illustrated FML straight away.
#1524 - Illustrated FML - On 06/19/2015 at 10:00am by Alan - 7 comments