Xianyou's illustrated FML
The illustrated FMLs, a well established institution that's been designated by UNESCO as a world heritage site. The whole world is envious of our column. Often imitated, never beaten. A bit like the works of Claude Monet or sausage meat. This week, we're travelling to Japan, via France. And we'll be looking at the world in monochrome for a change, something we rarely do. Some people won't like this, but as the film-maker Jacques Tati said, "Too many colours distract the spectator". These days, you'd think that it's more likely that smartphones and the omnipresent superinformation highway would be doing the distracting, but I haven't done a deep sociological study to confirm or deny what I just said. So for the people grumbling about black and white, hush. Quiet. Accept change. Right, let's crack on.
XIANYOU'S ILLUSTRATED FML
"Is this supposed to be the bit where I confess things? OK... might as well get down to it then! *unravels a 10 kilometre-long parchment*"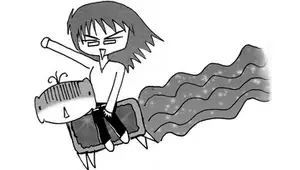 Self-portrait Xianyou by Fanny



Xianyou is a young lady that also goes by the very amusing French name of Fanny. No giggling at the back. She explains her nickname: "People often ask me where my nickname comes from, but when I tell them, that it was a badly-spelt Xiaoyu from Tekken that I wrote when signing up to my first chatrooms, weirdly, people get this odd look on their faces. And I've also heard from Google Maps that Xianyou is also a district in China." Her nickname is Xianyou, so I'll call her that for the rest of the article.
Her info:
Age: 21
Location: Gouzon, France
Website: Xianyou's Blog
Her illustrated FML: The one with the list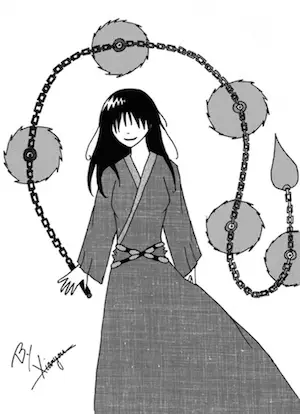 Xianyou made the initial mistake of sending us a fully formed illustration, even though we always ask people to contact us before starting work on them. Then we took a look at it and decided to post it anyway. The illustration style is different to what we usually get sent, and my grand-father always used to say that a change is as good as a rest, before he would change into women's clothes and sit down in front of the TV. So here it is ! And what does Xianyou do ? "A bit of everything, really. I sleep, I eat, I draw, all the while going through a ton of mangas and comic books, giving out catfood to my cat, and studying for my exams!" Ah, cats, faithful working companions. I say that, but mine destroyed one of my hard drives by knocking it off a coffee table. It was fried, all data lost. Thanks, cat.

What do you enjoy about what you do? "I love to draw and experiment with new techniques, all while working on possible stories for forthcoming gags, it's a real release! What I'd need... I'd say some better hardware (Hey! Tony Stark! Wanna lend me some of your hardware?)" Tony Stark? I know that guy, I saw him last night down the pub, he didn't seem like the kind of guy who'd lend you anything. Then again, he was drunk on scrumpy and was amusing himself by throwing peanuts at some guy's head who was trying to play pinball. Hmmm. It might not've been Tony Stark after all.

Do you have any news, or projects to tell us about? "Summer holidays, what else! I'm going to spread my toes out in the air and spend my time doing what I love the most! Mangaaaaa, I've got you under my skin..." And what about your projects? "I've got several projects on the go (that I'm keeping tightly to myself), all while keeping the dream alive that I'll one day publish manga I'm working on, on this lovely spring day!" OK, you'll have to come back and tell us more about it at a later date then!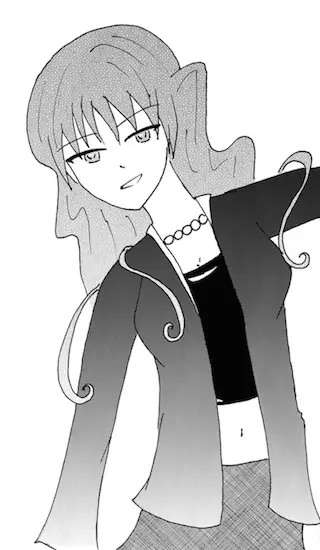 What was school like for you? How did you get to where you are now? "At school, I'm right in the middle of my exams to become an accounting assistant for small businesses (I've just got one more oral exam to go) so I'm impatiently waiting for the results! If all goes well, I'll carry on my studies by doing a professional diploma in home automation and autonomy. As for work, I'm very open, I like new experiences, and one of the ones I'm most proud of is my collaboration with Midam and his team for story work for some of the "Game Over" and "Kid Paddle" albums (via the crowdsourcing concept)! I learnt a lot from this experience." Croudsourcing is very popular at the moment but I'm a bit ambivalent about it. Give me money to make something is a strange concept. On a similar note, Uwe Boll's recent meltdown about not reaching his goal is very funny.

What inspired you to start drawing? "I've been drawing since I was little. I created little comics to amuse myself, all about spy stories or magic, but when I get them out of the cupboard, I feel like bashing my head against a wall. What I mean is, I didn't draw all that well, my characters even had a tendency to be cross-eyed, not to mention the rest, ouch! I really learnt how to draw when I was about 14 or 15, all while trying to create my own style. I was drawn towards mangas because I appreciate the lines and structures, I even had a real revelation when I read one for the first time (even though, at first, I read it backwards because I didn't know it was supposed to be read from back to front)! In fact, most of my gags are contained within 4 squares, because it's a format that is found in a lot of Japanese newspapers. I thought it was a great way to illustrate a blog."
Do you have a personal FML to tell us ? "Sleeping is good. Waking up is even better. In the future, it'll avoid waking up in the school bus, meaning at the driver's house when he's finished his shift (and almost giving him a heart attack when he thought he was alone and he heard my voice from behind him say, "Where are we?"!. And my parents had a good old laugh when I called them to come and get me, 20 kilometres away from our house. Fantastic."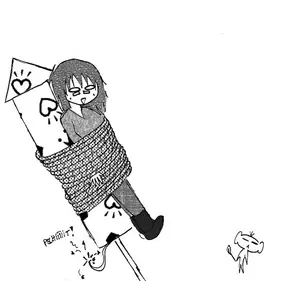 What are your pleasures or vices in life? "I love everything to do with Japan! Aahhh! I really want to visit the country one day... I'm learning the language from books! I'm also a fan of mangas, katanas (I'm starting to own quite a collection), candy, cats... what? What do you mean mine is too fat? I just love to overindulge my Joey, that's all. He's my powerful anti-stress ball! My ideal day? Spending it laying on the couch, with a pack of chocolate treats, doing nothing besides watching the entire X-Files series... A vice? The coffee break, with some little biscuits not far away.' If I don't get my afternoon expresso, I can bite. Speaking of biting, I hate being woken up before I've decide to do so. At the moment I'm in a foul mood. Those who've tried it can attest, unfortunately. But I don't require a lot to be happy. Usually, I'm the sort of person who's always in a good mood, and I look at life in a positive way." I should take her lead, because I'm usually the grumpy one. What do you mean you can tell from my blog posts?! Cheeky.

If you had to give advice to someone starting out, what would that be? "You need a lot of motivation and don't despair in the beginning, because the more you draw, the better you get! I always hang my latest creations on the wall, so that I can immediately see my progress, which to me is very encouraging." I do the same sort of thing with the dead bugs my cat brings to me. No, it's not weird, it's art.

That's it for this week. Many thanks to Xianyou/Fanny for her illustration and contagious enthusiasm, it's a pleasure to read. To play us out, here's a band named after her favourite country, but is not from her favourite country : the brilliant Ghosts by Japan. Next week we'll be having… I don't know yet. Want to illustrate an FML for next week? Send in something as instructed below, I'll get back to you. Until then, be excellent to each other and may your God go with you.
What about you? If you think you've got talent and want to contribute to the illustrated FML, send us an email to [email protected] but only send us your blog's address and a few samples of your work. No need to create an illustrated FML straight away.
#1523 - Illustrated FML - On 06/12/2015 at 4:32am by Alan - 2 comments