JT's illustrated FML
Hello everybody, how's it going? This week we're looking at the delicate art of getting along with your neighbours. If you've ever lived in an apartment building, you'll know that having people live on the other side of your walls can be a total nightmare. Especially if your walls are paper-thin. Everyone can hear everyone's business, every kind of business. If one neighbour complains about another, it can quickly escalate into all-out war, with graffiti, dog turds through letter boxes and cars being set on fire. Or was that just me in my last building? Anyway, let's check out this week's artist.
JT'S ILLUSTRATED FML
"My biggest phobia, the one that keeps me up at night in a cold sweat is one where I turn in a comic strip on time and the client likes it!"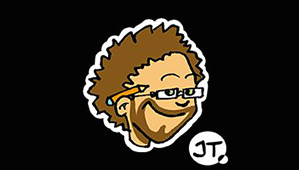 Selfportrait JT by JT



JT is his nickname, and that's all we'll know for now. We should be able to find out what it means by poking around on his website, but let's just pretend it means Justin Timberlake.
His info:
Age: "On Jupiter, I would be 3 and a half."
Ville: "Brittany, France (but I'm Belgian)"
Blog: Les planches à JT
His illustrated FML: The one with the noise

I'd contacted JT a while back. We wanted to publish some of his artwork on FML in 1978, but the internet didn't exist back then, so it was impossible. Goddamn time machines, so unreliable.

Who is JT and what does he do? "I take care of the "Fabulous and Marvellous submarine world" in Brittany and Loire county with the submarine sport federation, as well as "I dive to the west!". Even if it's not my primary function, I sometimes have to create some illustrations for our communication campaigns."

OK, but that's not all you do, is it though? "I create the comic book series called McConaughan and 2ème à gauche après Jupiter (Second to the right after Jupiter) as an amateur. I also have a book which was published by GAP."
What sort of projects have you got going? "If I do have comic book projects that I'd like to take to a publisher, I don't yet have the graphics and narrative qualities to actually pull them off yet. That's why any comments on my work are welcome!" Here on FML, the comments will fly thick and fast, and probably will be complimentary, but sometimes they can be harsh. You have been warned.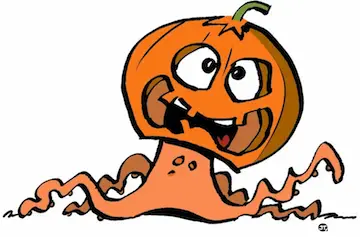 How did you get to where you are today? "I'm a diving instructor who set up his home in Brittany. My education was quite odd because to become a comics illustrator, I took lessons in… Latin and Greek! It's while reading biographies about my favourites authors that I realised that they'd all gone to the same sorts of lessons. I thing that's where I got the taste for constructing my own stories (I've got about a dozen on the go!)". We'd love to hear more about these stories, but I'm guessing they're all top secret for now.
Where did this love for drawing and illustration come from? "I get the impression that I've always wanted to draw and I can't remember a specific event that made me want to start, besides a few positive comments about my drawings at school. What I do remember is staying indoors for a whole summer trying to define my style. After which, I noticed that my primary influence was Dupa (father of Cubitus), an affinity with Greg (father of Achille Talon), Turk & DeGroot and of course Tome and Janry (for me, the king of inkers), without forgetting Darasse. In other words, the good (old)franco-belgian school. These days I'm more influenced by publishers like Makaka or Dupuis."

What's sort of biscuit would you recommend?
"I'm going to give you a recipe that's pretty nice to do: take a yoghurt (vanilla is best) and keep the empty pot. Mix a pot-full of flour, a half pot of milk, an egg, and a half-pot of sugar. Cook it all in pan. Girls go nuts for it and you can score like crazy!" Yep, definitely writing that one down somewhere.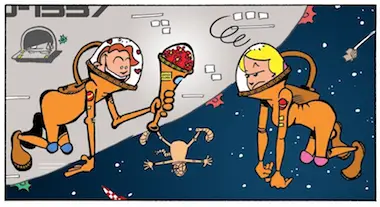 Speaking of which, what are your everyday pleasures? "My passion is putting loads of secondary gags into a comic strop. Often, you have to zoom into it to see all the details. I suggest that you go to my blog to see the comic I did in fuller size."

Can you tell us a personal FML? "Today, my daughter is being born. The nurses are letting me get ready in the changing room. I arrived into the birthing room, a little proud of my surgeon's outfit. My daughter was born into a burst of laughter from everyone, because I'd put a shoe cover on my head, and two bonnets on my feet. FML." I'm guessing a lot of people have made that mistake, and it's always nicer to be born into a world where people are laughing. And congratulations by the way!
That's it for this week. It's the weekend at last, so don't forget that you shouldn't drink too much, don't get into flame wars on the internet with total strangers, it doesn't mean anything, nothing means anything anymore. Stop taking life so seriously, it's just a ride, it goes up, it goes down. Enjoy the ride. Be excellent to each other and see you next week.
What about you? If you think you've got talent and want to contribute to the illustrated FML, send us an email to [email protected] but only send us your blog's address and a few samples of your work. No need to create an illustrated FML straight away!
#1520 - Illustrated FML - On 05/22/2015 at 8:19am by Alan - 2 comments